18
Jun
2019
Published by Bonnita Calhoun Comments Off on Inventive Signage Helps You Stand Out From The Crowd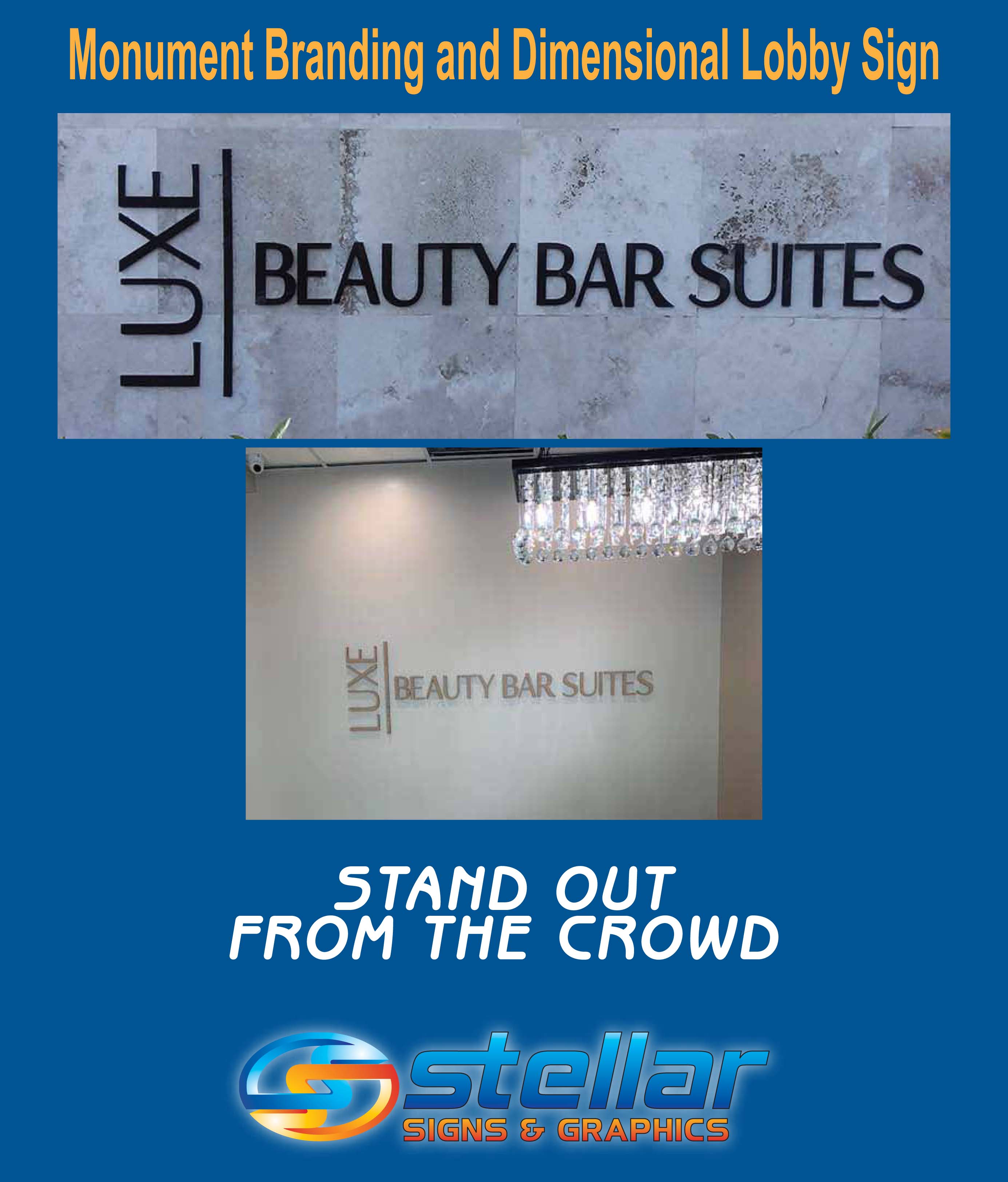 The signage experts at Stellar Signs & Graphics recently had the pleasure of creating not one, but two new signage projects for Luxe Beauty Bar Suites. Easily, one of the most unique and inventive businesses located in West Palm Beach, Florida, the company's goal is to provide beauty professionals with luxurious, yet affordable state-of-the-art salon suites so that they may operate and grow their own beauty services businesses.
"We provide you with a high-end salon experience at a fraction of the cost, so you can focus on what's really important – developing and growing your business!" explains their website, "You will be assisted with the tools necessary to be successful and benefit from our assistance in helping you promote your business in social media & marketing. Our concierge will maintain common ground cleanliness so you can spend more quality time with your clients."
Luxe Beauty Bar Suites has a new monument sign!
As mentioned, we were thrilled to be able to create two new signs for this fantastic company. The first was a new monument sign which was erected in front of their West Palm Beach location. It was designed with flat cut dimensional letters using black acrylic. Our uniquely-designed monument signs have a history of boosting brand recognition within a company's community while being budget-friendly to boot.
"Monument signs are a great way of capturing attention," affirms Sign World, "In fact, in an independent study done by advertising agencies, almost 50% of customers showed a tendency to choose businesses due to their outdoor signs. With their cost effectiveness, costing approximately 2 cents per 1000 views, more consumers see monument signs than ads on televisions."
Luxe Beauty Bar Suites has a new lobby sign!
The second sign was an immaculate lobby sign which was also constructed using flat cut dimensional letters. Lobby signs are notorious for wooing the visitors of places of business. Great for boosting brand awareness and impressing both new and old customers, lobby signs are as much pieces of art as they are excellent marketing tools.
"Lobby signage is amongst the most cost effective, as well as highly effective tools for marketing for businesses which want to attract extra attention to their storefront or business," informs Sign Visions, "Lobby signs may notify customers of store details (hours of operation, etc.), specials, in-store events, special sales, or even to promote a unique product or item. In addition, they're an excellent method of driving customers to your business as you're open."
Let's get working on a new sign that will help your business stand out from the crowd!
The signage experts at Stellar Signs & Graphics serve the business communities in and around Palm Beach County, West Palm Beach, Royal Palm Beach, Wellington, Lake Worth, Boynton Beach, and Greenacres, Florida. Give us a call at 561-721-6060 today!


Tags: Florida, Lobby Signs, Luxe Beauty Bar Suites, monument signs, signage experts, West Palm Beach


Categorised in: Letters for Monument Signs, Lobby Signs, Monument Sign Letters, Monument Signs

This post was written by Bonnita Calhoun