Banners / Trade Show Displays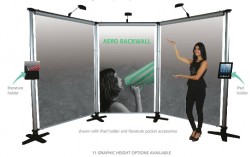 Making a great first impression at a trade show is the difference between finding a new buyer and turning a potential contact into just another passerby. When you want to put your best foot forward with the competition, the consumer and the industry insider, only top of the line booth components and setups will do. What are your options?
Booth Setups
The booth setup itself is the heart and soul of your display. It includes the backdrop, the graphics included in the backdrop presentation and frequently also features a number of accessories such as lights and TV screens. This is the single most important piece of your trade show presentation. When it is up to par, you are certain to grab the eyes of anyone walking by. The graphics may be digitally imprinted onto poster paper, backlit films or fabrics – depending on the makeup of the display.
Supporting Components
These are the retractable banner stands, table throws, floor graphics, folding display panels and tabletop displays that turn your booth into a branding machine. Each display component offers you the opportunity to reinforce brand awareness and generate name recognition. Do so by choosing your colors, textures and messages with care. Height is another important aspect of your supporting components. Making the setup visually striking calls for attractive changes in depths and heights as well as textures.
Adding on the Tech Aspect
More and more Tradeshow displays rely on high-tech interactivity for popularity. Your booth should not be an exception. We recommend the use of multiple iPad stations that allow trade show attendees to interact with your company online via an event-specific site or page that features content appropriate to your niche and product.
Television screens, too, are becoming hot commodities and call for display components that can handle the weight and hide unsightly wiring. Although the screens are usually part of the backdrop, this is not a hard and fast rule. In fact, some companies have had great success by creating small seating areas with dedicated television screens for product presentations.
Getting Started
The experts at Stellar Signs & Graphics routinely work with large and small companies to create the types of trade show displays that grab the eye and invite for news coverage at every event. We serve the business communities in and around West Palm Beach, Palm Beach County, Royal Palm Beach, Wellington, Lake Worth, Boynton Beach, Palm Beach Gardens and Green Acres, FL. Call us today for more information on our trade show products and to get started on your order.