26
Jan
2021
Published by Bonnita Calhoun Comments Off on 4 Benefits Of Promoting Your Business With A-Frame Signs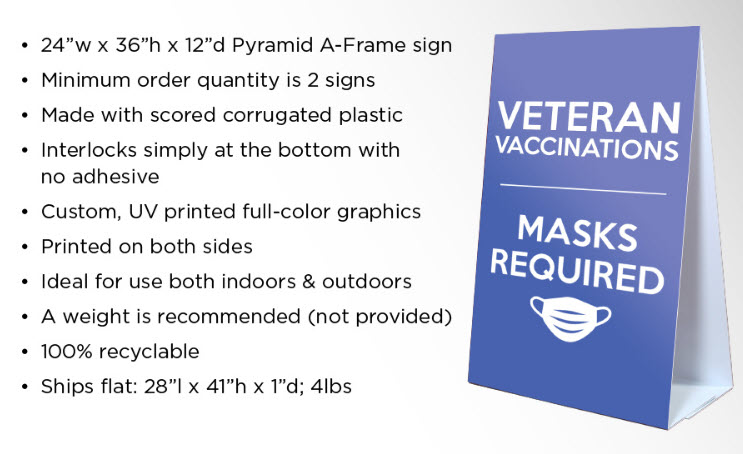 A-frame signs are aptly named. Taking on the form of the letter "A", these attention-grabbing marketing tools are amazing cost-effective ways to promote a business. Sometimes referred to as sandwich boards, A-frame signs are excellent at directing people to hard-to-find locations, informing the public about new products and services and listing prices for menu items. To tell you the truth, there's no limit to what A-frame signs can do for your business!
Here are four benefits of promoting your business with A-frame signs:
1. They are excellent attention-grabbers.
We've already made this point but it deserves repeating. Because A-frame signs are often used to present information to passers-by of business locations, they help to increase in-store foot traffic. When placed in a strategic position, an A-frame sign is impossible to miss. Although these signs are just as effective indoors, many store owners choose to place them on sidewalks outside their places of business. Having these signs at ground level is a marketing strategy known for garnering attention from shoppers.
2. They are easily portable.
A-frame signs are known for their high-quality, yet lightweight design. No installation of any kind is required. These are the types of advertising tools that have that "pick up and go" quality. In other words, you can easily place an A-frame sign anywhere you like, pick it up and move it as often as you want with very little effort. Made with scored corrugated plastic, A-frame signs are very durable, waterproof signage solutions.
3. They offer great versatility.
An A-frame sign can be either single-sided or double-sided. By taking advantage of its double-sided nature, your business can display two or more messages at once. Naturally, you can customize the signs with creative graphic designs and images to convey your unique messages to the public. Display your menu items, promote a new sale, let customers know about special events – the list of possibilities, as we mentioned earlier, go on and on!
4. They are incredibly affordable.
A-frame signs are amazingly cost-effective. At Stellar Signs & Graphics, we offer our customers the ability to save money with special tier pricing. Our A-frame signs are only $54.00 each if you purchase between 2 (our minimum order) and 10 signs. They go down to $44.00 each if you order between 11 and 25. For 26 signs or more, the price goes down to $40.50 a piece! We offer local shipping and delivery as well.

Let's discuss the design of the A-frame sign to promote your business! The experts at Stellar Signs & Graphics serve the business communities in and around Palm Beach County, West Palm Beach, Royal Palm Beach, Wellington, Lake Worth, Boynton Beach, and Greenacres, Florida. Give us a call at 561-721-6060 today!


Tags: A-frame signs, advertising, benefits, business promotion, durable, eye-catching, pyramid A-frame signs, sandwich boards, signage solution, waterproof


Categorised in: A-Frame Signs

This post was written by Bonnita Calhoun