19
Sep
2023
Published by Walkiria Gutierrez Comments Off on Giving Off Great Impressions Through The Colorful World Of Wall Graphics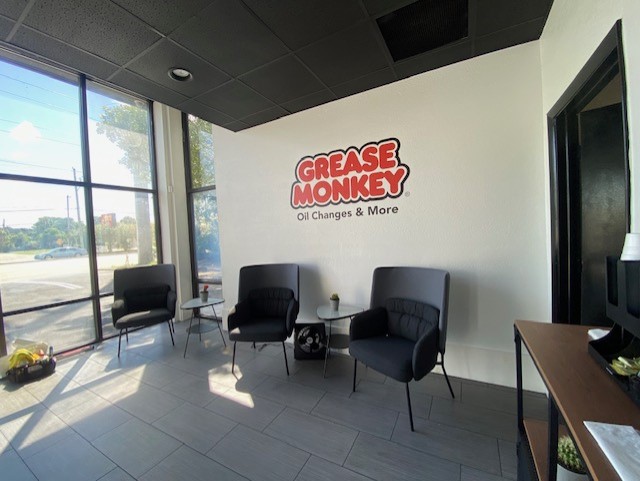 All automobile owners are well aware of the extreme importance of maintenance. Your vehicle simply won't function at its best if you're not regularly taking it in for oil changes and necessary repairs. For all drivers in the West Palm Beach area, you don't have to look any further than Grease Monkey for all of your oil change and automotive repair needs.
"As part of our top-notch service, our certified technicians perform a thorough 16-point inspection with every oil change," informs their website, "And we stand by our commitment to quality. That's why we cover our services and products for either three months or 3,000 miles, whichever comes first."
Check out the new wall graphics at Grease Monkey!
Located at 1891 S Military Trail in West Palm Beach, the Grease Monkey auto center has recently been adorned with a plethora of new wall graphics. They include a snazzy company logo decal in their waiting room (as seen above) as well as a number of others throughout the shop. One boldly displays their "Done Fast. Done Right." motto. Another showcases their long list of services which include tire rotations, fluid exchange, fleet services and more.
The Stellar Signs & Graphics team is elated to have completed so many different wall graphic designs for Grease Monkey. Evidently, this awesome body shop knows the value of sprucing up the decor of their place of business. Wall graphics have the ability to transform dull and uninspiring spaces into vibrant, engaging environments that leave lasting impressions on customers and visitors.
Wall graphics bolster a company's branding and identity.
Consistent branding is essential for businesses that looking to establish strong identities that stand out in a crowded market. Wall graphics offer a unique opportunity to reinforce your brand. It's wise to incorporate your company's color scheme and logos into your design. However, it's also smart to include some messaging along with your vivid images. This helps to reinforce your company's unique stance in the marketplace and grow its reputation as an industry leader.
"Your brand identity is what sets you apart from competitors and helps customers recognize and remember your brand," writes Adekunle Oludele of The Watchtower Dubai, "Wall branding can help reinforce your brand identity by incorporating your brand's colors, logos, and messaging into your workplace. This can create a consistent and memorable experience for your customers."
Wall graphics are highly customizable.
They allow you to tailor the images and messaging to your specific business needs and preferences. Do you want to create a cozy, rustic atmosphere? Try nature-themed graphics. Would you prefer a sleek, modern look? Use geometric patterns. The possibilities are virtually endless! For Grease Monkey's motto, for example, we designed a checkered display reminiscent of the flags used to signify the winners of car races.

Are you ready to put us to work on some wall graphics for your place of business? The experts at Stellar Signs & Graphics serve the business communities in and around Palm Beach County, West Palm Beach, Royal Palm Beach, Wellington, Lake Worth, Boynton Beach and Greenacres, Florida. Please don't hesitate to give us a call at 561-721-6060 or send us an e-mail at sales@stellar-signs.com today!


Tags: auto body shop, branding, customizable, Grease Monkey, identity, signage, waiting room, wall graphics, Wall Murals, West Palm Beach


Categorised in: Wall Lettering, Wall Murals & Graphics, Wall Signs

This post was written by Walkiria Gutierrez