23
May
2017
Published by Bonnita Calhoun Comments Off on 4 Benefits Of Placing A Monument Sign In Front Of Your Business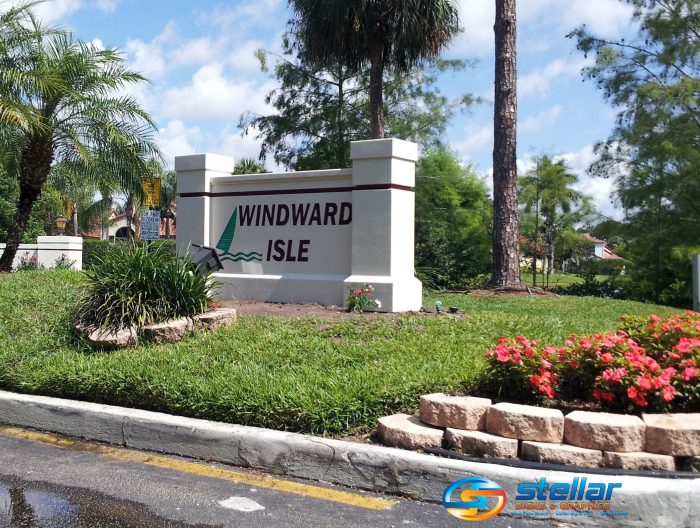 Is your place of business noticeable from the street? Can walkers-by easily tell where your business is located? Are drivers able to identify your business logo as they pass by in their cars? If you've answered "no" to any of the above questions, you could certainly benefit from installing a monument sign in front of your place of business!
Here are four benefits of placing a monument sign in front of your business:
1. They help you to reach more local customers.
By their very nature, monument signs adorn the front areas of your place of business, declaring to the public that your company is located close by. In many cases, these signs act as sources of information to nearby residents. They are declarations that your business exists. Believe it or not, many consumers report to not even having known that businesses were located in their neighborhoods until their monument signs were erected. To significantly increase visibility in your community, a monument sign is a must.
2. They boost your brand imaging.
One of the most important aspects of any marketing campaign is consistency. Your company logo should appear on all advertising, both online and offline. When designing your monument sign, it's important to utilize the graphics, fonts and colors that are in keeping with your brand image. By erecting a monument sign, you help for consumers to easily notice and relate to your business.
3. They are cost-effective advertising tools.
More members of the public are bound to see your monument sign than they are your television commercials, billboards or print ads. And, it's important to note that all three of those advertising methods are quite pricey. With the installation of your monument sign, you will be reaping long-term benefits at a one-time cost. Naturally, the sign will be viewed over and over again for years to come – constantly directing traffic to the front doors of your business.
4. They boost your company's prestige.
Monument signs are known for adding a touch of class to the ways in which you advertise your company. They showcase a bold, yet elegant aspect of your brand. With a variety of options to choose from that include foam, stucco or even a brick or stone-like finish, a monument sign is a very classy way to announce the location of your business to the world.

Let's get started on your monument sign! The experts at Stellar Signs & Graphics serve the business communities in and around Palm Beach County, West Palm Beach, Royal Palm Beach, Wellington, Lake Worth, Boynton Beach, and Greenacres, Florida. Help your business to stand out and get noticed! Contact us today at 561-721-6060 to get started on the design of your new monument sign!


Tags: Brand with Monument Signs, Types of Monument Signs Available, Where To Buy Monument Signs


Categorised in: Letters for Monument Signs, Monument Sign Letters, Monument Signs

This post was written by Bonnita Calhoun