14
Mar
2023
Published by Walkiria Gutierrez Comments Off on 5 Reasons Why Every Business Should Have A Recognition Wall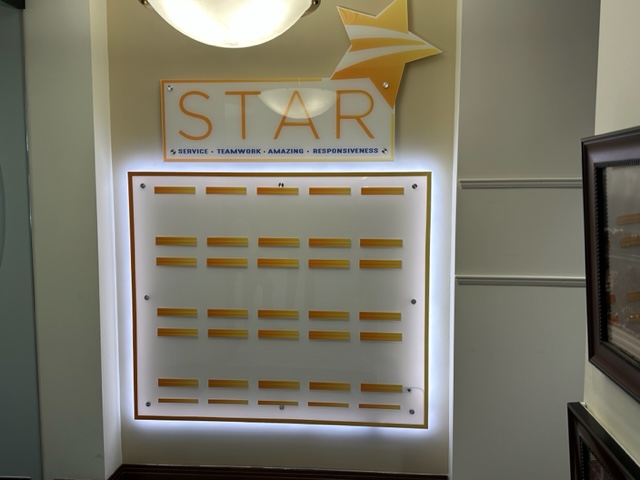 As a business owner, you know that your employees are the backbone of your company. They are the ones who work tirelessly to achieve your business goals. Your team keeps your customers satisfied, helping your company thrive. While a simple "thank you" can go a long way in showing appreciation, sometimes you need to go above and beyond to recognize their hard work and dedication.
One effective way to do this is by setting up a recognition wall in your office. A recognition wall is a public display where you can showcase the achievements and accomplishments of your employees. Here are five reasons why every business should have a recognition wall:
1. It boosts employee morale.
Recognizing your employees for their hard work can do wonders for their morale and motivation. It can show them that their efforts are valued and appreciated, which can lead to increased job satisfaction and engagement. When employees feel recognized, they are more likely to be motivated to continue performing at high levels. They will want to go above and beyond what is expected of them.
2. It creates a positive company culture.
By highlighting the achievements of your employees, you are sending a message that your company values hard work, dedication and excellence. This can inspire other employees to strive for similar achievements. It can also foster a sense of healthy competition within the workplace.
3. It recognizes a diverse range of accomplishments.
A recognition wall can be used to recognize a wide range of accomplishments from hitting sales targets to going above and beyond to help a customer. By celebrating a diverse range of achievements, you are showing your employees that you value all aspects of their work, not just the ones that are directly tied to their job description. This can help to create a sense of inclusivity within the workplace. It can also encourage employees to collaborate and support one another.
4. It encourages customer loyalty.
A recognition wall can also be used to recognize employees who have gone above and beyond to provide exceptional customer service. By showcasing these employees, you are sending a message to your customers that your company values their satisfaction. It shows that you are willing to go the extra mile to ensure it. This can help to build customer loyalty and can encourage customers to continue doing business with you in the future.
5. It provides a sense of achievement.
When employees see their names and accomplishments displayed publicly, it can give them a sense of pride and accomplishment. This can be particularly impactful for employees who may not receive a lot of recognition in their personal lives. A recognition wall can work wonders in helping to boost their self-esteem and confidence.

The signage experts at Stellar Signs & Graphics recently completed a recognition wall for the Village of Tequesta. Check out the above photo. Let's get to work on a recognition wall for your company! We proudly serve the business communities in and around Palm Beach County, West Palm Beach, Royal Palm Beach, Wellington, Lake Worth, Boynton Beach, and Greenacres, Florida. Please do not hesitate to give us a call at 561-721-6060 or send us an e-mail at sales@stellar-signs.com.


Tags: company culture, customer loyalty, employee morale, employee recognition, office signage, office wall art, recognition, recognition walls, signage


Categorised in: Office Signs and Graphics, Office Wall Art, Recognition Walls

This post was written by Walkiria Gutierrez