25
May
2017
Published by Bonnita Calhoun Comments Off on Why Are Acrylic Logo Panels Such Popular Choices For Lobby Signs?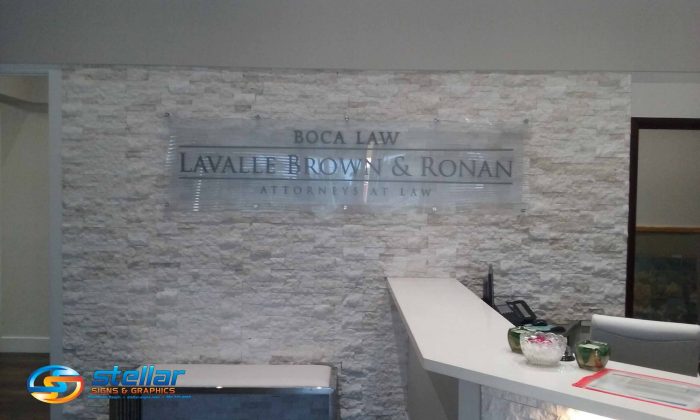 Lobby signs make up the perfect ways to impress all of the visitors to your place of business. As soon as visitors walk through the doors, they should be dazzled by the work of art you have on the wall. That work of art, of course, should be a stellar representation of your company's brand image. (See what we did there?)
At Stellar Signs & Graphics, we proudly construct lobby signs using acrylic, foam and metal materials. Many of our clients opt for the dimensional letter look to produce that eye-catching 3D appearance of letters that pop out from the walls behind them. These are especially effective in tight spaces, since dimensional letters can fit into any location. However, a lot of business owners really love that "work of art" appeal to their lobby signs. As a result, acrylic logo panels make very popular choices.
Acrylic logo panels are the classy, yet safe choice.
The elegant design of acrylic logo panels places your business logo on what looks like a large piece of glass. However, unlike glass, the material is not susceptible to cracking and breaking. In fact, acrylic is so durable and safe, it is virtually "unsmashable". Even it does somehow break, it will not shatter the way glass does. Installing an acrylic logo panel lobby sign will certainly not compromise the safety of anyone in your office.
Acrylic logo panels can be designed in many different ways. They can feature a layered appearance that allows for intricate designs and patterns to accompany your business logo. Panels can also be constructed with dimensional lettering to highlight the beauty of each individual letter.
One of the biggest benefits of acrylic logo panels is that they allow for great versatility. Our clients can choose from a wide range of colors. Letters can be etched directly into the material or acrylic lettering can be added to the panel. The panels can also incorporate LED backlights which really bring out a special eye-catching quality.
Acrylic logo panels are easy to customize and maintain!
Not only can clients have their acrylic lobby signs designed in any way they want, they can be installed to provide a variety of appearances. The signs can be placed flush against your lobby wall or installed with standoffs to provide that floating, off the wall appearance. As well, cleaning your acrylic logo panel is easy! A bit of soap and water on a non-abrasive cloth will easily do the trick within seconds. Simple wipe downs are all that is needed to keep your acrylic lobby sign looking like new.

The experts at Stellar Signs & Graphics serve the business communities in and around Palm Beach County, West Palm Beach, Royal Palm Beach, Wellington, Lake Worth, Boynton Beach, and Greenacres, Florida. We'd be more than happy to visit your business location to conduct a site survey and discuss your vision for the perfect acrylic lobby sign. Give us a call at 561-721-6060 today!


Tags: Best Sign Shop for Acrylic Panel Lobby Signs, Lobby Signs, The Professional Look of Acrylic Panel Lobby Signs in West Palm Beach FL, Where To Buy Acrylic Panel Lobby Signs in West Palm Beach FL


Categorised in: Acrylic Signs, Lobby Signs

This post was written by Bonnita Calhoun