24
Feb
2017
Published by Bonnita Calhoun Comments Off on Aqua Soft Adds 14-Foot Truck Graphics in West Palm Beach FL
A couple of years ago, we worked with Aqua Soft Water Systems on the design, manufacture, and installation of van and truck lettering and graphics. The business owned a Ford F-150 truck and Ford E-250 van. We treated both vehicles with an attractive combination of letters and images. When the company's management team added a larger truck to its fleet, its representative contacted us to put together and install 14-foot box truck graphics in West Palm Beach FL.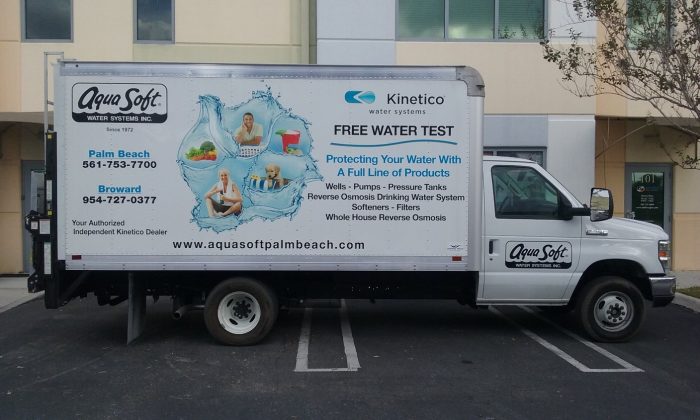 We consulted with our client and learned that the business wanted to display a different set of images rather than the ones we had on file. That said, the brand colors, as well as the lettering hues, would remain the same. Add to this the larger size of the surface, and we had our work cut out for us. But because we rely on our late-model, large-format printer for this type of project, we were able to put together an excellent set of graphics.
Our experts started with a proof design that shows how we can present the corporate name and logo in the most advantageous spot of the vehicle. Next, we added the focal graphic. Finally, our experts created a layout that informs the consumer about the company's services menu and contact information. We also emphasized the ways in which Aqua Soft differentiates itself from the competition. Now completed, this box truck succeeds with contributing to the business' advertising and branding message.
Treating Every Vehicle in a Fleet is Vital to Success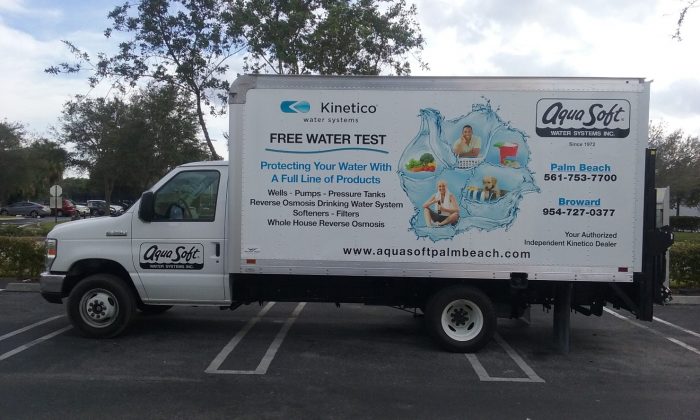 Most companies have two or more vehicles they use in the course of daily business. One might be instrumental to hauling products or work crews. The other one may be the car you use when you visit clients, buy materials, or check up on teams in the field. No matter how many cars, trucks, or vans you have, or what their makes and models are, if they do not have a graphics package or wrap, you miss out on advertising opportunities.
If you are uncertain that a wrap is right for you, we gladly help you with the design of a graphics package. Moreover, you do not have to show off the same graphics package on each vehicle. Take a page from the playbook of Aqua Soft, and keep the brand focus identical but adapt the use of graphics to suit your taste and need. If you do want to go for a mirrored design but have vehicles that are completely different in size, we can help you with that, too. Because we keep your graphics on file, we can adjust the overall dimensions of an appearance to have it suit any vehicle perfectly!
Are There Untreated Vehicles in Your Fleet?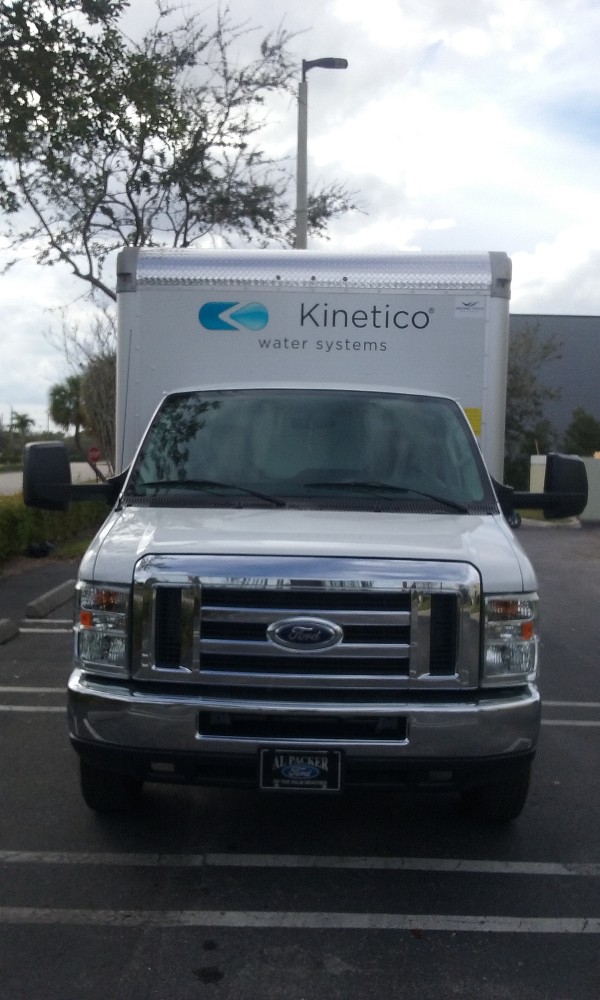 If there are, these vehicles are not pulling their weight regarding marketing and branding the company whenever they are on the road. Whether you need 14-foot box truck graphics in West Palm Beach FL, or have a car that still shows only the factory paint job, we can help.
Call us today to learn more about the importance of fleet graphics!


Tags: Aqua Soft Adds 14-Foot Truck Graphics in West Palm Beach FL, Types of Box Truck Graphics Available in West Palm Beach FL, Where To Order Fleet Truck Graphics in West Palm Beach FL


Categorised in: Fleet Graphics, Truck Graphics, Vehicle Graphics

This post was written by Bonnita Calhoun