20
Jul
2021
Published by Bonnita Calhoun Comments Off on Beautifying Coral Springs Animal Hospital With A New Lobby Sign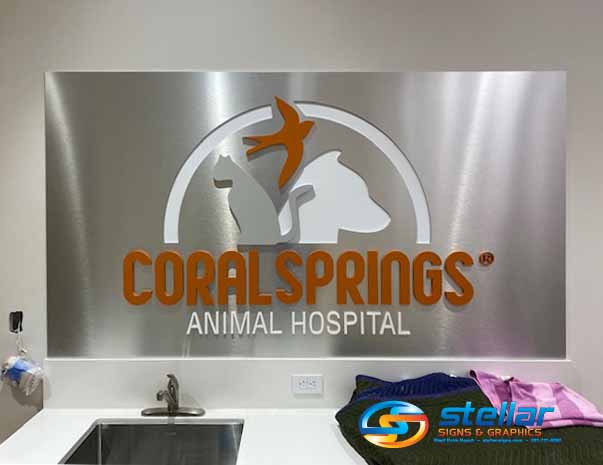 If you're a loving pet owner who lives in the Coral Springs area, developing a relationship with Coral Springs Animal Hospital is a wise choice. Established back in 1977 by Lloyd S. Meisels, the hospital opened with just one doctor and two employees. Today, it is staffed by 37 doctors and over 120 employees.
Coral Springs Animal Hospital has, in fact, grown to become the largest privately-owned animal hospital in the state of Florida. It is also one of the largest animal hospitals in the United States. In 2015, it was awarded the prestigious National Hospital of the Year Award by the American Animal Hospital Association. It was also named PetPlan® Practice of the year.
Specializing in care for dogs and cats, Coral Springs Animal Hospital provides full preventative veterinary care services. They include vaccinations, spays and neuters, dentistry, X-rays, senior pet care, boarding and more. It is also open 24 hours a day for emergencies. In addition, Coral Springs Animal Hospital is attractive, modern, professional, comfortable and odor-free. It insists upon a completely sanitary environment at all times.
Check out their new lobby sign!
As you can see from the photo above, Coral Springs Animal Hospital has recently become that much more attractive! The Stellar Signs & Graphics team had the pleasure of manufacturing a brand new lobby sign for their location. The sleek and professional new signage is a flat cut dimensional lobby sign.
It was constructed using an acrylic face with brushed aluminum. To begin, we cut the top arch and dog profile out of the base. We then placed a 1/8" white acrylic background to provide a recessed arch and dog profile. The edges were painted silver to match the aluminum. The bird and the cat were cut from1/2" acrylic and painted PMS colors. They were then mounted to the face background.
The "Coral Springs" portion of the sign was CNC cut from 1/2" acrylic, painted and then applied to the face background. The "Animal Hospital" portion was CNC cut from 1/4" white acrylic.
Lobby signs have long been known to make great first impressions.
They make visitors feel welcome, knowing they are in a professional business setting. Lobby signage also helps to convey the uniqueness of the place of business that displays it. In addition, these signs can help direct foot traffic, alerting visitors of where to find the rooms, offices or departments they are looking for.

Do you need a new lobby sign for your place of business? The experts at Stellar Signs & Graphics serve the business communities in and around Palm Beach County, West Palm Beach, Royal Palm Beach, Wellington, Lake Worth, Boynton Beach, and Greenacres, Florida. Please don't hesitate to give us a call at 561-721-6060 today!


Tags: acrylic, aluminum, Coral Springs, Coral Springs Animal Hospital, Dimensional Letters, lobby sign, lobby signage, new signage


Categorised in: Dimensional Lettering, Dimensional Letters, Lobby Signs

This post was written by Bonnita Calhoun