8
Mar
2022
Published by Bonnita Calhoun Comments Off on Beautifying ProMD Health's Offices While They Beautify You!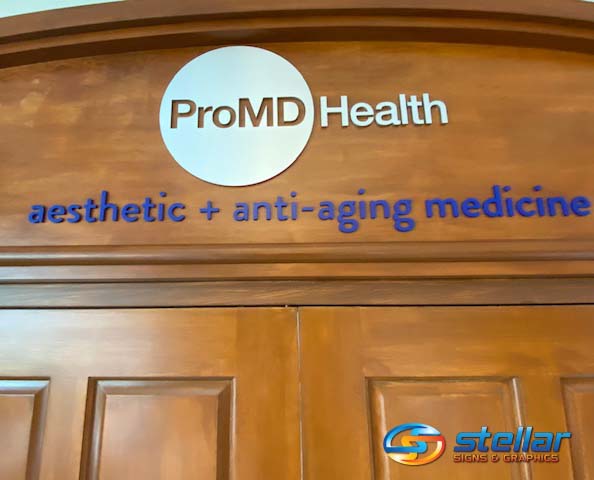 ProMD Health offers unparalleled personalized medical care. With four offices located in the state of Maryland and one here in Florida, this incredible company specializes in making people feel and look their absolute best. Whether you're trying to better your physical health, improve your appearance – or both! – ProMD Health can help you.
"At ProMD Health, our unique, personal approach to medicine coupled with our cutting-edge anti-aging treatments provide our patients with unsurpassed care in a relaxing setting," proclaims their website, "We cater to patients that require the best in personalized medical care. We focus on three specialized areas: Facial Rejuvenation, the advancement of patient care through Hormone Optimization Therapy and Lifestyle & Weight Management."
Check out ProMD Health's new entrance door signage!
The Stellar Signs & Graphics team was elated to have completed not one, but two brand new signage projects for ProMD Health's Wellington, Florida office. Last week, we installed a flat cut dimensional letters sign above their entrance door. We also installed a flat cut dimensional letter lobby sign inside their office. Take a look at the photos both above and below to check out the final products!
As mentioned, the entrance door sign was made using flat cut dimensional letters. However, there are a few different components to this sign that required some unique designing. Both the company logo and "Health" portion of the sign were constructed using acrylic. They each have a brushed silver face with silver painted edges. Both components were flushed mounted with VHB tape installation.
The tagline portion of the sign reads "aesthetic + anti-aging medicine". This component was made up of acrylic letters that were painted reflex blue. They too were flushed mounted with VHB tape installation.
Check out ProMD Health's new lobby signage!
Flat cut dimensional letters were also used for the new ProMD Health lobby sign. Both the acrylic letters and company logo were painted "satin finish". The circle logo, tagline and "ProMD" portions of the lobby sign are 1/4″ thick. The "Health" portion of the sign is 1/2″ thick. Overall, the size of the lobby sign is 29″ x 44″.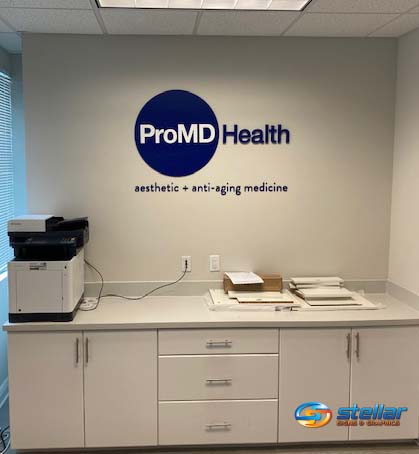 Be sure to check out the ProMD Health website to learn about all of their locations. In addition to their Wellington office, they have offices in Annapolis, Arlington, Baltimore and Columbia in Maryland.
Are you ready to get to work on new signage for your company?
The experts at Stellar Signs & Graphics serve the business communities in and around Palm Beach County, West Palm Beach, Royal Palm Beach, Wellington, Lake Worth, Boynton Beach, and Greenacres, Florida. Give us a call at 561-721-6060 today!


Tags: acrylic, Dimensional Letters, entrance door sign, flush mounted, lobby sign, lobby signage, ProMD Health, signage, signs, wall branding


Categorised in: Dimensional Letters, Dimensional Wall Letters, Lobby Signs, Logo Signs

This post was written by Bonnita Calhoun