29
Aug
2017
Published by Bonnita Calhoun Comments Off on Boosting Your Brand's Prestige With High Resolution Reprints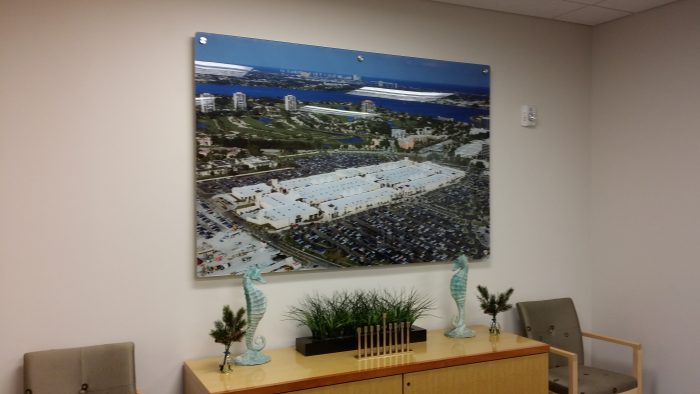 At Stellar Signs & Graphics, we often herald the ability of lobby signs to attract the attention of visitors to any place of business. They work! Not only are they eye-catching, but many lobby signs provide pertinent information that help businesses promote their upcoming events, contests and sales. Lobby signs, however, are not the only way to both beautify an office space and attract attention from visitors.
High Resolution Reprints offer an artistic way to boost the prestige of your place of business. These high-quality prints, which are displayed on artist-style Canvas and Photo Realistic Paper, practically turn your business location into an exquisite art gallery! And the beauty of High Resolution Reprints is that they don't necessarily need to be specifically related to your business.
What type of High Resolution Reprints can you adorn your office walls with?
The answer is pretty much anything! Images of beaches, cars, horses, butterflies, landscapes, horizons and more – the choice is absolutely up to you. Whatever you feel will compliment the decor of your work space is bound to work amazingly. Of course, many business owners choose to reprint photos of the exteriors of their places of business – especially during their construction. Doing so helps to convey a prestigious retelling of a company's origins.
Keep in mind that your High Resolution Reprints don't even have to be photographs. If you like, you can take your favorite quotes and turn them into illustrious pieces of wall art. By adding these additional pieces of "personality" to your business location, you stand to heighten the impression people have of your brand. High Resolution Reprints definitely help to develop better reputations than bare walls!
How can High Resolution Reprints help to boost sales?
The walls of your place of business make for great advertising spaces. That is, of course, if you decorate them wisely. Quite often, High Resolution Reprints spark great conversations. This allows business owners to break the ice and get to know new customers. Visual stimuli in an office can go a long way. They help to boost brand image simply by virtue of being incredibly eye-catching. And this inevitably leads to more sales.

We'd be remiss if we didn't point out that High Resolution Reprints also make excellent personalized gifts. At Stellar Signs & Graphics, we're quite used to transitioning wedding and anniversary photos into beautiful pieces of wall art.

The experts at Stellar Signs & Graphics serve the business communities in and around Palm Beach Gardens, West Palm Beach, Royal Palm Beach, Wellington, Lake Worth, Boynton Beach, and Greenacres, Florida. We'd be more than happy to transition your favorite photos into High Resolution Reprints to decorate your home or office today!

Give us a call at 561-721-6060.


Tags: canvas, high resolution prints, high resolution reprints, Lobby Signs, photo realistic paper, wall art


Categorised in: High Resolution Prints, Lobby Signs, Wall Lettering, Wall Signs

This post was written by Bonnita Calhoun