10
Mar
2017
Published by Bonnita Calhoun Comments Off on Brand with Double-Sided Illuminated Monument Signs for Apartment Communities!
How do you catch the attention of prospective tenants when you are in charge of renting units in an apartment community? The answer is simple: install double-sided illuminated monument signs! When Aspen Square Management, the team responsible for The View at Waters Edge Apartments, contacted us, they were concerned that we might not serve the business community in Lake Worth. No problem! Our experts routinely work with business owners all across Palm Beach County; we were happy to assist.
Located at 6175 Reflections Boulevard, this community is famous for its tranquil surroundings. Attention to detail is a big deal here, and the presence of state of the art fitness equipment, contemporary apartment amenities, and superior customer service are well known. Dog lovers appreciate the welcoming attitude that the community has even toward larger breeds. But the setting needed a new face in the form of a double-sided monument sign.
Turning a Signage Solution into Attractive Eye Candy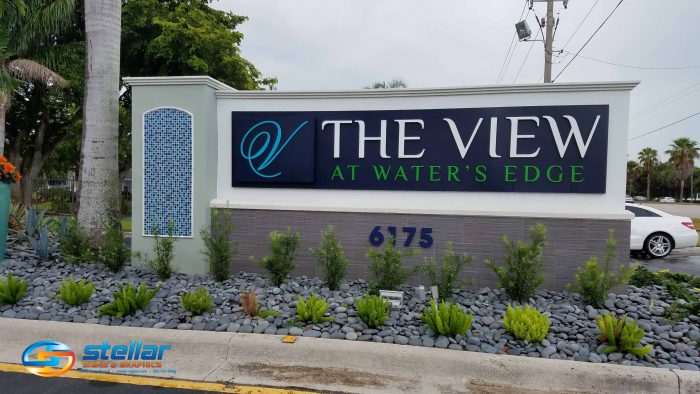 Because this sign sits at the edge of the property by the road, it appeals to motorists from both directions. It needed to convey the wow factor of the community, brand the setting, and entice prospective tenants to stop and take a closer look. Achieving this with a monument sign is possible when you put three distinct elements into play.
Illumination. The sign receives illumination after dark. This is a crucial component of any marketing and branding effort because plenty of house hunters go looking for suitable locations after getting off work and having dinner. Far too often, apartment community monuments remain unlit, which causes potential renters to keep driving.
3D Elements. Our technicians used dimensional letters for the setup. But it went further than that. We layered the presentation of the sign's logo portion to create another 3D display. With the center portion being slightly offset from the sign's side, there is architectural layering in place as well.
Bold colors. Our technicians followed the color schemes set forth by the client. We ensured a bold presentation that makes the community's name and logo pop – even when seen while driving past the locale.
How to Supplement a Monument with Other Apartment Property Signage
If you are thinking of going for the one-two advertising punch, we recommend taking a closer look at our vinyl banners and A-frame selection. If you are actively advertising for new tenants, these products are sure to catch the attention of house hunters. When you anticipate several units opening up shortly, we gladly customize a signage solution that issues an invitation to submit an application. Other signage options include dimensional letters for the building, wayfinding signs, and the types of markers that comply with the Americans with Disabilities Act (ADA).
Does Your Property Need Double Sided, Illuminated Monument Signs?
Do not leave the visibility and curb appeal of your property to chance. Instead, ensure that your location puts its best foot forward and attracts attention in all the right ways. Our business sign experts assist you with the design of a product that is ideally suited for your location's setting and overall ambiance.
Call us today to learn more about your options!


Tags: Brand with Double-Sided Illuminated Monument Signs for Apartment Communities!, Types of Double Sides Illuminated Monument Signs Available, Where To Buy Double Sides Illuminated Monument Signs


Categorised in: Branding Signs, Illuminated Signs, Monument Signs

This post was written by Bonnita Calhoun