24
Oct
2016
Published by Bonnita Calhoun Comments Off on Brand with Truck Lettering for Construction Companies in West Palm Beach FL
A member of the Institute of Classical Architecture & Art, Griffiths Construction professionals routinely work with engineers, interior designers, landscape architects, and architects to help clients build their dream homes. When the business decided to broaden its advertising scope via mobile marketing, its team contacted our specialists to discuss truck lettering for construction companies in West Palm Beach FL.
Combining Advertising with Value-added Information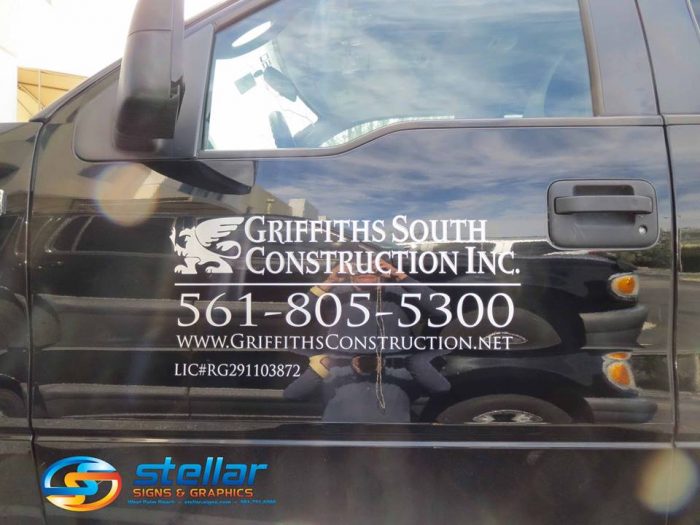 After meeting with our client, we designed a lettering product that features the company's name and logo. Next, we added the phone number and website address to make it easy for consumers to engage with the firm in their preferred way. For the prospective customer, who wants to go further and check out the business before even calling, we added the license number of the construction company as well. The white lettering looks elegant against the black paint job on the truck. The color contrast works well to boost visibility even in inclement weather. Now, it is no mystery who the contractor in charge is when this truck pulls up at a job site.
Designing the Ideal Lettering Product for Your Business
After working with a wide variety of companies on their truck, van, and other vehicle lettering messages, we have noticed that there is a common thread when it comes to selecting the right wording for the occasion.
Name and logo. The name and logo of your company are crucial when you want to build name recognition among consumers. We suggest making these two elements the focus of your lettering product.
Contact information. Second, in the order of importance, are the communication details. Having customers get a hold of you is a must for doing business. We suggest a phone number and a website address, but you can also add an email address, social media icons, or your storefront address.
Extras help you stand out. If space allows, consider the addition of a niche explanation. When your company's name does not reveal what line of work you are in, this definition helps prospective customers gauge your relevance for their needs. Other optional information includes the display of a license number, a QR (quick response) code, or a tagline.
Going Beyond the Lettering
If you want to add graphics to your lettering, you have still more options. For example, with can combine graphics and lettering to show more than the logo. Select niche-specific stock images to catch the eye and help consumers make the connection between your field and your company's name. Choose graphics from your website or pick something else altogether. When you want your lettering to become part of the images, we suggest the design of spot graphics, which install to your side doors, hood, roof, or vehicle's rear doors.
Order Your Mobile Marketing Solution Today
Whether you need truck lettering for construction companies in West Palm Beach FL, want something for a different type of business, or intend to add some graphics to a lettering setup, we can help. Contact us today to discuss your mobile marketing needs.


Tags: Best Sign Shop for Truck Lettering for Construction Companies in West Palm Beach FL, Brand with Truck Lettering for Construction Companies in West Palm Beach FL, Where To Buy Exterior Retailer Signs in West Palm Beach FL


Categorised in: Contractor Truck Graphics, Truck Lettering, Vehicle Vinyl Lettering

This post was written by Bonnita Calhoun