15
May
2018
Published by Bonnita Calhoun Comments Off on Bringing Renewed Beauty To New Radiance Cosmetic Center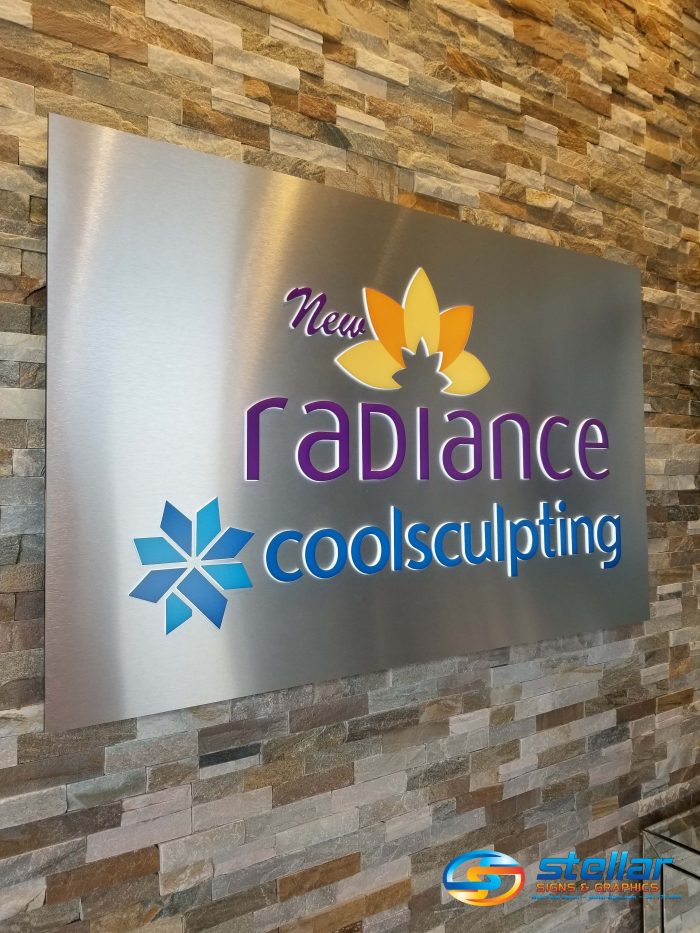 The Stellar Signs & Graphics team is thrilled to have recently added New Radiance Cosmetic Center to our list of clients. There are a number of New Radiance Cosmetic Center locations in South Florida, however, we had the pleasure of working on not one, but two unique signs for their Wellington, Florida location. It seemed very appropriate to us to have beautified their already-exquisite clinic as they specialize in helping their clients find their most beautiful selves.
"We boast the most advanced technology in the skin rejuvenation and non-invasive body contouring industry," says their website, "We also sell health and beauty products, from skin care to energy boosters and weight management products, that complement our quality cosmetic services. Located in the heart of Wellington, New Radiance Cosmetic Centers are a convenient location for residents of Wellington and the surrounding area."
We designed their new lobby sign!
It's hard not to make a great impression on the individuals who enter the front doors of your business location when you have a vivid lobby sign on display. Lobby signs give you the ability to woo your existing customers with the same fervor you would use in the pursuit of new clients. With the right lobby sign, you actively market your business while you create brand awareness.
Highlighting the fact that the clinic offers CoolSculpting (a revolutionary treatment that helps to diminish belly fat), the New Radiance Cosmetic Center lobby sign is made up of brushed aluminum, frosted acrylic letters and LED lights that help to give the letters on the sign a luminous glow. The power supply for the LEDs is concealed by a light cabinet that is mounted flush to the sheet rock wall behind the sign.
We also designed their new channel letter storefront sign!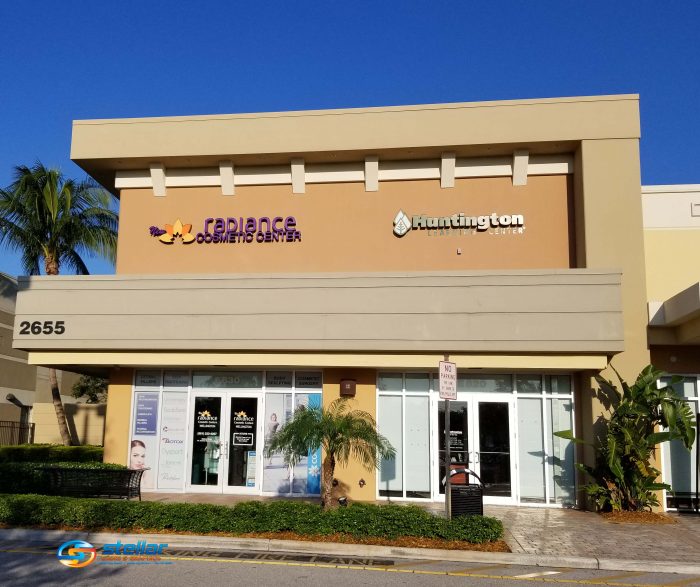 As we often say, channel letter signs are among the most commonly chosen exterior marker products currently on the market. They are easily viewable to both walkers-by and drivers-by of storefronts of strip malls, retailers, service providers and even the entrances to some apartment buildings.

The Wellington location for New Radiance Cosmetic Center offered ample space for an eye-catching channel letter sign. We used LED illuminated channel letters with acrylic faces made up of light violet translucent vinyl. It was installed on the building's light brown stucco facade that offers an excellent contrast that vividly declares the clinic's location.

Let's get started on beautifying your business location today! The experts at Stellar Signs & Graphics serve the business communities in and around Palm Beach County, West Palm Beach, Royal Palm Beach, Wellington, Lake Worth, Boynton Beach, and Greenacres, Florida. Please don't hesitate to give us a call at 561-721-6060.


Tags: channel letter signs, channel letter storefront signs, channel letters, Florida, Lobby Signs, New Radiance Cosmetic Center, Wellington


Categorised in: Channel Letter Installation, Channel Letter Signs, Channel Letters, Lobby Signs

This post was written by Bonnita Calhoun