9
Jan
2017
Published by Bonnita Calhoun Comments Off on We Can Help with Pylon Signs in West Palm Beach FL
The quintessential pylon sign features a number of stacked electrical cabinets that display the names and logos of multiple companies. Stand-alone companies' pylon signs in West Palm Beach FL, typically feature only one lightbox cabinet mounted at the top of a tall post. Both types of signs qualify for the pylon name, but their uses are somewhat different.
Cabinet Monuments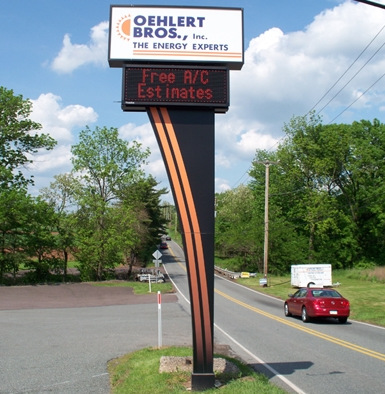 You notice these products at the entrances to mini malls, shopping centers, and other areas where a number of commercial enterprises do business. Management companies in charge of these commercial settings understand that they serve their tenants best by boosting the businesses' visibility among consumers. The cabinet monument fulfills this goal very well.
Wayfinding. Motorists and pedestrians learn about the companies that have set up shop at a given location. Consumers in search of these businesses appreciate the wayfinding assistance. Since this signage is typically lit from within, the after-dark illumination provides further directional aid.
Branding. Retailers and service providers frequently have the option of presenting not just a name but also a logo. That said, this practice is typically up to the management company. The same goes for the presentation of a business' name with its corporate color.
Advertising. Reeling in foot traffic from neighboring companies is possible when presenting the shopper with information about other nearby stores. In this way, the carefully selected mix of commercial enterprises in a shopping center can be mutually beneficial for the various companies that do business there.
Standing above the Competition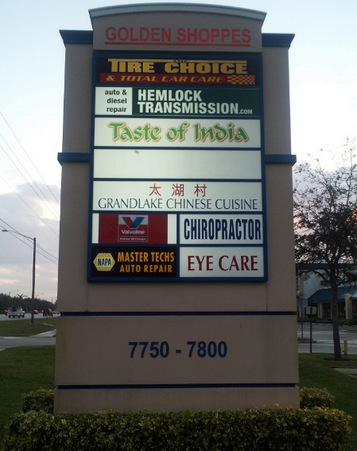 The stand-alone business that invests in this signage solution does so to make its presence more visible. Sometimes, you notice these signs with members of the hospitality industry when properties are set back from the road. At other times, it is worthwhile to install taller signage when other nearby retailers are making it difficult to stand out visually. Some companies boost the functionality of their monuments with LED reader boards that feature sales messages and announcements, depending on their commercial niches.
We recommend the construction of a contemporary post setup that perfectly fits the sizing of the cabinet. The standard pole that so many marketers used in the past does not fit into the contemporary sales scene any longer. Rather, shaped posts feature curves or even stucco appearances that fit in perfectly with the look of a venue's exterior.
Could Your Company Benefit from Pylon Signs in West Palm Beach FL?
Have you been toying with the idea of revamping your exterior signage to demand more attention from motorists? If you are a retailer, car dealer, gas station owner, or operate a company in the hospitality industry, you could very well benefit from this signage option. Manufacturing usually requires the use of aluminum, which keeps costs down. That said, we recommend investing in the needed upgrades, such as UV protective coatings for your box cabinet, designed for making the product last.
Call us today to talk about this signage option at your venue, and we gladly come out for a site survey!


Tags: Types of Pylon Signs Available in West Palm Beach FL, We Can Help with Pylon Signs in West Palm Beach FL, Where To Order Pylon Signs in West Palm Beach FL


Categorised in: Advertising Signs, Business Signs, Pylon Signs

This post was written by Bonnita Calhoun