10
May
2022
Published by Bonnita Calhoun Comments Off on Celebrating The Prestige Of The Palm Beach Yacht Club With A New HDU Sign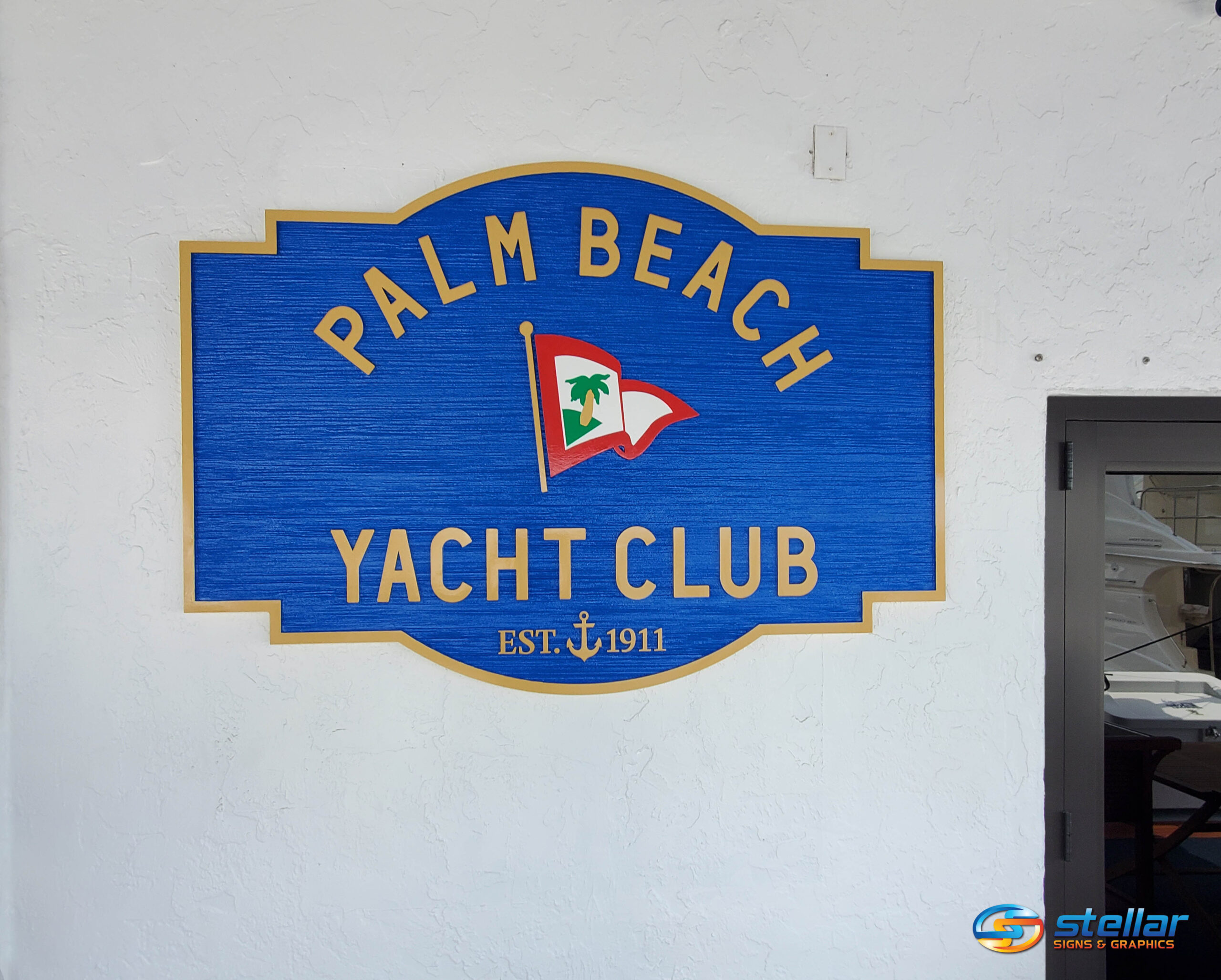 It's one thing to be stellar. It's a whole other thing to be one of the most prestigious establishments in all of West Palm Beach, Florida. The Stellar Signs & Graphics team is very proud to have recently worked with the Palm Beach Yacht Club. Founded in 1890 and re-chartered in 1911, the club is currently the oldest established business in Palm Beach..
The Palm Beach Yacht Club was initially organized for boat racing and promoting camaraderie among yachtsmen on the Intracoastal Waterway. It has evolved over the years to become the most active private club in the Palm Beach area.
Check out their new HDU sign!
Last month, our team of signage experts completed an HDU (High Density Urethane) sign for the Palm Beach Yacht Club. The vividly sleek sign is four feet tall and six feet wide. Manufactured with a wood grain background, the new Palm Beach Yacht Club sign has a sandblasted wood grain finish and incorporates dimensional lettering.
Complete with an "Est. 1911" declaration, this beautiful sign helps to communicate the long-standing prestige of the Palm Beach Yacht Club. Members enjoy a wide range of benefits including reciprocity privileges at over 800 other golf, tennis, country and city clubs, plus yacht clubs worldwide.
Do you enjoy fine dining?
The Palm Beach Yacht Club offers an elegant combination of exquisite eats and incredible views from their beautiful dining room. "With sweeping views of the Intracoastal Waterway and the West Palm Beach cityscape, the dining room is an intimate atmosphere," explains the PBYC website, "Afternoons shimmer with sunlight while evenings sparkle with starry skies. A luminous full moon rising over Palm Beach is enchanting to diners and mariners alike."
The Palm Beach Yacht Club also offers its members access to illustrious events all year round. Theme parties, wine dinners, holiday dinners and dock parties all enable members to mix and mingle within their elegant facilities. In addition, PBYC members are offered exceptional travel opportunities.
"Trips to the Kentucky Derby; Napa Valley; and a Philadelphia Art Tour are a few of exciting domestic travels," their website reveals, "Passports and a sense of indulgence are required for adventures to Havana, Cuba; Montreal Grand Prix; Livernano, Italy private wine estate; Bordeaux river cruise; Louis Latour Winery Visit; Silver Cloud Cruise in the Mediterranean and more are a few of the exciting excursions organized for PBYC members."
Looking to add some prestige to your place of business?
Please don't hesitate to contact the signage experts at Stellar Signs & Graphics to get working on a new sign for your company! We proudly serve the business communities in and around Palm Beach County, West Palm Beach, Royal Palm Beach, Wellington, Lake Worth, Boynton Beach, and Greenacres, Florida. Give us a call at 561-721-6060 today!


Tags: club members, fine dining, HDU, High Density Urethane Signs, Palm Beach, Palm Beach Yacht Club, prestige, signage, signs, yachting


Categorised in: Dimensional Lettering, Dimensional Letters, HDU Signs

This post was written by Bonnita Calhoun