13
Mar
2018
Published by Bonnita Calhoun Comments Off on Channel Letter Signs: The Key To Being Found By Customers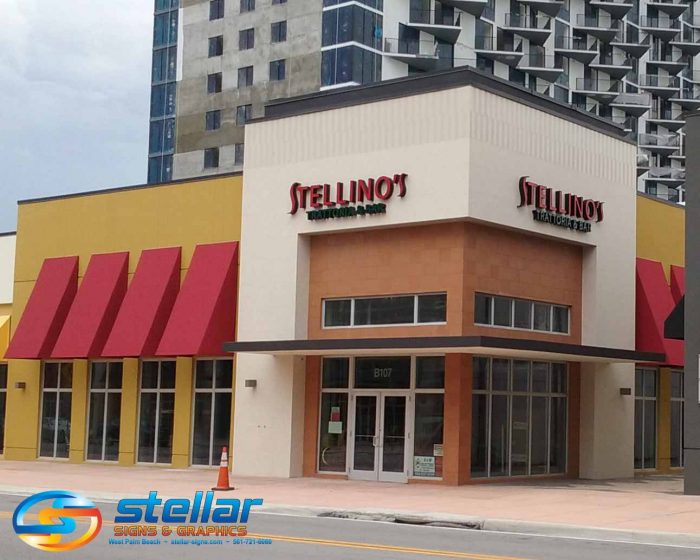 Are you having trouble growing your customer base? How visible is your store to the community that surrounds it? If the answer to the first question is "yes", perhaps it's time to delve deeper into the answer of the second question. If your storefront doesn't stand out – especially if it's side by side with other stores – it's time to invest in a vibrant channel letter sign to bring more attention to your business!
The first step to growing your customer base is helping people to find you.
Is there a better type of promotion than word-of-mouth promotion? History has shown that consumers strongly consider the opinions of a store's customers when deciding whether or not to support it. Channel letter signs are widely known for significantly increasing the reputations of the businesses that utilize them. By adorning your storefront with a channel letter sign that vividly communicates the name of your business, you're bound to catch eyes.
The more eyes you catch, the more often people will recommend your business when discussing the products and services that your company provides. Don't underestimate such seemingly subtle, "in passing" remarks as "I think I saw a flower shop in that strip mall over on Okeechobee." The attention your vibrant channel sign attracts is often all you need to welcome new customers into your store.
Channel letter signs look amazing at night!
Don't assume that we've been casually using the word "vibrant" throughout this blog. The word is, in fact, a very apt way to describe channel letter signs – especially at night time! We'd be hard pressed to come up with a more effective and cost-conscious way to advertise your brand when the sun goes down. Channel letter signs are visible from far distances in the dark, having the ability to attract both walkers-by and drivers.

Your channel letter sign, in fact, has the potential of having "landmark" status. Because these signs are so noticeable, they are often seen as very popular places for individuals in your neighborhood to meet up. Simply put, your channel letter signs let people know that your company exists – a lot of people!

The experts at Stellar Signs & Graphics offer a lot of options when it comes to channel letter signs. Please don't hesitate to reach out to us to discuss the specifications for the channel letter sign you'd like to have installed in front of your business. We proudly serve the business communities in and around Palm Beach County, West Palm Beach, Royal Palm Beach, Wellington, Lake Worth, Boynton Beach, and Greenacres, Florida.

Give us a call at 561-721-6060 today!


Tags: advertising, channel letter signs, channel letter signs in West Palm Beach, channel letters


Categorised in: Channel Letter Installation, Channel Letter Signs, Channel Letters, Channel Letters Palm Beach Gardens FL

This post was written by Bonnita Calhoun