21
Oct
2016
Published by Bonnita Calhoun Comments Off on Check Out These WiFi Signs and Electrical Vehicle Charging Signs for Palm Beach Outlets Mall!
Frequent visitors to this blog already know about the professional relationship we have built with the Palm Beach Outlets. In the course of our collaboration, we have helped many retailers advertise and brand their storefronts with approved signage components that fit in perfectly with the overall ambiance the venue's management company seeks to create. At the same time, these companies have succeeded in maintaining their unique marketing appearances.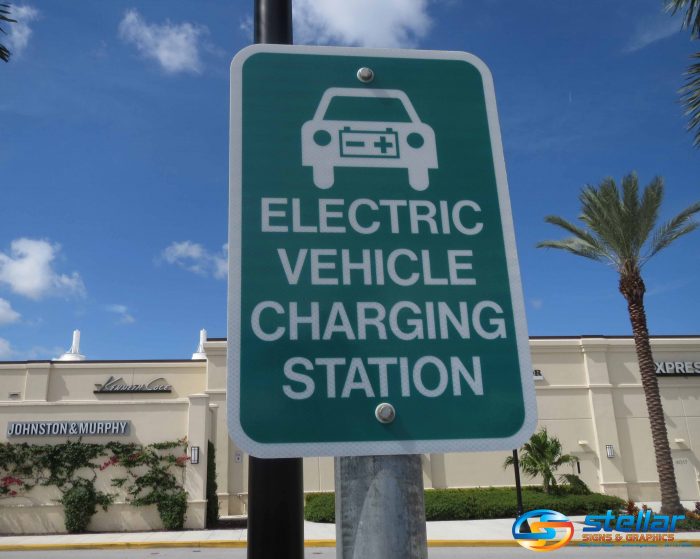 When the mall's management team needed WiFi signs and electrical vehicle charging signs, its representative contacted us for assistance. After meeting with our client, we created two durable signage solutions that fit in perfectly with their surroundings. The WiFi product features the well-known symbol for the service, which we carved into a board and flush-mounted to the wall. We used blue and green colors that complement the surroundings.
For the charging station markers, we relied on aluminum that we imprinted with white on green lettering and the symbol of a battery-operated car. The white lettering has reflective properties, which makes it easier to see after dark as motorists drive up to the parking spaces. We mounted the signs to dedicated poles, where they now signal to drivers arriving from two directions the availability of the charging stations.
Designing Mall and Retail Signage Solutions that Appeal to Shoppers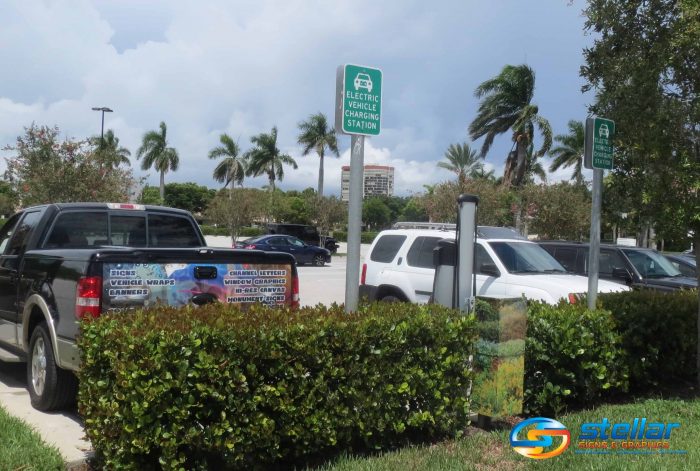 Shopping malls are more than just a collection of retailers. When you visit the Palm Beach Outlets Mall, you notice that it is a destination for families and shoppers alike. Friendly staff members and a broad range of food pavilion options make this locale a place where you can spend an entire day.
Hand in hand with these products and retail offerings, there are complimentary services the mall's management offers to consumers. The WiFi and electrical charging stations are just two examples. Of course, shoppers will not know about these valuable benefits unless there are signs to point them out. That said, it is imperative that the signs also support the overall ambiance of the setting and not interrupt the visual appeal of the site.
Ordering Matching Signage for Your Venue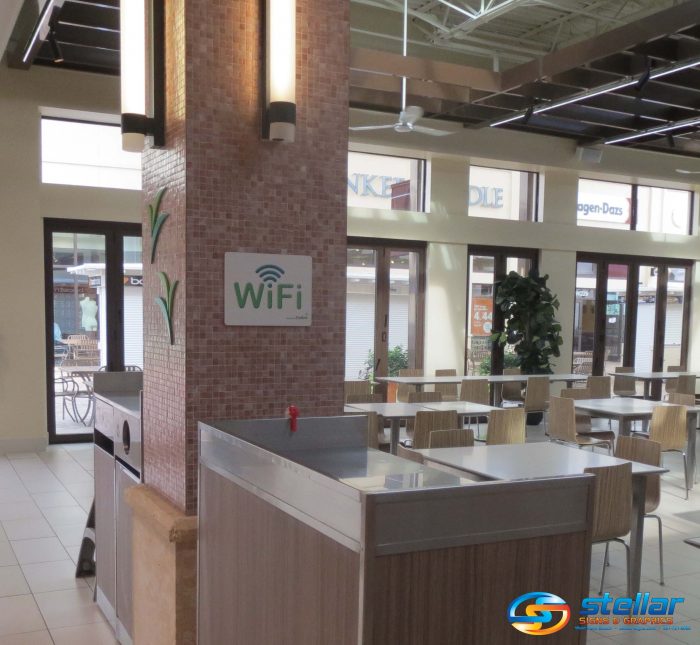 Whether you need WiFi signs and electrical vehicle charging signs for a mall, or you need directional signage for an office building, our experts can help. We frequently also work with business owners who want to integrate ADA signs that comply with the law but do not feature a general look, which would directly contradict the care the professionals took with the design of their interior presentation.
We start with a design consultation, which allows us to learn more about the signs you need, the locations where you envision mounting them, and the corporate colors that you would like to include. If you have graphics already on hand, we gladly incorporate the images you intend to use. When you need us to design something new, our experts will start the creative process according to your specifications. We submit a proof to you, which shows you what the finished product looks like. Once you approve, we manufacture and install the product.
Contact us today to get started on your project!


Tags: Check Out These WiFi Signs and Electrical Vehicle Charging Signs for Palm Beach Outlets Mall!, Electrical Vehicle Charging Signs in Palm Beach, WiFi Signs for Palm Beach Outlets


Categorised in: Advertising Signs, Electric Vehicle Charging Signs, WIFI Signs

This post was written by Bonnita Calhoun