4
May
2021
Published by Bonnita Calhoun Comments Off on Creating Elegance In The Office Of RE/MAX Excellence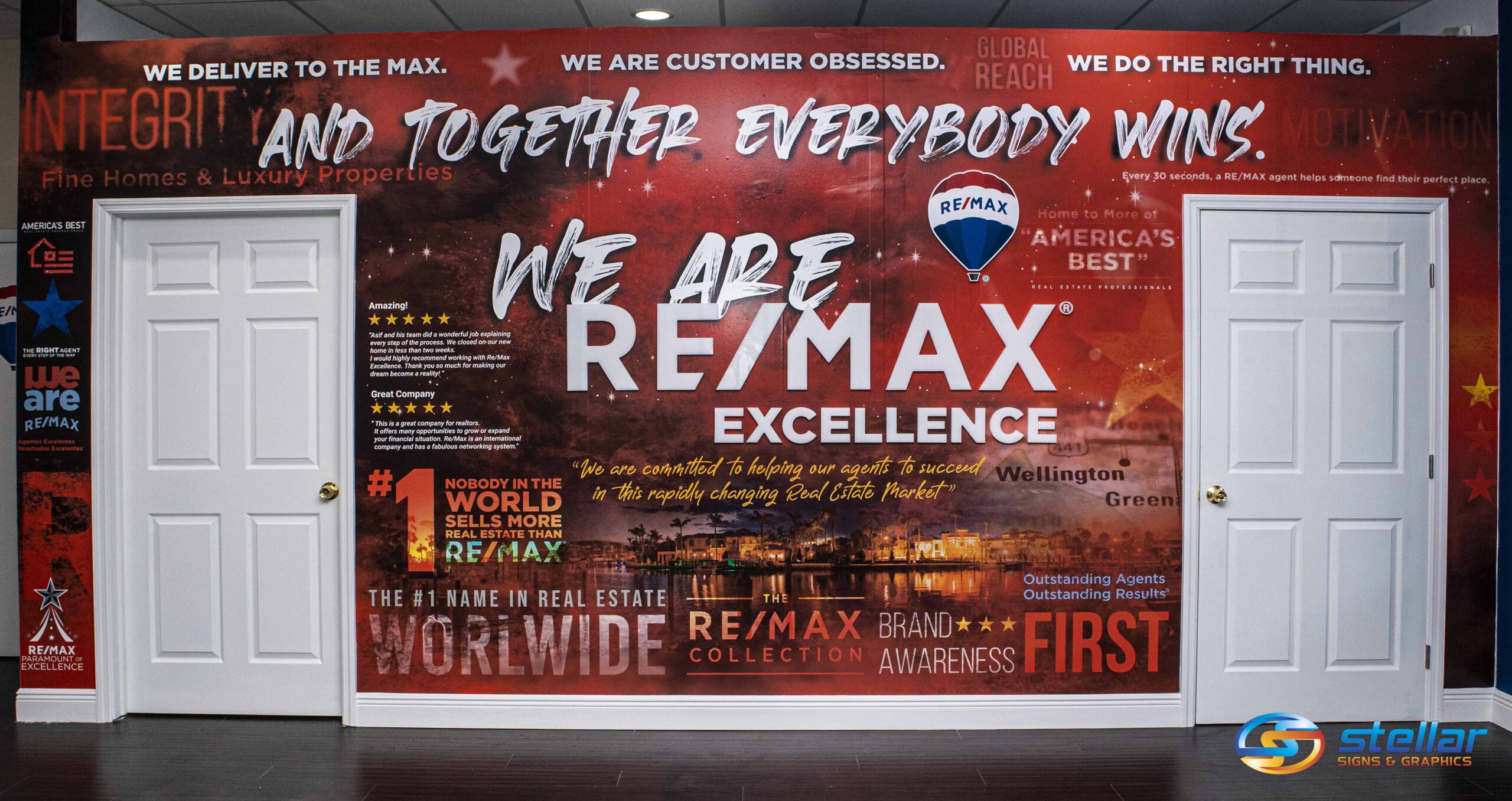 Whenever you think about buying or selling a property, chances are that the name "RE/MAX" comes to mind. The real estate company, whose name is short for "Real Estate Maximus", was founded in 1973 and today boasts over 100,000 agents in nearly 7,000 offices all over the world. The signage experts at Stellar Signs & Graphics had the fortune of recently working with one of those offices: RE/MAX Excellence in Wellington.
This awesome branch of the real estate giant is aptly named. Any experience with a RE/MAX Excellence representative is, in fact, an excellent one. Not to mention, they specialize in luxury real estate services, offering a diverse collection of properties from cozy single family residences to elegant luxury homes. With the help of RE/MAX Excellence, you can find the ideal home in such areas as Wellington, Royal Palm Beach, Palm Beach, Jupiter and others.
Check out their new conference room sign!
As mentioned, our team had the pleasure of working with RE/MAX Excellence by way of beautifying their Wellington office. We were tasked with creating not one, but two different wall branding projects, using dimensional letters.
Firstly, our team got to work on the RE/MAX Excellence conference room wall. We mounted both 3/4" white acrylic lettering and the company's balloon logo. The balloon was constructed with the same material, but also incorporated a full color print with its traditional blue and red colors. All elements of this new conference room wall signage were stud mounted to the wall.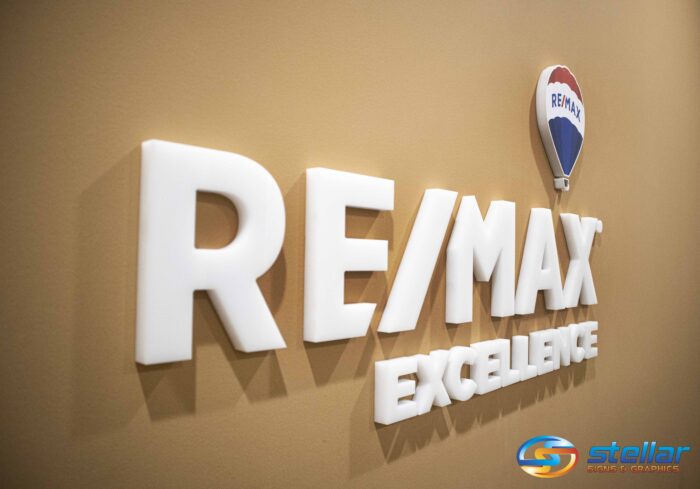 Check out their new main wall!
The second part of our project was a much larger and more exciting task. The main wall in the RE/MAX Excellence office was plastered with a 3M IJ40 vinyl full color print with 3M lamination. The awe-inspiring design was created by RE/MAX Excellence in-house graphic designer, Carlos Sanchez.
We must say that the graphic Carlos created for the office's main wall is simply awesome! Complete with a blazing red skyline, the imagery contains some of the company's top taglines. They include "We Deliver To The Max", "We Are Customer Obsessed" and "We Do The Right Thing". The main wall also boldly states that RE/MAX is the #1 name in real estate worldwide. You can't beat that!
For both the lettering and the balloon logo, 3/4" white acrylic was used once again. Naturally, this helped to maintain consistency throughout the office. In keeping with that, all of the elements of the sign were stud mounted to the wall.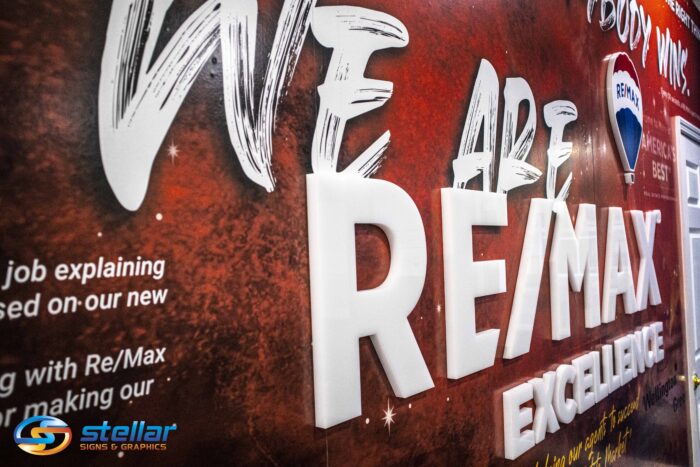 Would you like to start work on a wall branding project for your office?
The experts at Stellar Signs & Graphics serve the business communities in and around Palm Beach County, West Palm Beach, Royal Palm Beach, Wellington, Lake Worth, Boynton Beach, and Greenacres, Florida. Give us a call at 561-721-6060 today!


Tags: dimensional letter sign, Dimensional Letters, lobby sign, RE/MAX Excellence, real estate, wall branding, Wall Murals, Wellington


Categorised in: Dimensional Lettering, Dimensional Letters, Dimensional Wall Letters, Wall Lettering, Wall Murals & Graphics, Wall Signs

This post was written by Bonnita Calhoun