10
Jun
2014
Published by Walkiria Gutierrez Comments Off on Custom Signs Wellington Florida
Designing Custom Signs Wellington Florida
Florida is a great area for business – any type of business. The problem however is that more than a few people have realized this, and they have set up their very own business. The trick of course is to make sure your company stands out among the others, which isn't necessarily going to be easy.
The best thing you can do is create a set of signage that will help your company to make an impression, or, should we say, make a ripple in the lake. There are a number of different signs you might choose to utilize, but the most important thing you can do is look into custom signs Wellington Florida.
Custom Signs
There are a number of different types of signage that you might make use of, for example, you could simply design a stationary sign using your company logo or franchise. This is an important part of creating custom signage of course, especially if you want those who view the sign to remember your company. There are however other methods that you can use to make your sign stand out, for example you might want to consider signs with LED lights, or perhaps other types. Signs are the best way to advertise your business next to simply advertising online, and you can use them far beyond your own parking lot.
Another example of a custom sign could be a car wrap, which unlike other signs, is actually mobile almost 24/7. Advertising on the side of a vehicle will give you  the opportunity to spread the word far and wide—even on the freeway. In a way, this is more effective than advertising on a billboard as such car wraps really are designed to catch the attention of drivers as they barrel down the freeway. These signs are designed to be eye catching and will certainly serve to draw in more business at the end of the day so long as they are well designed.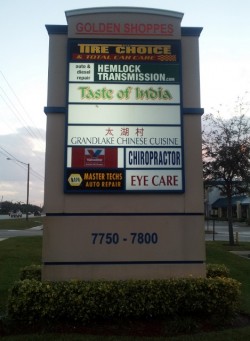 These are just a few examples of signs that you might choose for your business advertising signs wellington fl, and you can be rest assured that there are many others to choose from. For example, you might opt to use a vinyl banner to promote your business in the parking lot or perhaps in other locations. There are many different options and many different ways to design a custom sign.

Bring Your Business Back

While you will need to make sure you have a good business plan and a good product behind the signs that you place, and you will need to have a good marketing strategy. Once you have these things, along with a good set of custom signs, the rest will simply fall into place, and customers will be more than happy to give you their business. It won't be long before your company is on the map.


Tags: Custom Signs Wellington Florida


Categorised in: Uncategorized

This post was written by Walkiria Gutierrez