4
Nov
2016
Published by Bonnita Calhoun Comments Off on Elite Tint Shop Brands with Mercedes Benz Vehicle Lettering in West Palm Beach FL
Located at 2920 Okeechobee Boulevard, Elite Window Tinting is your go-to group of professionals when you need automotive tints that match factory products. But this company not only deals with vehicle owners but also with residential and commercial customers. From decorative window films to solar-control products, they have what you need. Because these experts also understand the importance of mobile marketing, the management team contacted the graphic artists at Stellar Signs & Graphics to discuss Mercedes Benz vehicle lettering in West Palm Beach FL.
Company Minivan Gets a Lettering Makeover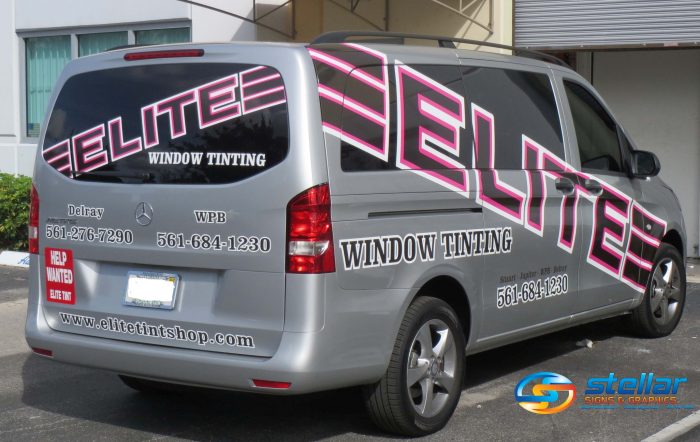 The company's Mercedes minivan is an excellent vehicle to display its tinting capabilities for the automotive customer. To put together a powerful marketing and branding presentation with little more than vehicle lettering, we scheduled a design consultation to discuss the details. The client decided to feature its name and logo in black letters with a pink and white frame. Although this is a slight departure from the company's online presentation, it looks fantastic and presents well on the tinted window.
White lettering displays the niche information on the darkened rear window. On the silver body of the Mercedes Benz vehicle, we installed black letters with white frames. They highlight the window-tinting niche, offer contact information, and feature the business' website address. Look carefully, and you will notice that there is a white on red decal on the vehicle's back. It communicated a "Help Wanted" message. This feature is common among companies that have multiple positions to fill. Because of the decal's temporary nature, the company can remove it when their jobs are all taken.
What Should Your Vehicle Lettering Spell Out?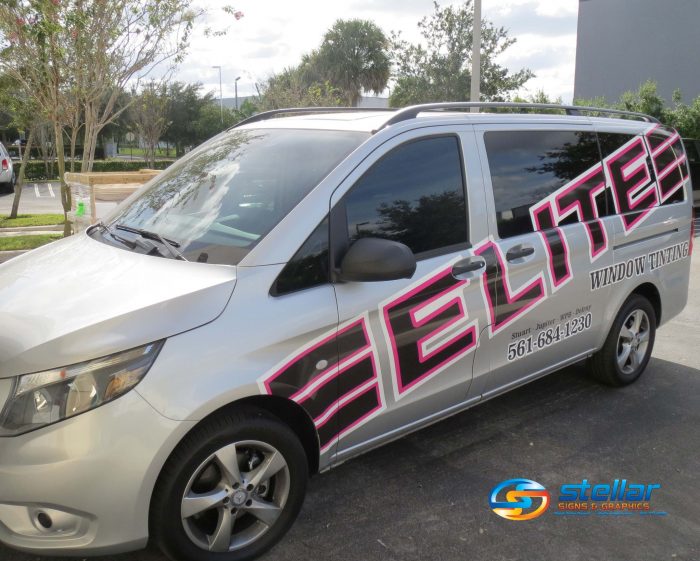 When you are unsure how to put together your lettering display for its best impact, we suggest a four-step approach.
Select the reason for your message. Do you want to advertise your business or introduce a new product line? Because brevity is the need of the hour, we suggest concentrating on one message only.
Narrow down your expression. Once you decide on the direction of the message, it is now time to write the wording. After an initial brainstorming session with our experts, we will next challenge you to limit the expression you use further. Only when you have arrived at the bare bones message display, is it time to move on.
Pick out your colors. Although you could select the same colors as you picked out for the website, we suggest taking your cues from your vehicle's paint job. If your corporate color mix and the paint job do not march really well, we can help you to compromise by selection a different tone or shade.
Consider the extras. The "Now Hiring" temporary decal is an excellent example. Other business owners have added social media icons or quick response (QR) codes. When your promotion comes to an end, the decal peels off easily and may be re-used in the future.
Whether you need Mercedes Benz vehicle lettering in West Palm Beach FL, or you drive a different type of vehicle altogether, contact our graphic artists today to learn more.


Tags: Best Sign Shop for Vehicle Lettering in West Palm Beach FL, Elite Tint Shop Brands with Mercedes Benz Vehicle Lettering in West Palm Beach FL, Mercedes Benz Vehicle Lettering in West Palm Beach FL


Categorised in: Truck Lettering, Vehicle Graphics, Vehicle Vinyl Lettering

This post was written by Bonnita Calhoun