1
Oct
2019
Published by Bonnita Calhoun Comments Off on Enjoy The Benefits Of Pole Banners For Your Holiday Advertisements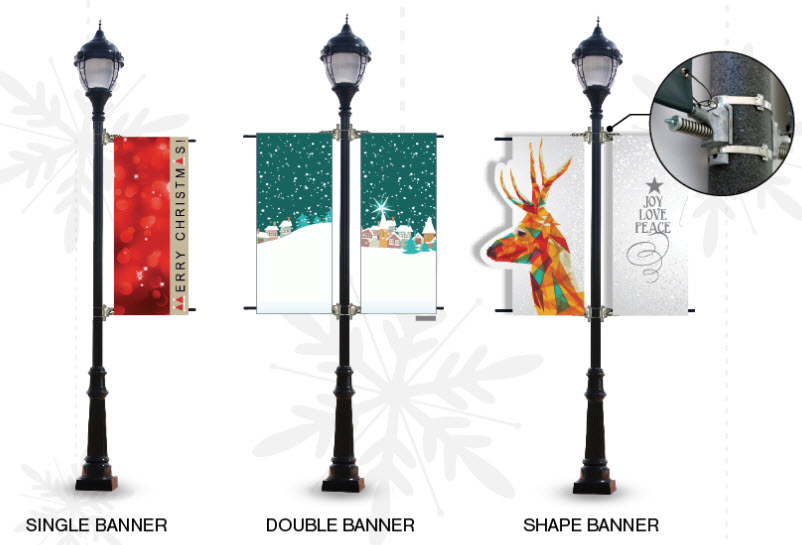 Welcome to October! It's a very interesting time of year. For all business owners, it's the beginning of the final quarter of the year. And, just as importantly, it's the beginning of the busiest shopping season of the year. Over the course of the next three months, we will be celebrating such occasions as Halloween, Thanksgiving, Hanukkah and Christmas. So, it should go without saying that your advertising game will have to pick up!
Pole banners work wonders in the world of holiday advertising.
They are excellent ways to add some holiday cheer to city streets, neighbourhoods and malls. In addition to being eye-catching, festive and affordable, pole banners are well known for being able to withstand the worst that Mother Nature can dish out. They are generally made with either heavy-duty vinyl or mesh materials. Now is the perfect time to consider a pole banner design to advertise the forthcoming holiday specials or events offered by your business!
Pole banners are also very easy to install and remove. Both putting them up and taking them down are quick processes. This makes them the perfect solutions for short-term promotion announcements. Of course, you can have your pole banner printed to your own specifications. Simply choose the size, style and shape that best fits the available space for your banner!
Pole banners are great for spreading holiday cheer.
Keep in mind that you don't necessarily need to create a pole banner for a specific promotion. They're excellent ways to simply offer the public your well wishes during the holiday season. Spreading holiday cheer, as we're sure you're well aware, is an excellent way to grow your brand image. A pole banner containing festive imagery and the words "Happy Holidays From (your company)" is all you need to gain new fans and supporters.
Pole banners can also be used directional signs. If you've recently opened up a new location of your business, it's a wise choice to have a pole banner set up in the area to alert consumers about its whereabouts. Included on the banner can be such information as your company website, physical address, phone number and email address.
Let's get started on the creation of a pole banner for your company!
At Stellar Signs & Graphics, we offer single banners, double banners and shape banners! Our signage experts proudly serve the business communities in and around Palm Beach County, West Palm Beach, Royal Palm Beach, Wellington, Lake Worth, Boynton Beach, and Greenacres, Florida. Give us a call at 561-721-6060 today!


Tags: banners, Christmas, Halloween, Hanukkah, holiday advertising, holiday cheer, Pole Banners, Thanksgiving, vinyl signs


Categorised in: Banners, Pole Banners, Vinyl Signs

This post was written by Bonnita Calhoun