6
Jun
2017
Published by Bonnita Calhoun Comments Off on Why Go With Dimensional Letters Over Painted Signs?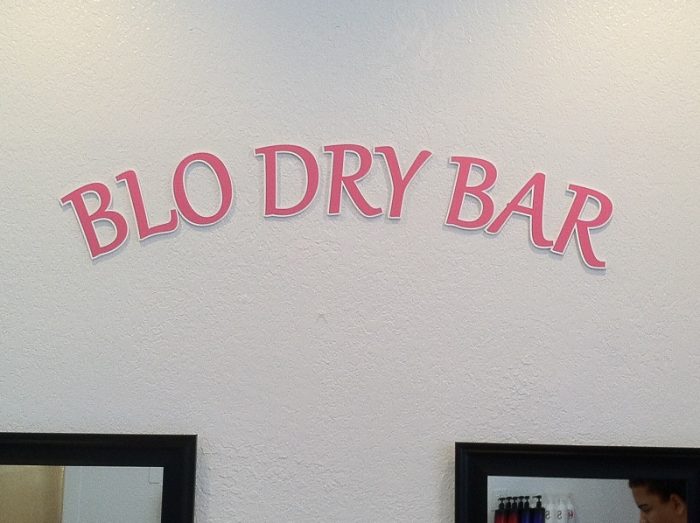 You want your business to be set apart from all the others don't you? Especially if your storefront is located beside several others – most stores are – you'll want something about your signage to pop out and be visually stimulating so as to draw all of the attention from onlookers.
Dimensional letters literally provide that "pop out" appeal whereas a painted sign is…well, flat. If you really want to make a difference in the eyes of walkers-by, your store signage will need to have that 3D effect.
How do dimensional letters provide that 3D effect?
Well, by virtue of their name, dimensional letters are designed to add a new dimension to your storefront signage. The letters are not printed or painted on the surface of the wall but instead are cut out of acrylic, foam or metal materials and mounted.
They can either be mounted flush to the wall (which still provides the effect of standing out from its background) or a project mount can be utilized to make the letters stand out that much more. That way, the letters cast deeper shadows adding yet another cool dimension to your signage.
What are some of the main benefits of using dimensional letters for signage?
They are multi-purposed. Dimensional letter signs can be used both indoors and outdoors. They are excellent for both lobby signs and storefront signs alike. They also make for great way-finding markers.
They allow for numerous design options. As mentioned, dimensional letters can be cut from a variety of materials including acrylic, PVC, plastic, foam and metal (aluminum, stainless steel, brass and bronze). They can also be designed using the font, color display, sizing and mounting option of your choice.
They are durable and cost-effective. PVC is very durable and aluminum is rust-proof. No matter the material you decide is best for your sign, you can be assured of its long-lasting abilities. It's also worth mentioning that, unlike electric signs, dimensional letter signs save you a lot of money on electricity!
How can you get started on creating your dimensional letter sign?
The experts at Stellar Signs & Graphics are here to help you! We serve the business communities in and around Palm Beach County, West Palm Beach, Royal Palm Beach, Wellington, Lake Worth, Boynton Beach, and Greenacres, Florida. Contact us today to discover what a dimensional letter sign could do for the appearance of your business.

Give us a call at 561-721-6060.


Tags: Dimensional Letters, Popular Uses for Dimensional Lettering in West Palm Beach FL, Types of Dimensional Lettering Signs Available in West Palm Beach FL, Where To Buy Dimensional Lettering in West Palm Beach FL


Categorised in: Dimensional Letter Building Signs, Dimensional Lettering, Dimensional Letters, Dimensional Wall Letters

This post was written by Bonnita Calhoun