16
Aug
2022
Published by Bonnita Calhoun Comments Off on Gracing Lake Towers Association's Entrance And Exit With HDU Signs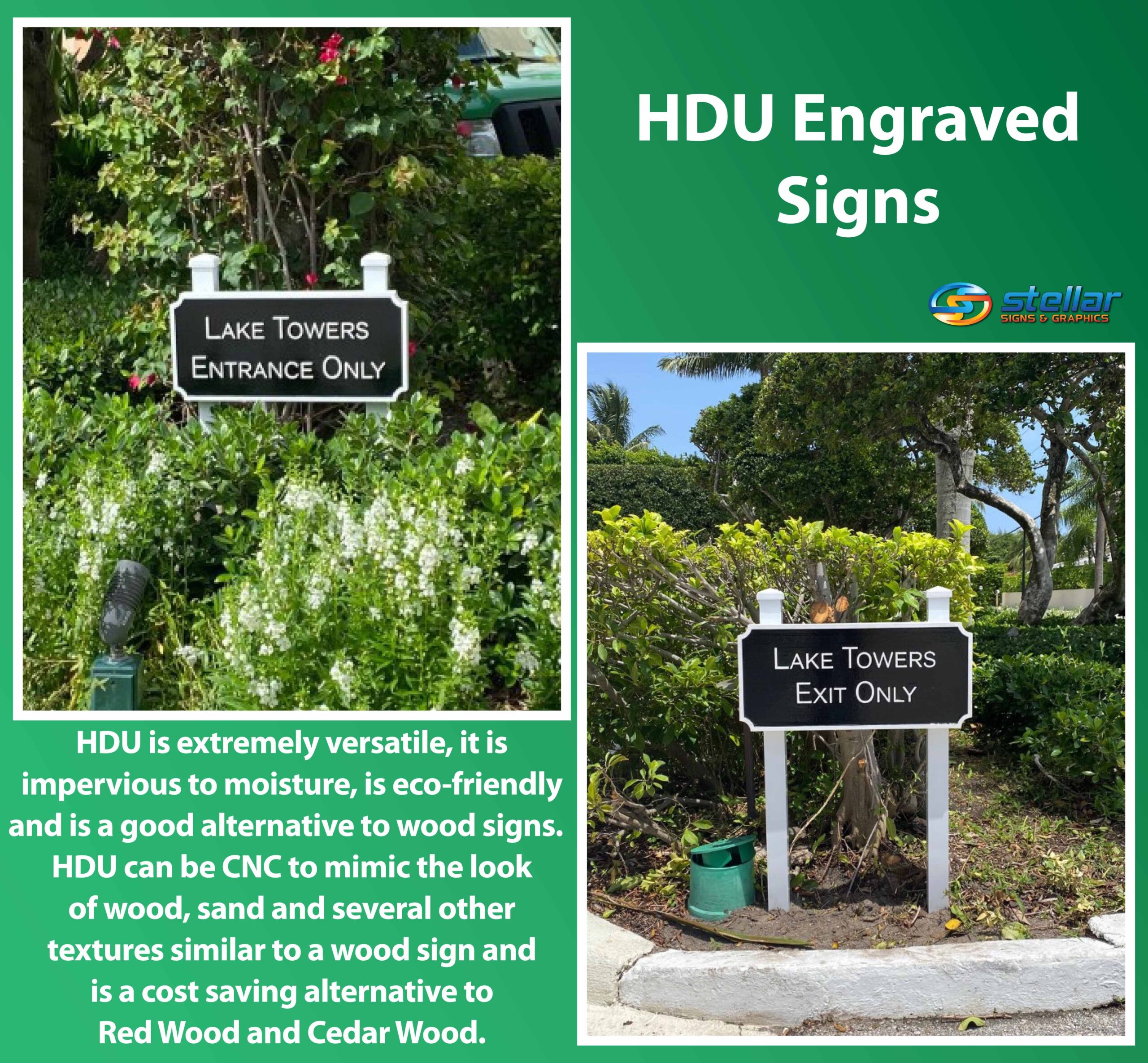 HDU stands for High Density Urethane. When a sign requires custom engraving, HDU is generally the way to go. Such signage is hand-crafted with letters that take on a three-dimensional form. HDU signs are among the most popular of dimensional signs as they offer a wide range of looks and finishes. From rustic to clean and contemporary, the final looks of HDU signs give the businesses that utilize them a lot of options.
High-density urethane is made up of a mix of chemicals. They form a rigid, closed-cell foam material that is more robust and dense than such foam materials as Styrofoam. This makes HDU more versatile, allowing for a variety of designs and treatments. In addition, HDU is both waterproof and impervious to petroleum-based solvents. This keeps signs made from the material from warping or peeling.
HDU signs are totally customizable.
The design you choose for your HDU sign helps to connote a specific message about your business. Not only can it help to communicate your brand's prestige but an HDU sign can also help to provide valuable information. Whether used as a wayfinding marker or a marketing tool, your HDU sign can help all onlookers to develop a greater confidence in your brand.
An HDU sign can either be single-sided or double-sided. While single-sided HDU signs can be attached to any surface, a double-sided sign generally stands alone to offer valuable information to viewers from either side. Thus, the sign is twice as effective!
Check out the new Lake Towers Association HDU signs!
The Stellar Signs & Graphics team is happy to have recently worked with the Lake Towers Association. They are located in Palm Beach. As you can see from the image above, we created two HDU signs for Lake Towers. One adorns their entrance while the other graces their exit. Naturally, the signs mark the locations of the entrance and exit to ensure that traffic flows in and out correctly.
As our image informs, HDU is extremely versatile. It is impervious to moisture, is eco-friendly and is a good alternative to wood signs. HDU can mimic the look of wood, sand and several other textures similar to a wood sign. As a result, it is a cost-saving alternative to red wood and cedar wood.
Let's get to work on an HDU sign for your business!
The experts at Stellar Signs & Graphics serve the business communities in and around Palm Beach County, West Palm Beach, Royal Palm Beach, Wellington, Lake Worth, Boynton Beach, and Greenacres, Florida. Please don't hesitate to give us a call at 561-721-6060 today!


Tags: clean, contemporary, Custom Signs, Dimensional Lettering, Dimensional Letters, HDU Signs, Lake Towers Association, rustic, signage, wood


Categorised in: Custom Signs, Dimensional Lettering, Dimensional Letters, HDU Signs

This post was written by Bonnita Calhoun