23
Jan
2017
Published by Bonnita Calhoun Comments Off on HDU Panel Signs for Law Firms in Wellington FL!
Clients find the Wellington Law Offices of David M. Gaspari at 12008 Southshore Boulevard in Suite 107. Focusing on personal injury cases, experts help those who got hurt because of animal attacks, physical assaults, vehicle accidents, and the wrongdoing of others. To outfit the exterior of the new office with a sign that catches the eye, the law firm's management team contacted our specialists to design the right building marker.
Creating an Impressive Panel Sign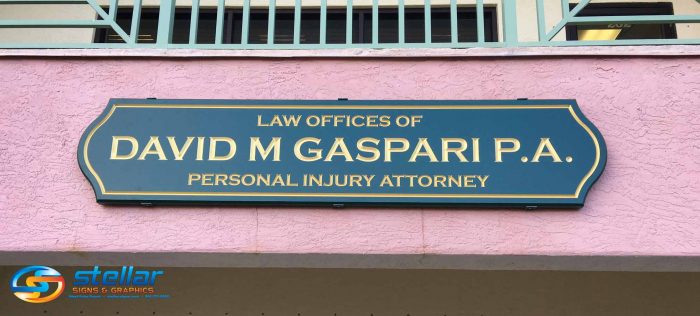 After consulting with our clients, we put together sketches for an HDU panel. Signs for law firms in Wellington FL, must be professional, eye-catching, and encapsulate the business' brand message. The use of high-density urethane, a sign foam product, is ideal for the creation of a broad range of signage solutions. For this setting, we started with an HDU board that we cut into an elegant shape.
Next, we carved out a frame that follows the shape of the board. We also carved out the lettering for the display of the firm's name. Once finished, we painted the board in a color that complements the building's tint. Our technicians then filled in the carved areas with gold paint. Finally, we applied a clear finishing coat that protects the material and the colors from fading. Installed with brackets on the overhang just above the entrance door, the sign now makes an excellent impression and assists clients with wayfinding.
Why We Recommend HDU for Various Outdoor Signage Uses
Better than wood. Wood looks beautiful, but it rots or gets eaten by insects. HDU does neither. Moreover, it does not warp when exposed to moisture. Also, it neither cracks nor peels when exposed to full sun.
More versatile than metal. We can carve HDU boards like those that we did for this law firm. Another option is the sandblasting process. It reverses the presentation and allows for the display of three-dimensional images and letters. Signage created in this way looks fantastic. When our artists paint it to your specifications, we like to use a spray brush to make some gradient color changes for intricate presentations that catch the attention of passersby.
Ideal for historical neighborhood displays. Because signage display rules vary for different parts of town, HDU is a good option. If you find yourself opening up a business in a part of the city where local neighborhood rules do not welcome channel letters or lightbox cabinets, HDU panels are typically an acceptable choice. We can install them flush to the wall or perpendicular with a designed display arm. The latter brings you the added advantage of addressing pedestrians walking past your venue from either direction.
Buy HDU Panel Signs for Law Firms in Wellington FL
If you want to take a page from the playbook of the Law Offices of David M. Gaspari and learn more about HDU signage, contact our building marker experts. We work with you to discover a design that suits your brand message and location. (By the way, you do not have to be an attorney to take advantage of these great-looking signs. Professionals in other niches also favor this setup.)
Call us today to learn more!


Tags: HDU Panel Signs for Law Firms in Wellington FL!, Utilize HDU Panel Signs At Your Business in Wellington FL, Where To Buy HDU Panel Signs in Wellington FL


Categorised in: Business Signs, HDU Signs, Sandblasted Signs

This post was written by Bonnita Calhoun