7
Nov
2016
Published by Bonnita Calhoun Comments Off on Home Community Welcome Sign for the Four Seasons at Parkland: Designed by J. A. Fardella!
K. Hovnanian's Four Seasons at Parkland is an attractive, active lifestyle community for residents over the age of 55. Eighteen home designs put elegance and amenities at the forefront of the experience. Residents appreciate the resort-style setup. When the community needed a welcome sign, its management team contacted designer J. A. Fardella, Inc. The expert created a look that perfectly accentuates what the active lifestyle community is all about. To manufacture the product, the team contacted our experts.
Manufacturing a Home Community Welcome Sign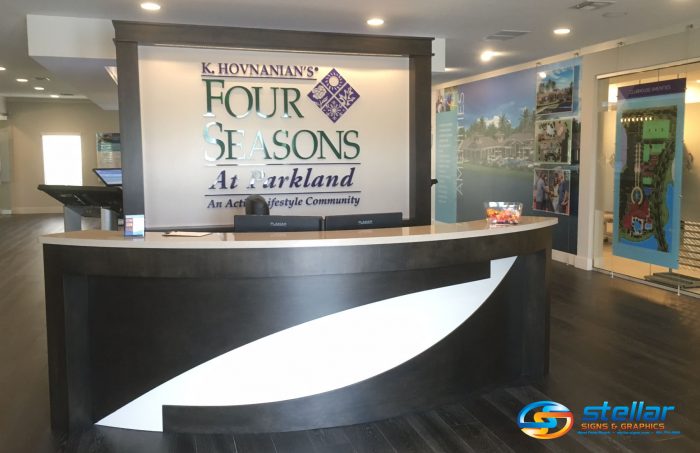 We turned the sign designer's vision into a reality by using a cream-colored backdrop that holds a set of dimensional letters. They spell out the community's name, present its logo, and include the tagline. We used green and blue acrylic that we finished with a high gloss. The resulting sign is a study in understated elegance, which allows it to fit right into the setting.
Working with Your Designer
Our professionals routinely work with companies who employ advertising agencies. Frequently, these agencies work with in-house designers and artists who create signage suites that are in keeping with a building's architectural style elements, the company's overall advertising goals, and the future adaptability of the products for evolving campaigns. What the agencies lack, however, is the ability to transform their signage visions into tangible products. At this juncture, our experts can make a huge difference.
Proof receipt. Our software suites support the receipt of AI, EPS, high resolution, TIFF, or JPG files. If needed, we work with courier services to take receipt of plans or printed graphics packages that do not lend themselves to these transmission options.
Perfect color matches. To ensure that we get your color just right, we rely on Pantone matches. When you had a shade customized to your specifications, doing so offers you the advantage of knowing that each sign we manufacture will feature the perfect appearance.
High-quality output. Our printing equipment is state-of-the-art. We do not believe in skimping on the hardware that can make the difference between a good sign and one that is downright fantastic. The products we create on your behalf feature vibrant colors and crisp edges. Moreover, we rely on latex and water-based printer inks for environmentally friendly production practices.
Sign Installations? We Do Those!
When your product is ready, we gladly install it for you. Whether you had us put together a vehicle wrap or lettering, a building sign with dimensional letters, a home community welcome sign that goes on display in the foyer of your sales center, or any other signage type, our installers can mount it. In fact, when you commission your ADA (Americans with Disability Act) signage from us, having our experts do the installation is vital to ensure compliance.
By the way, if you foresee a move in your near feature, go ahead and have us mount the markers in your current storefront or office anyway. We send our technicians out on moving day to help you uninstall them, take them to your new location, and install them there, too.
Contact our expert sign makers today to discuss your next project!


Tags: Best Sign Shop for Welcome Signs, Home Community Welcome Sign for the Four Seasons at Parkland: Designed by J. A. Fardella!, Where To Buy Welcome Signs in Parkland FL


Categorised in: Dimensional Letter Building Signs, Dimensional Letters, Exterior Signs, Welcome Signs

This post was written by Bonnita Calhoun