24
May
2022
Published by Bonnita Calhoun Comments Off on Honoring Those Who Served Our Nation On Memorial Day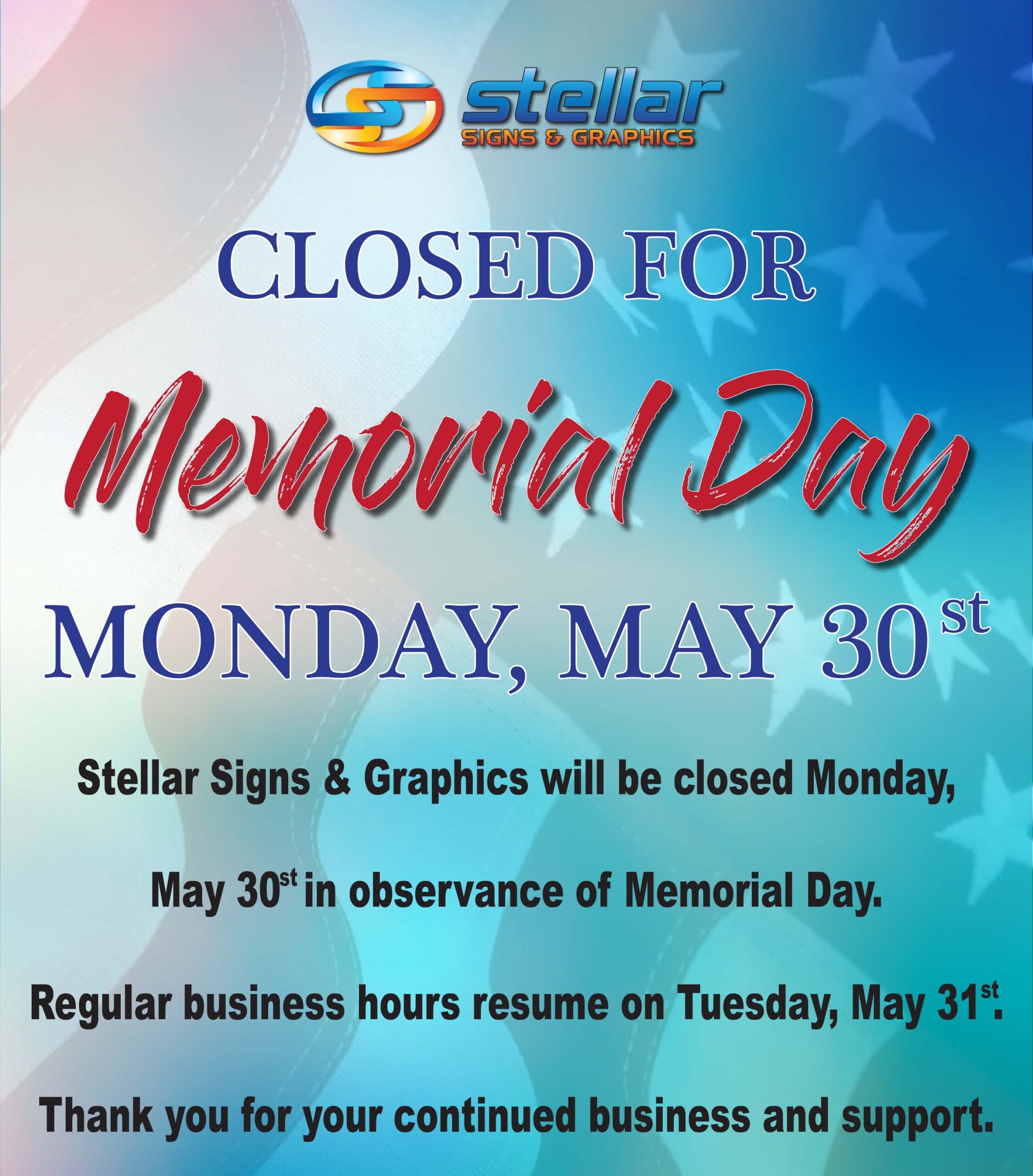 At Stellar Signs & Graphics, we're very proud of our client base. We're elated to be entrusted by so many prestigious business professionals all throughout the West Palm Beach area. We know that the success of their businesses is improved by the ways in which they visually represent their brands. That's why our team puts such strong efforts into creating only the absolute highest quality signage products for them.
It's important, however, that our team also proclaims its pride in our nation's armed forces. Members of the military make incomparable sacrifices for the good of our country. We'd like to take this opportunity to offer them our deepest and most sincere gratitude. Of course, our nation will join together to do just that this forthcoming Memorial Day long weekend.
Stellar Signs & Graphics will be closed on Monday, May 30.
In observance of Memorial Day, we will be closed on Monday. Regular business hours will resume on Tuesday, May 31st. We wish our very best to all those who have lost loved ones who were serving in the U.S. military. The holiday, of course, memorializes those who have died while serving in the United States Armed Forces.
Memorial Day was originally known as Decoration Day. Between, 1868 and 1970, it was observed on May 30, regardless of which day of the week it fell on. The National Holiday Act of 1971 designated the last Monday in May to be the Federal holiday. Because the federal holiday is observed on the last Monday of every May, it gives us all a long weekend. This enables us to better organize times to visit cemeteries and memorials.
Memorial Day isn't all about mourning.
Naturally, we grieve for those we have lost. But it's important to remember that honoring our fallen soldiers also involves celebrating the freedoms our country enjoys. Naturally, Memorial Day ceremonies often involve somber moments of silence. However, the annual occasion is also about spending time with loved ones as we remember those who have fought for our freedoms. For many Americans, Memorial Day serves as the unofficial start of summer. They plan family barbeques, decorate their homes, attend concerts and even volunteer in their communities.
"Traditionally seen as the unofficial kick-off to summer, Memorial Day is an excellent time to get family and friends together to share stories of the past, exchange gratitude and enjoy a delicious meal together," declares In Town Suites, "This Memorial Day weekend is the perfect opportunity to catch up with friends and relatives that you haven't seen over the last year. You can even find a local park or beach with BBQ facilities and bring the party there for more space."
Enjoy your Memorial Day weekend!
Until then, please don't hesitate to contact us for any and all of your signage needs. Give us a call at 561-721-6060 today! The experts at Stellar Signs & Graphics serve the business communities in and around Palm Beach County, West Palm Beach, Royal Palm Beach, Wellington, Lake Worth, Boynton Beach, and Greenacres, Florida.


Tags: armed forces, army, freedom, holiday, honor, May 30, Memorial Day, Memorial Day weekend, military, observance, signage, signs


Categorised in: Signage Planning, Special Announcement

This post was written by Bonnita Calhoun