8
Aug
2017
Published by Bonnita Calhoun Comments Off on What Is The Importance Of Menu Boards To Your Restaurant?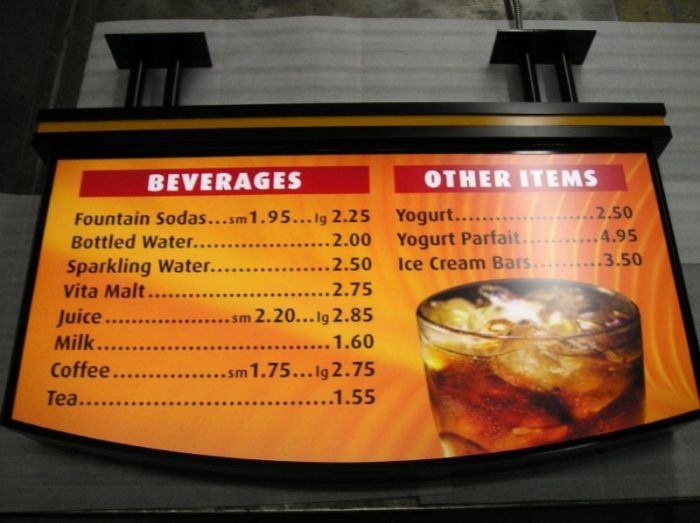 We'll be the first to admit that, perhaps, the title of this week's blog is a bit of a silly question. After all, what's a restaurant without a menu? Of course, depending on your style of eatery, a menu board may be absolutely vital to the company's success. When hungry patrons enter the front doors of your place of business, it's important that they are greeted with eye-catching (not to mention, mouth watering!) menu boards that provide them with numerous meal options.
What elements can make your menu boards grow the success of your restaurant?
The right color combination.
Naturally, you'll want to select colors that are in keeping with your brand imaging. However, you'll want to ensure that the color contrasts between the lettering and its background is such that it makes your menu very easy to read. Most experts suggest placing light colors (predominantly white or yellow) on dark backgrounds (black or charcoal grey are popular).
An impressive design.
Traditional menu boards are designed as elongated rectangles that span the area behind the counter where food is ordered. They are often divided into various squares to break the menus up into categories such as combos, drinks, desserts, appetizers etc. Of course, you're not required to stick to any one particular style of menu board. Design options are many!
Attractive photos.
We'd find it hard to argue that photos aren't necessary in the food service industry. In fact, we're of the mind that of all business types, restaurants are the ones that benefit the most from dazzling photos of the products being sold. Presenting images of delicious foods in all their glory is certainly a great way to entice customers to buy.
Interesting locations.
As mentioned, menu boards are commonly found behind the counters where food is ordered. But who says that's the only place they belong? Restaurants can certainly benefit from having menu boards creatively displayed in their dining rooms and even outside of the establishments. What better way to encourage walkers-by to stop, take a look and decide to eat in your eatery?
Illumination.
Who says menu boards can't have lights? Not us! Many restaurants choose to illuminate their menu boards in an effort to make them even easier to read. We recommend lightbox cabinets for such projects. Thin cabinets can be installed in order to illuminate the menu boards from the interior.

As you may have noticed, you have many options when designing your restaurant's menu boards. Contact the design specialists at Stellar Signs & Graphics to begin working on the display that best fits your branding and supports your marketing message.

Give us a call at 561-721-6060 today!


Tags: menu board signs, menu board signs in West Palm Beach Florida, menu boards, restaurants


Categorised in: Menu Board Signs

This post was written by Bonnita Calhoun