20
Jun
2016
Published by Bonnita Calhoun Comments Off on Invest in Mobile Advertising with Vehicle Graphics in Wellington FL
When you are ready to take an active role in introducing a broad range of consumer demographics to your company, product or service, you cannot go wrong with vehicle graphics in Wellington FL. These products turn your generic work truck, delivery van or a company car into a prominent mobile billboard. Mobile advertising relies on a variety of designs and combinations that make your brand stand out. What are your options?
A Full Wrap Impresses with Pizzazz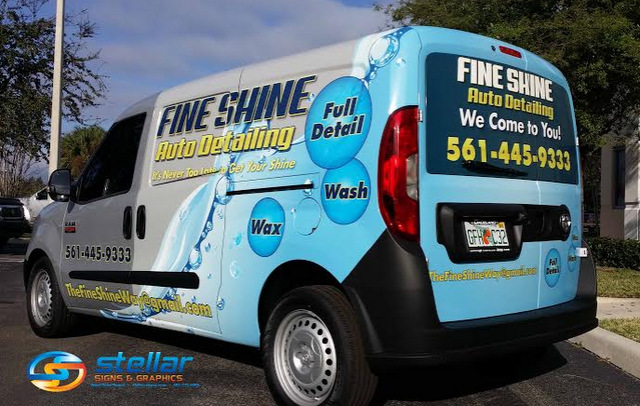 The full wrap uses every available inch of your vehicle for the display of your advertisement. Clients who want their graphics package to look like a still photo of a TV commercial frequently choose this setup. Combine it with a perforated vinyl cover for the back and rear windows to finish the image. Your message looks compelling against the backdrop of the pictures you select.
Partial Wraps Incorporate Your Vehicle's Color into the Display
When your work vehicle has a color that perfectly matches the tones you have chosen for your marketing message, we can incorporate its paint job into the design of a partial wrap. Choose from a quarter, half or three-quarter wrap. This level of customization makes it possible for you to stand out the right way with your vehicle. This option is of particular interest to business owners who have multiple car makes and models in their fleets.
Vehicle Graphics and Lettering Combine to Present an Effective Message
Display your company's name, contact information, a brief niche explanation and an image of your logo for a presentation that lets everyone know what line of work you are in when you drive down the road. Enhance the visual appeal of this setup by adding niche-specific graphics that catch the eye and help consumers to form brand awareness and product knowledge where your company is concerned.
How to Use More Unusual Vehicle Graphics in Wellington FL
It makes sense to treat your work truck, van or car. But you have other options open to you as well.
Boat treatments. Do you enjoy boating? Why not use this conveyance to display your mobile advertising message, too? Since commercial boat wraps are still rare, your display stands out wherever you take it.
Color change wraps. We frequently work with vehicle owners on changing the looks of their personal cars to be more in keeping with their personalities. But this approach also works for your business transportation. If you have a highly unusual color that is part of your logo or branding, why not change the look of your vehicles to display this tone?
Trailer wraps. When you use a trailer during the course of your business activities, and if you leave this trailer parked in front of a customer's home for a night or two, remember to add a graphics package that identifies your business. It will continue to display your information long after you have closed up shop for the evening.
Contact our graphic artists today to learn more about the mobile advertising design options for your business.

Tags: Mobile Advertising in Wellington FL, Mobile Advertising with Vehicle Graphics, Vehicle Graphics in Wellington FL


Categorised in: Advertising Signs, Mobile Advertising, Vehicle Graphics, Vehicle Wraps

This post was written by Bonnita Calhoun