21
May
2019
Published by Bonnita Calhoun Comments Off on It's The Perfect Time Of Year To Order Our School Products!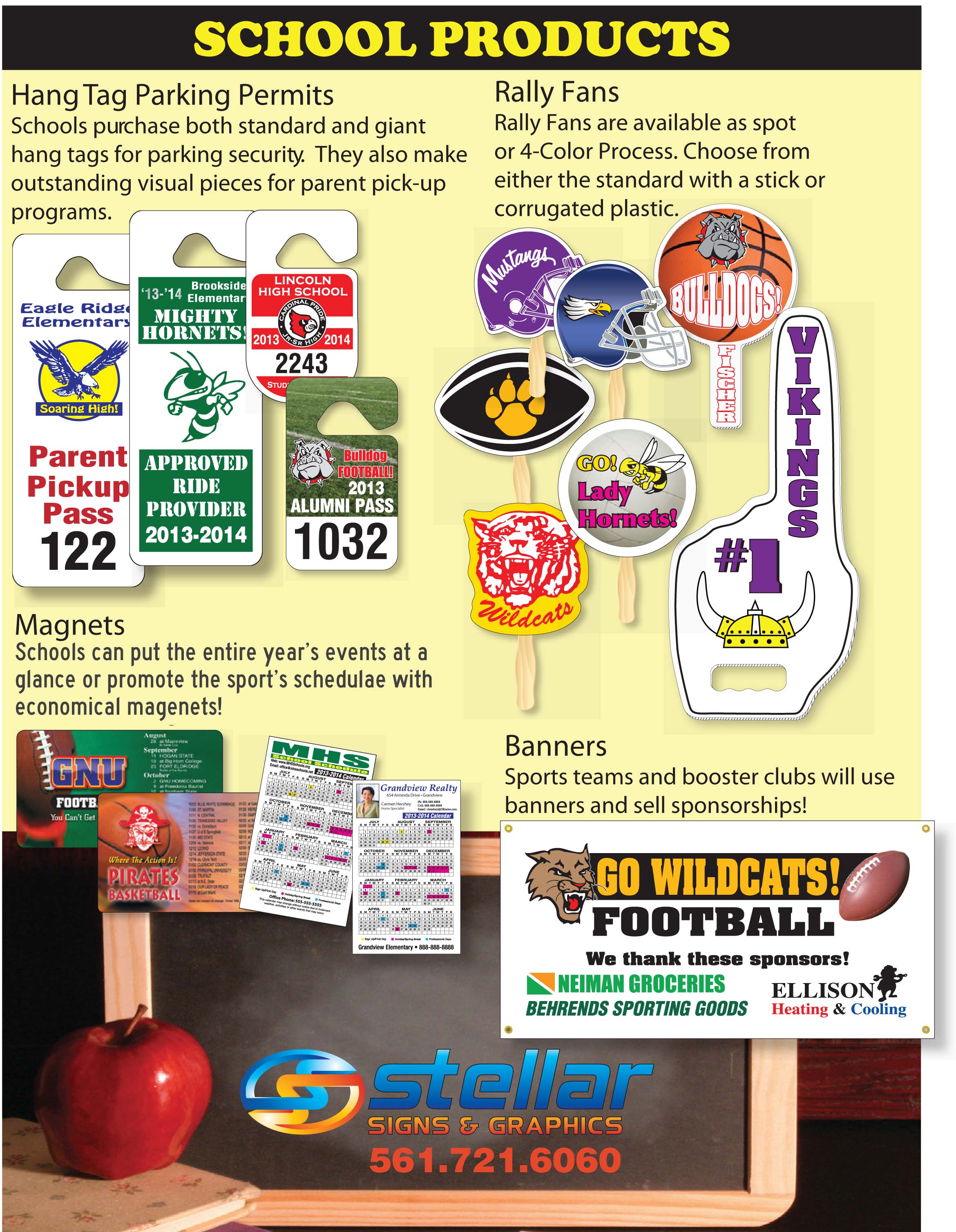 We're quickly approaching a very exciting time of year. Over the course of the next several weeks, students from all over the country will be graduating from their schools. Whether it's elementary school, high school or post-secondary school (and let's not forget those kindergarten grads too!), there will be a lot of graduation ceremonies for schools to conduct between now and the end of June.
Believe it or not, this also makes it a perfect time to prepare for the next school year. The last thing you want, as a teacher, principal or school administrator is to have to think about new school year preparations when a new school year has already started. Naturally, it's always wise to prepare in advance. And the Stellar Signs & Graphics team is proud to offer a wide array of school products that will get your school well prepared in advance of the new school year next fall.
Hang Tag Parking Permits.
Hang tag parking permits are among the most popular sellers among our school products. Both standard and giant-sized hang tags make parking security so much easier. The next several weeks will mark the best time of year to sell these parking permits to high school, college and university students so that they will all be prepared for the new school year in September.
Giant hang tags are commonly used by elementary school for student pickup programs. And your business will enjoy the benefits that come with repeat orders. Naturally, new hang tags are needed before the start of every school year. Ordering your hang tag parking permits now will help for you to get your parking situations well organized for years to come.
Rally Fans.
There are few things that generate excitement and school spirit more than rally fans. Commonly used by both schools and professional sports teams, rally fans are designed to showcase your support of a particular school or team. Get your rally fan custom designed in the shape of your choice: number one finger, football helmet, basketball – the options are endless!
Magnets.
These are excellent ways to keep your entire student body and staff on the same page with regards to all the goings-on in your school. With these handy magnets, you can keep everyone abreast of your institution's entire year's events, sports schedule and holidays.
Banners.
There is also wide variety of banners to choose from. Your sports teams and booster clubs will be able to benefit from banners that promote their seasons, causes and calls for support.

Please don't hesitate to contact Stellar Signs & Graphics to learn more about our school products. We serve the business communities in and around Palm Beach County, West Palm Beach, Royal Palm Beach, Wellington, Lake Worth, Boynton Beach, and Greenacres, Florida. Give us a call at 561-721-6060 today!


Tags: banners, college, elementary, hang tag parking permits, high school, magnets, rally fans, school products, school signs, university


Categorised in: School Signs

This post was written by Bonnita Calhoun