13
Aug
2015
Published by Bonnita Calhoun Comments Off on Lobby and Office Signs for the Healthcare Industry in Royal Palm Beach FL
Situated in Palm Beach County, Royal Palm Beach is a growing village that is famous for its green spaces and outdoor activities. With an overwhelmingly adult population, lobby and office signs for the healthcare industry in Royal Palm Beach, FL must speak to these consumers. When you consider the Palms West Hospital and Wellington Regional Medical Center, which are both in this area and expanding, it makes sense to select signage with the likely patient demographics in mind. In addition, the medical offices of the Royal Palm Beach Health Center cater to patients seeking specialty care. What are your sign options?
Waiting Rooms and Lobbies
Whether you operate a doctor's office, urgent care center, rehabilitation clinic or hospital, the lobby sign you choose makes a huge difference. Patients usually see it while in the waiting room or checking in with the receptionist. This sign is oftentimes the first opportunity to make a great first impression with your office. Metal dimensional lettering is always a good idea.
A close second is the lobby sign made from a clear acrylic board with dimensional letters made from acrylic or metal. For a sign that presents with a bit of dramatic flair, we recommend the installation of a foam sign that provides your waiting room with a three-dimensional effect. If you like, we can add acrylic or metal laminate. Secondary waiting room signage includes markers that specify co-payment policies and cell phone usage. We usually manufacture acrylic boards with vinyl overlays to communicate this information to patients.
Safety Signage
Highlight any areas that are off limits to patients. White acrylic signs with red print warn of rooms that are accessible to authorized personnel only. ADA-compliant signs point the way to the fire exits, restrooms and evacuation routes. These signs are suitable for display anywhere in your medical office building. ADA signage comes with a number of rules that govern display areas and mounting heights. Our experienced signage experts can help you ascertain where you need to install this product.
Office and Suite Signs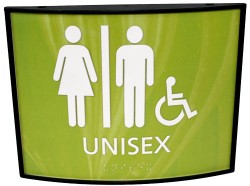 Directories near the entrance help patients find their ways around the building. Highlight the names of physicians, specialty offices and room or floor numbers. Some facility managers elect to have two directories; one displays the names of the practitioners while the other one displays the names of the offices. For suite signs, select framed markers with changeable panels made from metal or acrylic. For a more refined look, we recommend the use of routed markers that identify the name of the practitioner and the specialty of the office.
Commission Lobby and Office Signs for the Healthcare Industry in Royal Palm Beach, FL
Contact the professionals at Stellar Signs & Graphics today for more information on the signage solutions that are ideal for your medical office or clinic. We work with your management staff to determine the look, placement and material selection of these markers. When you already have artwork that you would like to incorporate, we easily accommodate your requests. In the alternative, we gladly design your signage from the ground up and help you to set the tone for your patients' experiences at your new office.

Tags: Healthcare Lobby Signs Royal Palm Beach FL, Healthcare office signs Royal Palm Beach FL, Lobby and Office signs for Healthcare Industry


Categorised in: ADA Signs, Interior Signs, Lobby Signs

This post was written by Bonnita Calhoun