12
Feb
2019
Published by Bonnita Calhoun Comments Off on Lobby Signs Say A Lot More About Your Business Than Its Name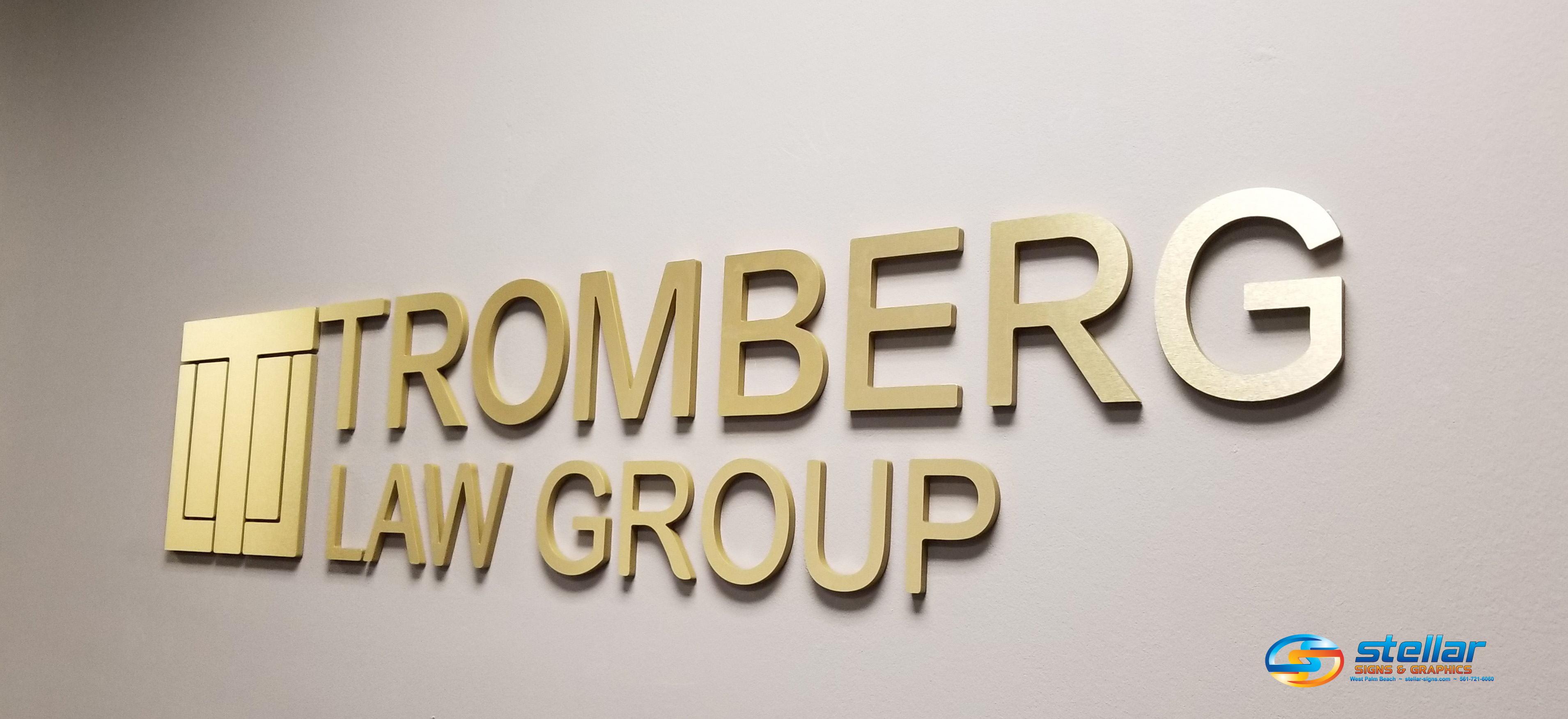 The signage experts at Stellar Signs & Graphics recently had the pleasure of manufacturing the sleek and stylish new lobby signs for Tromberg Law Group. Created using dimensional letters with brushed gold laminate, these lobby signs are among the most elegant and graceful projects in our company's history – if we do say so ourselves.
As if their name hadn't already given it away, Tromberg Law Group is a law firm. So, it goes without saying that it's important to the company to develop trust with every individual who walks through the front doors of its office. Taking advantage of a design that shouts "this is the upper echelon of signage" is a wise choice for a law firm. After all, making clients feel welcome is top job of a lobby sign.
Lobby signs are the ultimate welcoming mats.
The only thing is they're not mats, at all! Clearly, lobby signs aren't made to be walked on, they're made to be gazed at and admired. Furthermore, they tell visitors of a place of business that they are in the right place. In the case of the new Tromberg Law Group lobby sign, it doesn't just assure clients of their finding of the correct location, it communicates the high prestige that is in keeping with the firm's reputation.
Lobby signs offer visual representations of the various areas of your business.
A lobby sign can do so much more than simply display the name and logo of your business. If you choose, it can be used to indicate the specific locations within your place of business. Well-designed lobby signs can double as aesthetically pleasing pieces of wall art and informational tools that help you differentiate your reception area from the main office.
The use of lobby signs is especially important for businesses that share office spaces with other tenants. They are great ways to truly separate your business from the others on its same floor. Without a unique lobby sign adorning the walls of your front lobby, your business stands the chance of going unnoticed – simply blending into the generic look of your office building.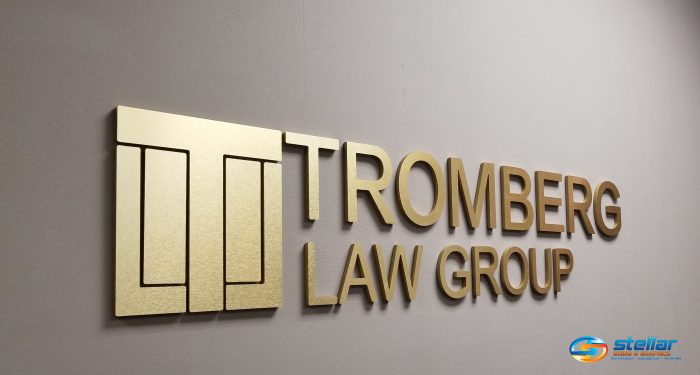 Don't underestimate the power of first impressions.
Perhaps, there's a marking at the front door of your office space that informs visitors of your company's location. It doesn't necessarily make for a great impression. Your uniquely designed lobby sign is a statement about your brand. As is the case with Tromberg Law Group, a lobby sign can say "we are a top-rated brand with a stellar reputation for being the best in our industry!"

See what we did there? Let's do the same for you! Contact us to get us working on a lobby sign for your business today. The experts at Stellar Signs & Graphics serve the business communities in and around Palm Beach County, West Palm Beach, Royal Palm Beach, Wellington, Lake Worth, Boynton Beach, and Greenacres, Florida. Give us a call at 561-721-6060.


Tags: benefits of lobby signs, Dimensional Letter Lobby Signs West Palm Beach, Dimensional Letters, Lobby Signs, Tromberg Law Group


Categorised in: 3D Lobby Signs, Dimensional Lettering, Dimensional Letters, Dimensional Wall Letters, Lobby Signs

This post was written by Bonnita Calhoun