9
Dec
2016
Published by Bonnita Calhoun Comments Off on Make Your Affair Memorable with Custom-Printed Event Tents in West Palm Beach FL
The Brand Amp is an agency in the marketing and communications business. In simplest terms, this company ferrets out what makes your brand "tick" and then shines the light on it with excellent delivery choices. The agency's client is the TaylorMade-Adidas Golf Company. When our customers needed custom-printed event tents for a combined event at the Ibis Country Club and Golf Course, which is also a client, by the way, we worked with the agency's representative to put together the right look.
For this project, we printed our client's wording on three back walls that are double-sided and feature sizes of 20 feet by 8 feet. We also created four sidewalls that present double-sided displays measuring 10 feet by 8 feet. On the exterior, the event tent shows off the TaylorMade brand as well as the tagline the client requested. The interior features a large set of customized imprints and brand-specific images.
Standing Out With Event Tents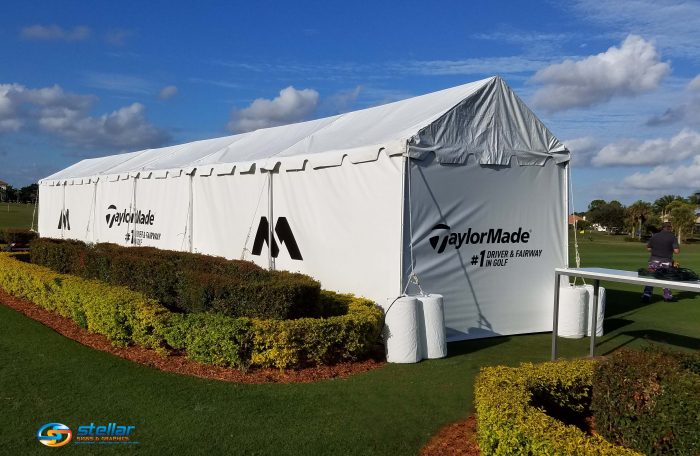 Why should you present your business with a customized event tent rather than a simple canopy setup and perhaps a few flags? The answer is simple: pizzazz. But it goes further than that.
Party tents become the focal points of a social event. When you expect plenty of foot traffic at your outdoor meet, it makes sense to give consumers a reason to linger. To encourage customer engagement with your brand on various levels, the customized event tent puts you in control of the occasion's traffic flow.
Consistent brand building. The customization of the setting ensures that you present a multi-faceted approach to building a brand. Combine colorful with black and white images, lettering with graphics, as well as interactive displays with brochure holders. Because the tent can have as many walls as you determine, your approach succeeds without giving a cluttered impression.
Shelter guests from the elements. A waterproof event tent is a great place when attendees at the occasion need to get out of the rain or wind. By providing your venue as a shelter, you not only provide comfort to the consumer but also open another opportunity for brand engagement.
How to Order Custom-Printed Event Tents in West Palm Beach FL
Contact our experts to discuss your plans for a branded event tent setup. We work with you to choose the right product that suits your advertising needs and provides enough space for the anticipated number of attendees who may visit the location at one time. From there, we talk through the various customization options that transform the product into one that is memorable and creates brand awareness among clients.
Now is also a good time to think through supporting display options. For example, do you want to add some flags just to catch the eyes of folks who may not be there for the event but would not mind visiting your location? You might also add retractable banner stands for consumer education or to post a schedule of planned displays and product presentations.
Call us today to find out more about this product type and project timeline!


Tags: Best Sign Shop for Custom Event Tents in West Palm Beach FL, Make Your Affair Memorable with Custom-Printed Event Tents in West Palm Beach FL, Where To Buy Custom Event Tents in West Palm Beach


Categorised in: Branding Signs, Custom Signs, Event Tents

This post was written by Bonnita Calhoun