14
Apr
2015
Published by Bonnita Calhoun Comments Off on Make Your Exhibitor's Booth Pop with These Trade Show Displays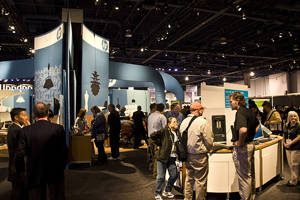 The trade show is famous for being the venue where connections are made and deals are closed. It is the favorite display locale for new companies that want to enter a niche with a splash. Rather than slowly introducing a product or service to the local market, exhibiting at a trade show has the power to get you media attention, the notice of the business community at large and the business of consumers ready to make buying decisions. Of course, you do need the right trade show displays West Palm Beach, FL, shoppers respond to.
This is not the time to show up with last year's setup or a mismatched arrangement of booth components that you may have found second-hand. The experts at Stellar Signs & Graphics routinely work with start-ups as well as long-established companies who want to make a great impression at the next West Palm Beach event. What are the setup components that you cannot do without?
Banner Stands
One of the hottest new trends is the creation of a booth backdrop by relying on nothing but banner stands. Each of the banners is customized to show a slightly different image. This gives the backdrop the illusion of motion. Retractable banner stands in particular are popular simply because they make banner storage a snap. Setup is so easy that you can do it without assistance. For this kind of look, five banner stands – plus two additional ones for the front of the booth – always work well.
Customizable Elements
The table throw, the runner and the overhead signage all have one thing in common: customization. Your company's name, logo and company colors are part and parcel of these elements. If you have already carved out an online presence for your business, this display makes it easy for those familiar with your company to recognize you from across the room. Those who are not yet familiar with your products – even if you have been in business for seven decades – recognize you online when your presentation color combination matches that of your website's design.
The Booth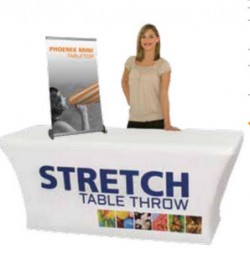 There are countless booth models. Our most successful clients tell us that this year exhibitors take a less-is-more approach – with top of the line components. Whether it is the gull wing backdrop, the modular display that integrates two television screens or the presentation desk that features attached iPad stations, quality and style trump quantity. Granted, you could spend a pretty penny on a new setup and then scrap everything else that you already have. Yet it may not be necessary to take this kind of drastic action.
Getting Started
Talk to our seasoned pros about your next booth setup and trade show banners. West Palm Beach, FL, members of the business community know that we can work with the bits and pieces you have, refurbish them and integrate these items into a completely new look that makes you stand out. Call us today for more information on our trade show products and to get started on the design of a booth concept. We take you all the way from concept sketch to finished booth design in the shortest time possible.

Tags: Trade Show Banner Stands, trade show displays, Trade Show Graphics


Categorised in: Uncategorized

This post was written by Bonnita Calhoun