19
Jun
2018
Published by Bonnita Calhoun Comments Off on Making Your Branding Message Clear With Lobby Signs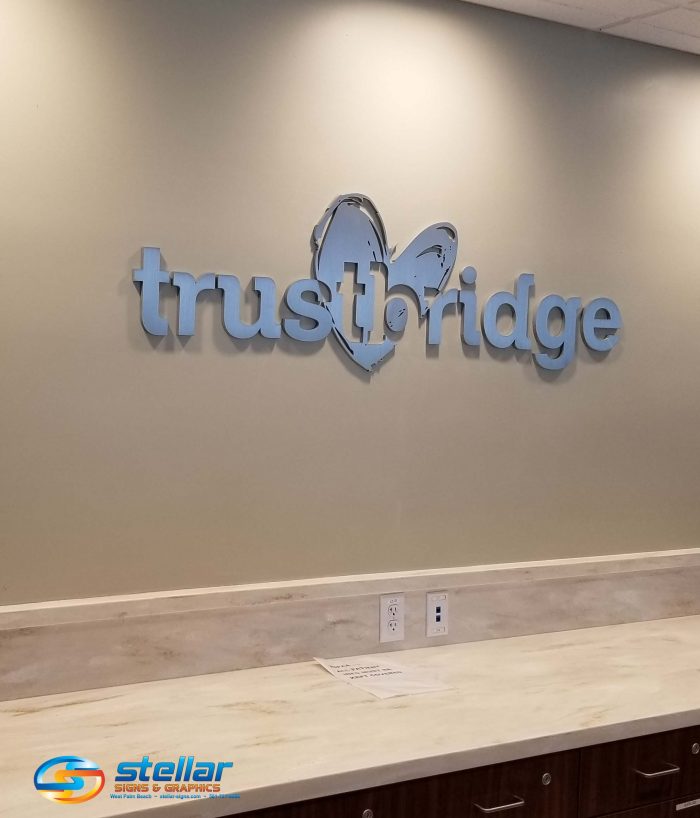 We recently had the pleasure of working with JM Design to manufacture a wonderful new lobby sign for Trustbridge. Trustbridge is an awesome organization that provides everything from hospice care to emotional and spiritual support for individuals who have been diagnosed with serious illnesses. The Stellar Signs & Graphics team is happy to state that this isn't the first time we've manufactured a signage product for this great company. And we're hoping it's not the last!
What is Trustbridge all about?
"Since 1978, Hospice of Palm Beach County, Hospice of Broward County and Hospice by the Sea have cared for 200,000 families in South Florida," the Trustbridge website informs, "These three hospices are now one branch of Trustbridge, a community nonprofit that provides support for families facing serious illness 24 hours a day. Our other services include home health care, palliative medicine, caregiver support and bereavement programs."
The new Trustbridge lobby sign is a beautiful powdered blue 60″ X 17.2″ custom fabricated solid aluminum lobby logo. It was made from 1/2″ aluminum vertical grain flat cut dimensional letters for the "trus" and the "ridge" parts. The 17.7″ X 17.2″ X .375″ "tb" Trustbridge Logo was constructed with intricate cut-outs with studs installed on a standard sheet rock wall as per the approved art proof.
Why should you get a lobby sign designed for your company?
Lobby signs provide businesses with many benefits. Firstly, they help to make visitors to a place of business feel comfortable and welcome. By adding a professionally constructed lobby sign to the walls that are immediately seen by customers who enter your front doors, you also showcase an aura of prestige and professionalism. Lobby signs are known to endear consumers to businesses.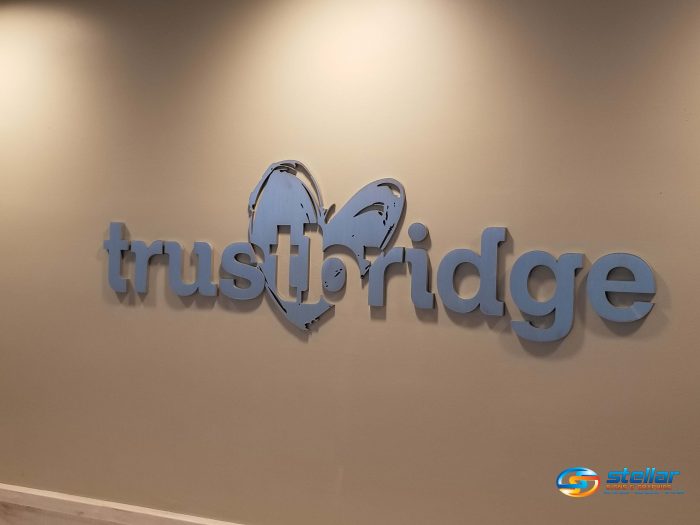 They also provide excellent visual representations of your brand, helping you to stand out from your competition by leaving lasting impressions. Lobby signs are especially effective if you share an office space with other businesses. You may operate out of a building with many tenants. But that doesn't mean your company isn't a distinct and unique entity. Your lobby sign helps to make your branding message clear!
Let's start work on your company's new lobby sign!
We'd be happy to visit your business location for a site survey and to discuss the vision you have for the ideal lobby sign. We can use any artwork that you already have on file or create a design from scratch. The experts at Stellar Signs & Graphics serve the business communities in and around Palm Beach County, West Palm Beach, Royal Palm Beach, Wellington, Lake Worth, Boynton Beach, and Greenacres, Florida. Give us a call at 561-721-6060 today!


Tags: Dimensional Letters, JM Design, lobby marker, Lobby Signs, signage, Trustbridge


Categorised in: Dimensional Letters, Lobby Signs

This post was written by Bonnita Calhoun