2
Dec
2016
Published by Bonnita Calhoun Comments Off on Mandel JCC Uses Interior Dimensional Lettering for Memorial Walls in Boynton Beach FL
Have you been keeping up with our blog? If so, you are bound to notice that some client names pop up repeatedly. Case in point is the Mandel Jewish Community Center of the Palm Beaches. When the organization's management team initially contacted the pros at Stellar Signs & Graphics, it needed a monument sign-refurbishing project done. The client was pleased with the updated look of the signage and invited us back for the design, manufacture, and installation of dimensional letter building signs. But we were not done yet! Just recently, the friendly folks at the Mandel JCC called us again. This time, they asked us to put together interior dimensional lettering for memorial walls in Boynton Beach FL.
Wall Lettering Assists with Wayfinding and Room Labeling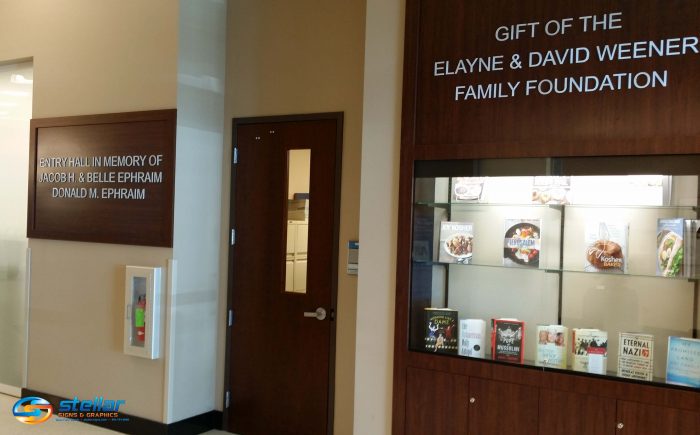 After meeting with the client, we designed white dimensional letters that remind of the font used for the monument marker. The lettering alerts visitors to the JCC that certain amenities were made possible because of the generous donations of others. Good examples are a book repository and an entry hall. By identifying donors, the group helps members and visitors to connect with the location in a much more personal way. The use of the white dimensional letters against the dark brown backdrop of the wall areas also helps the features to stand out visually and attract attention. The lettering, therefore, fulfills its wayfinding functions with aplomb.
Material Options for Interior Dimensional Displays
When you like the 3D effect that dimensional letters bring to your walls, there are a number of material options open to you.
Aluminum. One of the most budget-friendly metals currently available, brushed aluminum brings style and elegance to any setting. The soft light play on the surface does not distract but rather welcomes the attention of onlookers.
Metals. That said, there are plenty of other metals that could look fantastic in your setting. Imagine having three-dimensional displays featuring brass, stainless steel, or copper. Because we can paint any metal, we can artificially age the brass to present with a gorgeous patina. This type of signage is sure to be unique in your niche.
Acrylic. If metal is not your style, you may like the look of acrylic. It is chic and lets you pick any stylish color you like. We can add a matte or a high-gloss finish.
Glass. Although we do not get many requests for glass, it is certainly an option. Businesses that feature this type of signage solution in their offices frequently favor ultra modern designs and architecture.
How to Order Interior Dimensional Lettering for Memorial Walls in Boynton Beach FL
Contact our graphic artists to discuss the size of the display you have in mind. We can accommodate any dimension and font you want to present to visitors. If you prefer an onsite consultation, we visit your location to take measurements, take note of the fonts you have used for lobby signage and similar markers, and make suggestions for colors. Call us today to schedule your appointment!


Tags: Best Sign Shop for Interior Dimensional Lettering in Boynton Beach FL, Interior Dimensional Lettering in Boynton Beach FL, Mandel JCC Uses Interior Dimensional Lettering for Memorial Walls in Boynton Beach FL


Categorised in: Dimensional Lettering, Dimensional Letters, Dimensional Wall Letters, Interior Signs

This post was written by Bonnita Calhoun