4
Sep
2018
Published by Bonnita Calhoun Comments Off on Monument Signs Bring More Life To Your Business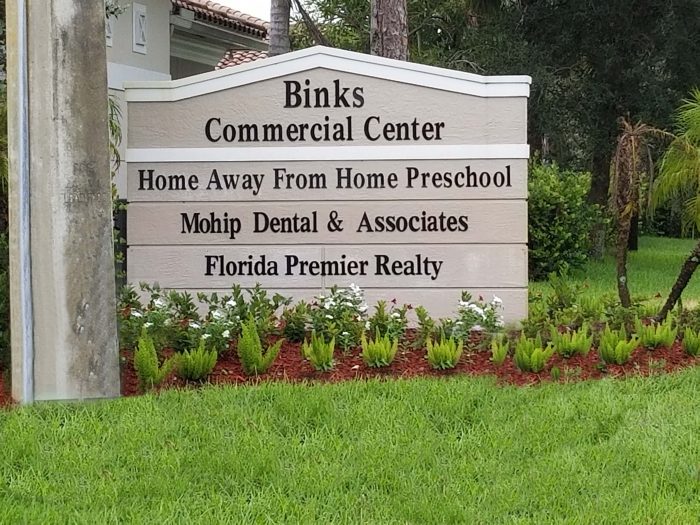 The Stellar Signs & Graphics team recently had the pleasure of completing a monument sign for Binks Commercial Center. As you can see in the photo above, the sleek new sign highlights the presence of Home Away From Home Preschool, Mohip Dental & Associates and Florida Premier Realty. What makes this particular monument sign pretty unique is its use of dimensional letters.
Dimensional letters are known as the workhorses of the signage industry. They are suitable for a wide variety of both interior and exterior sign products. Because of their 3D, stick-out-from-the-background nature, dimensional letters are especially effective at creating eye-catching signs. By adding dimensional letters to the Binks Commercial Center monument sign, we were able to provide a clear call to passers-by about the presence of the companies on the premises.
Monument signs are proven to reach local customers.
It's no secret that most small businesses have customer bases that are made up of people who live within a five mile radius of their business locations. It's important to inform those who frequent the area that your place of business is there. On average, a local customer will see a monument sign several times a day. This translates into dozens of times per month. As a result, locals are drawn to the business when they have plans to shop.
Monument signs are also known to target all demographics. As you may have guessed, there is no specific age, profession or gender that a monument sign can't reach. Anyone who walks or drives by your place of business will not be able to miss the bold and beautiful declaration of your company's presence. Monument signs are highly regarded for leaving long-lasting impressions on passers-by. This inevitably turns them into clients!
Monument signs boost your brand image.
The Stellar Signs & Graphics team is happy to work with any type of logo, fonts and artwork that represents your company. Your branding is important. We take great measures to ensure that your monument sign is in keeping with your overall branding message. Consistency across the board is a great way to build a reputation. The graphics you use for your company website, for example, should match those used on your signage.

By adding a monument sign to the front area of your place of business, you will add a sense of consistency to your advertising campaigns. So let's get working on your company's monument sign right away!

The experts at Stellar Signs & Graphics serve the business communities in and around Palm Beach County, West Palm Beach, Royal Palm Beach, Wellington, Lake Worth, Boynton Beach, and Greenacres, Florida. Give us a call at 561-721-6060 today!


Tags: brand awareness, brand image, Dimensional Letter Signs, Dimensional Letters, monument signs, monument signs in West Palm Beach


Categorised in: Dimensional Lettering, Dimensional Letters, Monument Sign Letters, Monument Signs

This post was written by Bonnita Calhoun