2
Jan
2018
Published by Bonnita Calhoun Comments Off on With The New Year Here, It's The Perfect Time For A New Lobby Sign!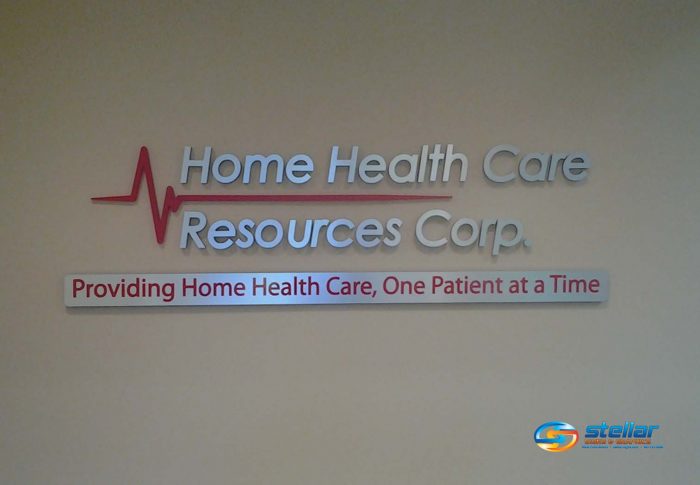 Happy New Year everyone! And welcome to our very first blog of 2018! We hope you had an absolutely amazing holiday season. No matter if you celebrated Christmas, Hanukkah, Kwanzaa – or perhaps, nothing at all – here's hoping you had the opportunity to spend some much-needed time with family and friends.
Our team is excited to be back at work since we have been away from the office for quite a bit. We've been off since Christmas to both enjoy the holiday season and to ring in the New Year. Now that 2018 is here, we are ready to begin another fantastic year of bringing businesses in West Palm Beach, Florida to higher heights thanks to our incomparable signage projects!
Check out the picture above!
Just before the New Year, we had the esteemed opportunity to complete a sleek new lobby sign for Home Health Care Resources Corp. It consists of flat cut dimensional letters made up of 4″ X 3/4″ brushed metal laminated foam with painted edges. The sign also includes an EKG line created with 10.5″ X 43″ X 1/2″ PVC that is painted red as well as a stud mount made with 3.5″ X 62″ x 1/4″ brushed metal laminated with contour cut red vinyl letters.
The letters spell out the Home Health Care Resources Corp. motto: "Providing Home Health Care, One Patient at a Time". We're quite proud of this lobby sign as its simple and sleek design really communicates the company's strict dedication to providing patients with the best medical care possible.
There's no question that the Home Health Care Resources Corp. office has a much greater visual appeal now that it's adorned with a new lobby sign. The flat cut letters have crisp edges that give the sign a very clean and professional appearance. The use of dimensional letters also helps for the sign to attractively stand out from its background without being distracting or inappropriate for the space or the business itself.
Now that 2018 is here, it just might be the perfect time for you to beautify your lobby with a new lobby sign!
These signs are known to attract the attention of all visitors to offices that contain them. This inevitably leads to higher sales. If you're looking to boost the reputation of your brand, a lobby sign can certainly do the trick.

The experts at Stellar Signs & Graphics serve the business communities in and around Palm Beach County, West Palm Beach, Royal Palm Beach, Wellington, Lake Worth, Boynton Beach, and Greenacres, Florida. Please don't hesitate to contact our signage experts to discuss the unique design of your company's new lobby sign. Give us a call at 561-721-6060 today!


Tags: Dimensional Letters, flat cut dimensional letters, Health Care Resources Corp., lobby signage, Lobby Signs


Categorised in: Dimensional Lettering, Dimensional Letters, Dimensional Wall Letters, Lobby Signs

This post was written by Bonnita Calhoun