12
Oct
2015
Published by Bonnita Calhoun Comments Off on Office Signs and Graphics for Your Boynton Beach Business
The vibrant business community in Boynton Beach thrives on its proximity to Miami and Fort Lauderdale. In addition to having local business ties, the area also supports a flourishing tourism industry. It is against this backdrop that service providers and retailers seek to compete and grow their businesses. One crucial step in this process is the use of office signs and graphics for your Boynton Beach, FL, business. What are your options?
Lobby Signs Welcome Clients and Customers
Before your receptionist even has a chance to acknowledge the new arrivals, your lobby sign has already welcomed consumers into your office. What does this marker say about you? Does it identify you as a creative problem solver with an eye on cutting-edge processes and ideas? Does it highlight your longevity in the field and your confidence that your company will be a major player in your niche for many more years to come?
On the other hand, does the outdated nature and normal wear of the lettering hint at some neglect and a failure to stay up to date on industry changes? Since you can never make a first impression twice, focus your attention on the reception area signage as soon as possible. Depending on your line of business and niche, we recommend the use of dimensional letters or logo boards. The latter easily transform into works of art, which are ideal in a setting where
creativity is a major selling point. Examples include software engineering firms and financial services providers.
Window and Office Window Lettering Markets, Brands and Transforms a Space
The windows to your office are ideal surfaces for informing consumers about your hours of operation and providing additional facts about your niche. Commission vinyl graphics that display your company's name and logo to further develop name recognition and brand awareness. Yet it does not stop there.
Frosted or etched vinyl window products beautify the space. Die-cut images from a frosted vinyl sheet allow for the creation of maritime themes, which works great with the area you are doing business in. Additionally, after this product is applied to the glass panes of office windows and similar surfaces, you create a bit of privacy for those behind the glass. When your space is busy with plenty of foot traffic in these location, this is a must have.
Conference Room Signs Impress
Plenty of businesses now copy the looks of their lobby signs to also be present in the conference room setting. The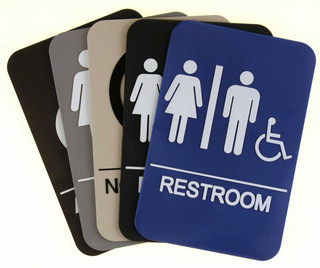 reason is simple. While the marker welcomed the consumer into the office, it works its branding magic during a lengthy meeting. Augment the look with vinyl wall lettering that spells out your motto or mission statement.
The Law Requires ADA Signs (in most settings)
The Americans with Disabilities Act (ADA) explains which businesses must provide signage that assists visually and cognitively disabled consumers. Our professionals can help you work through the requirements to see if you need these markers. With font choices and contrast rules defined, you can still put your marketing and branding messages on these signs. Contact the professionals at Stellar Signs & Graphics to learn more about these and other office signs and graphics for your Boynton Beach, FL, business.

Tags: Lobby Signs Boynton Beach FL, Office signs and graphics Boynton Beach FL, Window Graphics Boynton Beach FL


Categorised in: ADA Signs, Lobby Signs, Office Signs and Graphics

This post was written by Bonnita Calhoun