20
Aug
2015
Published by Bonnita Calhoun Comments Off on Park and Recreation Signage for Wellington FL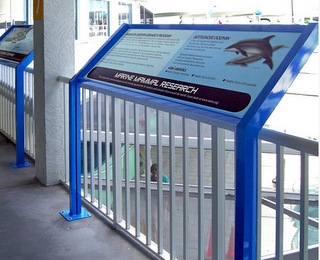 Known as the Village of Wellington, the area is actually much more accurately described as a city. Even so, it is famous for its love of equestrian pursuits. Not surprisingly, there is a large number of parks that invite tourists and residents alike to enjoy playgrounds, canals and equestrian as well as hiking trails. Having appropriate park and recreation signage for Wellington, FL, venues enhances safety and enjoyment of the locations. What are your options?
Post and Panel Signs
The post and panel setup comes in a number of shapes and sizes. This makes it an ideal signage product for the Wellington Rotary Peace Park or the Commons Preserve. The name of the location displays on the main panel of the sign. Subordinate panels may then point into the direction of the parking lot, the trail heads, picnic areas and other notable areas of interest. Adding arrows to the lettering further enhances the way-finding functionality of these products. Since post and panel signs can be equipped with temporary signage add-ons, you have the option of further communicating with visitors. Let folks know if an area is temporarily closed or undergoing maintenance.
Plaques
Take a look at Scott's Place. This accessible playground comes with a reading corner as well as a picnic area. A plaque explains the dedication of the wonderful park and names the officials as well as the donors who are responsible for bringing this jewel to the residents of the area. Plaques are also ideal for nature preserves when you want to point out to visitors the types of flora and fauna that are being protected in the area. This helps visitors to recognize the plants and animals that benefit from the habitat's preservation and increases the enjoyment of those visiting.
Event Banners
Is there anything special going on at the Veterans Memorial? Will there be a picnic at the Pine Valley Preserve near the gazebo? Perhaps a family reunion is scheduled for the Amesbury Park. Event banners are ideal for the display of temporary information that only pertains to one day or a limited number of days. Other examples include summer day camp information, volunteer clean-ups or 5K run schedules. Event banners make it possible for the community to get involved in events that take place in their parks.
Commissioning Need-based Signage
Of course, there are also times when you might need to add other signage products. For example, when there are street closures or temporary parking lot closures at or near a particular park, temporary wayfinding signs make it possible to redirect traffic and prevent frustration as well as traffic buildup. When you hire professionals to handle reconstruction or repair of playground equipment or boardwalks, contractor signs lets visitors know who is doing the work.
When you are ready to commission your park and recreation signage in Wellington, FL, the professionals at Stellar Signs & Graphics can help. Whether you are thinking of adding a new monument sign, refurbishing an existing panel marker or bringing something completely new to the venue, our graphic artists help you with the design while our technicians handle the installation.

Tags: Metal Plaques for Parks in Wellington FL, Park Signs for Wellington FL, Recreation Area Signage for Wellington FL


Categorised in: Banners, Metal Plaques, Post and Panel Signs

This post was written by Bonnita Calhoun