29
May
2018
Published by Bonnita Calhoun Comments Off on Partnering With J A Fardella Design Firm To Create Lavish Lobby Signs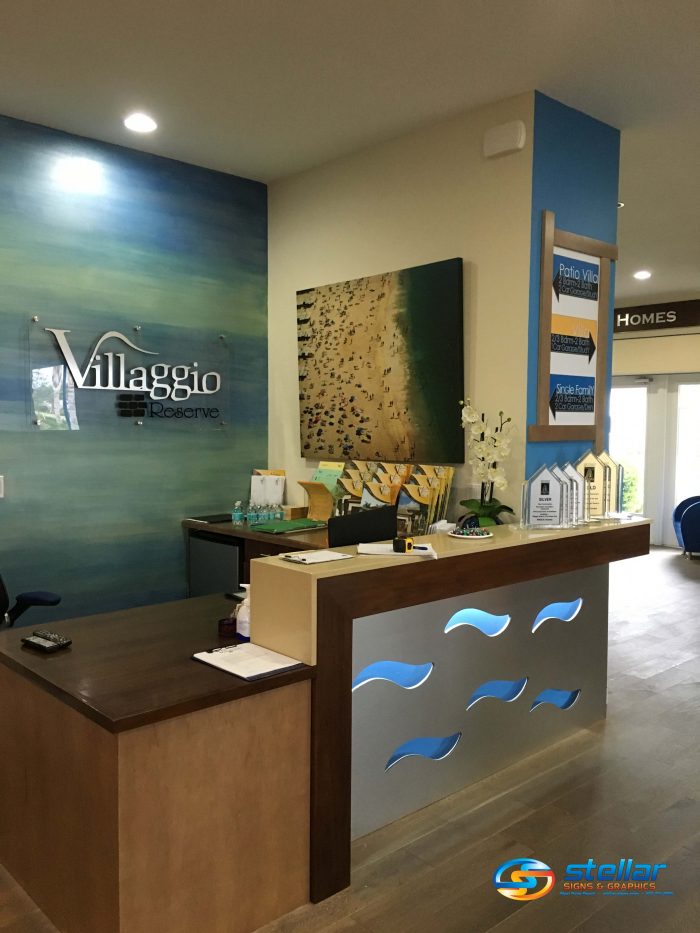 Allow us to be a little bit blunt about something. Lobby signs are among the greatest ways for a business to show off. In all sincerity, a uniquely designed lobby sign is one of the best ways for a company to impress visitors to its place of business. It demonstrates class, sophistication and professionalism. And, as far as the Stellar Signs & Graphics team is concerned, lobby signs are a blast to make!
We especially enjoy working with J A Fardella Design Firm as our partnership has helped us to construct some of the most exquisite lobby signs in our company's history. Check out the Villaggio Reserve lobby sign above as an example. It was made using acrylic and dimensional lettering.
Many professionals enjoy using individual lettering for their lobby signage.
The flat-cut manufacturing method provides crisp edges that give the signage a very unique appearance. Since dimensional letters fit into any location, these products are great for tight spaces. These lobby signs also use cost-effective material to help boost your company's branding message without making you go over budget.
We also worked on the Encore Resort at Reunion lobby sign with J A Fardella Design Firm. As you can see below, this exquisite lobby sign definitely helps to add a touch of class to their place of business. Encore Resort at Reunion provides immaculate vacation rental homes that help to turn anyone's trip to South Florida into a luxurious experience away from home.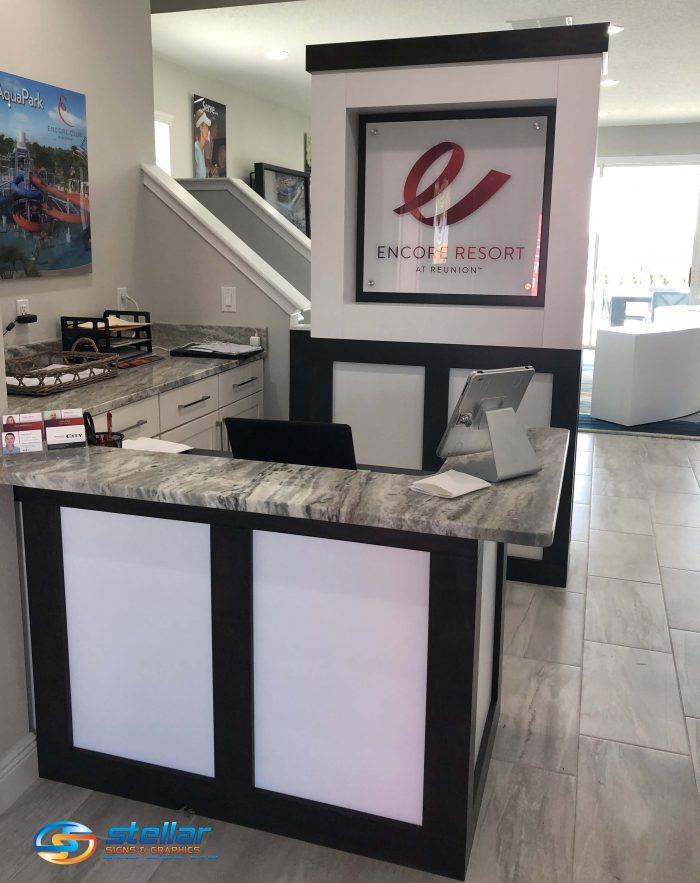 "Imagine vacationing in a luxurious 4 to 13-bedroom single family Orlando rental home, beautifully appointed with a private pool," reads their website, "The Encore Club is dedicated to resort-style pleasures with restaurants, bar, fitness center, concierge and shuttle services to the parks. Resort guests also have access to the AquaPark and its thrilling slides, pool, play areas, and much more!"
Let's get started on a lobby sign for your company!
Please don't hesitate to contact us for more information about the creation, manufacture and installation of lobby signage that is expertly customized for your company. The experts at Stellar Signs & Graphics serve the business communities in and around Palm Beach County, West Palm Beach, Royal Palm Beach, Wellington, Lake Worth, Boynton Beach, and Greenacres, Florida.

We look forward to visiting your place of business to conduct a site survey and to discuss the vision you have for your company's lobby sign. We can use any artwork that you may already have on file or we can create a brand new design from scratch. Give us a call at 561-721-6060 today!


Tags: Encore Resort at Reunion, J A Fardella Design Firm, lobby sign, lobby signage, Lobby Signs, Villaggio Reserve


Categorised in: Acrylic Signs, Lobby Signs

This post was written by Bonnita Calhoun