13
Mar
2017
Published by Bonnita Calhoun Comments Off on The Professional Look of Acrylic Panel Lobby Signs for Law Firms in Boca Raton FL
Clients in search of legal assistance for criminal law, personal injury, property disputes, and other issues look to Lavalle, Brown & Ronan, P.A. Located at 750 South Dixie Highway, the law firm still needed a reception area sign that would meet its ambiance requirements. When a member of the team contacted us for assistance, we were glad to work on putting together one of our acrylic panel lobby signs for law firms in Boca Raton FL.
A Clear Panel Display Impresses with a Contemporary Chic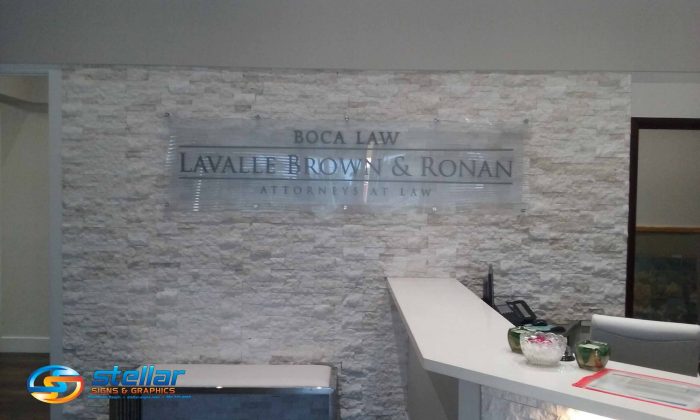 We started the design with an elongated, translucent acrylic board. Leaving a border of about two inches, we applied a frosted vinyl panel to the back. It still allows the color of the beautiful stone wall to come through but focuses the attention on the charcoal gray imprint. The lettering spells out the firm's name in the same way that prospective clients see it on the website. We installed the product with ten aluminum standoffs that secure the sign to the wall. The complete presentation looks professional and impressive.
Dimensional Letters or an Acrylic Board?
We get plenty of calls for dimensional letters that use acrylic. We paint them in any color you like, and they look beautiful. However, why not give acrylic panels a try, too?
Excellent for smaller spaces. If you work with limited wall space, a board creates the visual border that contains the lettering. Dimensional letters without this presentation threaten to overrun a small area and cause it to lose its great looks.
Suitable for layered presentations. Layering is a fantastic way of bringing texture to any space. We can add vinyl overlays to the back and front, add dimensional lettering, and cut it to display in varying depths. Another great option is the flush mount of the sign with a three-dimensional wall graphic right behind it.
Ideal for illumination. Some clients like the pizzazz that illuminated lobby signs bring to their locations. We recommend painting the board so we can hide LEDs right behind the product around the edges. Doing so allows the illumination to envelop the product in a halo. Choose white lights or pick multicolored LEDs that add more brand colors to the look of your reception area.
And yes, you can have a panel and still enjoy your dimensional letters, too. We frequently work with clients who want the best of both worlds and choose to have us place acrylic lettering on the panels. The right depth selection depends on the measurements of the room and its overall ambiance. The trick here is not to overwhelm the eye and instead ensure a balanced presentation of your corporate name and logo. (Our technicians can tell you more after a site survey.)
Get More Information about Acrylic Panel Lobby Signs for Law Firms in Boca Raton FL
If we have piqued your curiosity to look past the dimensional lettering without the board support, discuss your thoughts with our business sign experts. We gladly assist you to envision your next name display in this manner.
Call us today to schedule a consultation!


Tags: Best Sign Shop for Acrylic Panel Lobby Signs For Law Firms in Boca Raton FL, The Professional Look of Acrylic Panel Lobby Signs for Law Firms in Boca Raton FL, Where To Buy Acrylic Panel Lobby Signs in Boca Raton FL


Categorised in: Acrylic Signs, Business Signs, Lobby Signs

This post was written by Bonnita Calhoun