28
Oct
2016
Published by Bonnita Calhoun Comments Off on Reel in Foot Traffic with Now Open Signs for the Palm Beach Outlets Mall!
Located at 1721 Palm Beach Lakes Boulevard at the Palm Beach Outlets, TooJay's is a Palm Beach original. Since its first location, this eatery has grown to about 30 sites that specialize in comfort foods, baked goods, and deli-style sandwiches. When the latest venue at the mall opened its doors, bringing in hungry guests became the focus of the management team. Its representative contacted us to order "Now Open" signs for the Palm Beach Outlets mall.
Creating an Eye-catching Wayfinding Sign with a Marketing Message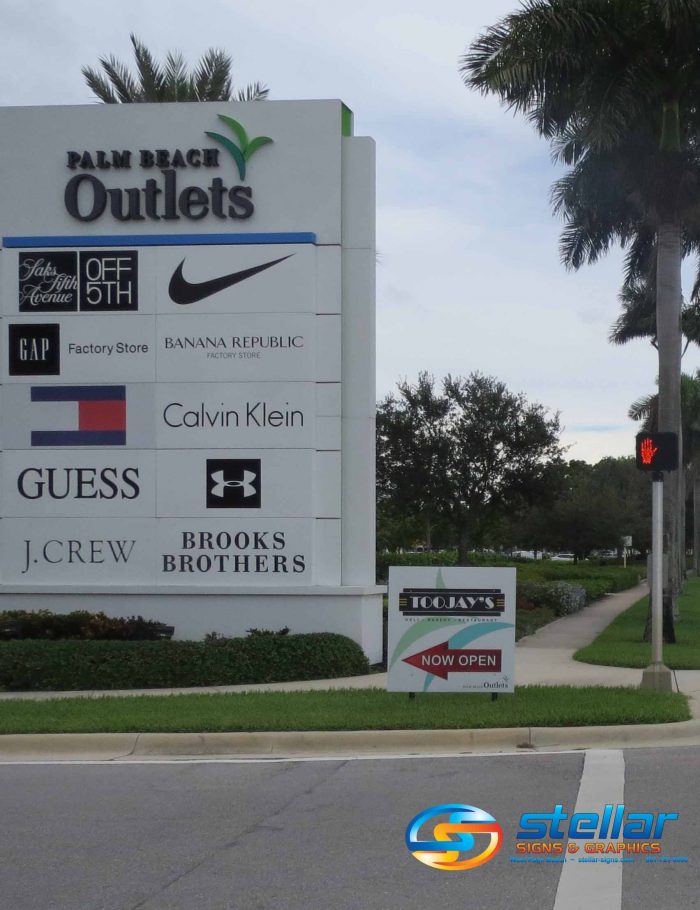 After meeting with the client, we created an upscale yard sign that features strong posts and a panel displaying the restaurant's name and logo alongside a red arrow with the "Now Open" message. The backdrop of the marker features the outlet mall's graphics as a subliminal image, which results in a dual branding presentation. By placing the marker at the entrance to the mall's parking lot, the company now appeals to the large number of shoppers who arrive here every day. Creating a buzz among customers and turning some of them into loyal diners is a snap for this business.
Why Businesses Need to Advertise a Recent Opening
It is a common misconception that a grand opening celebration gets the word out to everyone about your business. Although a well-run advertising campaign complete with the right signage solutions will indeed create the kind of buzz that will send plenty of foot traffic to your location, there are always some consumers who just do not make it down to the area on that day. Continuing to advertise the fact that you are now open allows them to form name recognition and brand awareness, which reminds them of your location whenever they drive past the entrance to your storefront.
Excellent Signage Options for Keeping the Conversation Going
We have worked with a number of clients who capitalized on the foot traffic of the grand opening festivities but did not forget to reach out to other consumers as well. They have used different types of signage options.
Yard signs. Multiple lawn signs are suitable for sticking into the grass medians you frequently find around malls and similar settings. There, they appeal to motorists and pedestrians alike.
Flags. Placing flags on the ground adds the component of movement to capture the attention of passersby. Frequently, clients commission several flags that feature the business' name and logo as well as corporate color displays. Alternating displays may present product descriptions but only one per flag.
Banners. Mesh banners attach between two trees or light posts. A vinyl banner is suitable for placing above a doorway. Keep these temporary signs in place so that you reach as many members of your targeted demographic as possible.
When you are ready to take a page from our client's playbook that put "Now Open" signs for the Palm Beach Outlets mall into the median, contact our graphic artists to talk about your needed marker. We work with you to incorporate artwork you already have. If necessary, we can also create something completely new from the ground up. Contact us today to get started on your project.


Tags: Looking For Now Open Signs for Your Palm Beach Outlet Malls?, Reel in Foot Traffic with Now Open Signs for the Palm Beach Outlets Mall, Where To Buy Now Open Signs for Malls in West Palm Beach FL


Categorised in: Custom Signs, Mall Store Signs, Open Signs

This post was written by Bonnita Calhoun