25
Aug
2020
Published by Bonnita Calhoun Comments Off on Rejuvenate Your Place Of Business With A Lobby Sign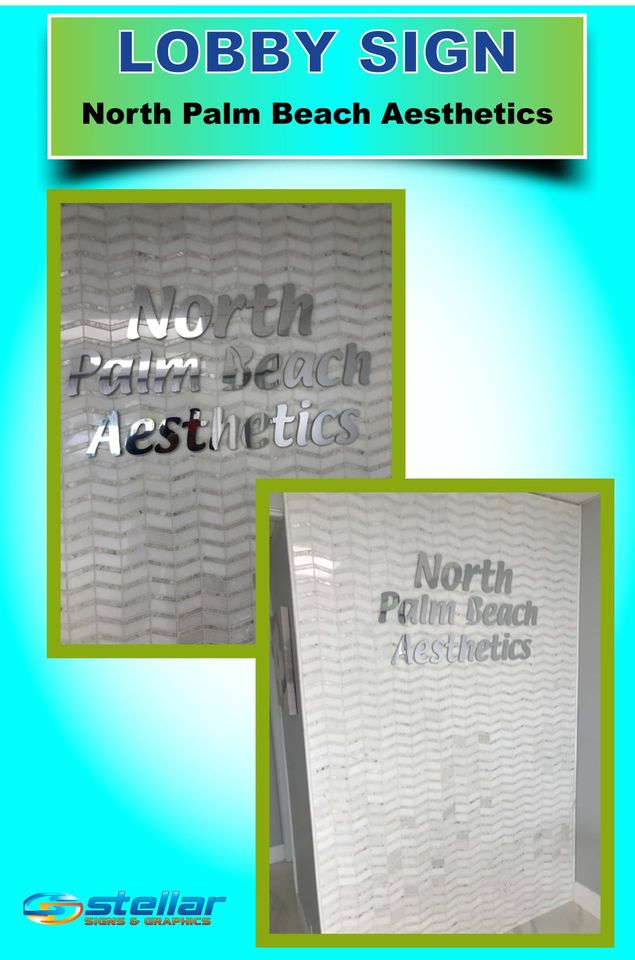 Are you looking to reduce your signs of aging? Do you want to rejuvenate your look? If so, look no further than North Palm Beach Aesthetics. It is your premier location for botox, fillers, facials and so much more!
North Palm Beach Aesthetics offers you a private, VIP experience.
They specialize in non-surgical facial rejuvenation by using the most advanced techniques to enhance your natural beauty. "You deserve the exclusive and personalized care we offer to help you look and feel your best through non-surgical treatment options," their website assures.
The signage experts at Stellar Signs & Graphics were thrilled to have worked with North Palm Beach Aesthetics this summer. We provided their office with a brand new dimensional lobby sign. As you can see in the photo above, it was manufactured with CNC cut 5-inch polished aluminum letters. We're happy to report that the final product beautified the North Palm Beach Aesthetics clinic in much the same way their services beautify their clients!
Lobby signs beautify your place of business.
With custom lobby signs, you are able to actively market your business while creating brand awareness. Just like North Palm Beach Aesthetics, many professionals like the idea of using individual lettering for their lobby signage. You can opt for acrylic, foam or metal products to construct the letters for your lobby sign. The end result should create a look that uniquely fits your space.
By using the flat-cut manufacturing method, you get letters with crisp edges, giving your signage a uniquely eye-catching appearance. You can also opt for a molded look with plastic lettering. This presents you with the choice of prismatic facings as metal and acrylic offer up a more rounded appearance.
Since dimensional letters fit into any location, you may wish to consider this product for tight spaces. Keep in mind that using dimensional letters for your lobby sign also offers you a budget-friendly option.
Are you on a tight budget?
With COVID-19 having wreaked havoc on businesses all throughout Florida, it's understandable if your marketing budget has significantly diminished. The Stellar Signs & Graphics team can certainly accommodate your tight budget. By using foam with a thin metal laminate, we can create the impression of a substantial three-dimensional lobby sign. It will only cost you a fraction of the cost associated with a metal marker.

Please don't hesitate to contact us today for information about the creation, manufacture and installation of lobby signage for your company. We serve the business communities in and around Palm Beach County, West Palm Beach, Royal Palm Beach, Wellington, Lake Worth, Boynton Beach, and Greenacres, Florida. Give us a call at 561-721-6060 today!


Tags: Corporate Lobby Signs Palm Beach County FL, Dimensional Lettering, Dimensional Letters, Dimensional Wall Letters, North Palm Beach Aesthetics


Categorised in: Dimensional Lettering, Dimensional Letters, Dimensional Wall Letters, Lobby Signs

This post was written by Bonnita Calhoun