7
Apr
2020
Published by Bonnita Calhoun Comments Off on Remaining Hopeful And Positive During These Trying Times
Businesses all over the country – the world, actually – have been significantly impacted by the coronavirus pandemic. With so many having to close up shop until further notice, it's understandable if business owners have somewhat bleak outlooks on the futures of their businesses. The team, here at Stellar Signs & Graphics, would like to offer you its best wishes, in hopes that your future is brighter than you think.
These words may not be as helpful as we wish them to be, but we do want you to be reminded of one thing. We're all in this together. There isn't any one person, family or business that the COVID-19 crisis is singling out. With that said, we'd like to remind you that our company has been affected as well. As you can imagine, our phones haven't been ringing off the hooks as they once were. Nevertheless, we remain grateful.
We're grateful for you!
We're grateful for the many clients we've had over the years who continue to show us love and support. Without them, we wouldn't be able to boast about the countless signs we've manufactured that appear all across the West Palm Beach area. One of our most recent projects is the channel letter sign for Florenza HOA you see above.
Another is the dimensional letter sign we created for Cateleya Shores you see below. For this project, we manufactured two sets of 3/8" acrylic letters that were flush mounted to their east and west monuments with studs.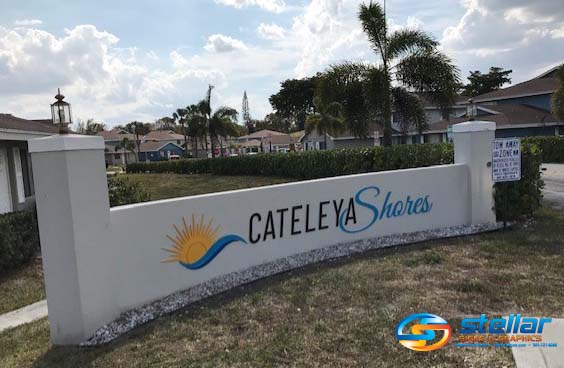 We'd love to hear from you!
If you'd like to begin discussions for an upcoming signage project for your business, please don't hesitate to reach out us. At present, we are keeping our regular hours, but we are not accepting any walk-ins at our office. We are now seeing clients by appointment only. As well, we will not plan any more installs if it requires anyone on our team to be in close proximity of other people.
As you're well aware, everyone needs to operate using a "safety first" mandate. We know you've likely been inundated with information on what to do and what not to do, but we do have one important suggestion. Please look after your family, friends and neighbors. Consider lending a helping hand by checking in on any elderly people you know. See if they're in need of food or household staples.
If you need us, you know where to find us!
The experts at Stellar Signs & Graphics serve the business communities in and around Palm Beach County, West Palm Beach, Royal Palm Beach, Wellington, Lake Worth, Boynton Beach, and Greenacres, Florida. Give us a call at 561-721-6060 today!


Tags: Cateleya Shores, channel letters, coronavirus, COVID-19, Dimensional Letters, Florenza HOA, signage, signage projects


Categorised in: Channel Letter Installation, Channel Letter Signs, Channel Letters, Dimensional Lettering, Dimensional Letters, Dimensional Wall Letters

This post was written by Bonnita Calhoun