28
Dec
2021
Published by Bonnita Calhoun Comments Off on Revisiting Some Of Our Coolest Projects Of 2021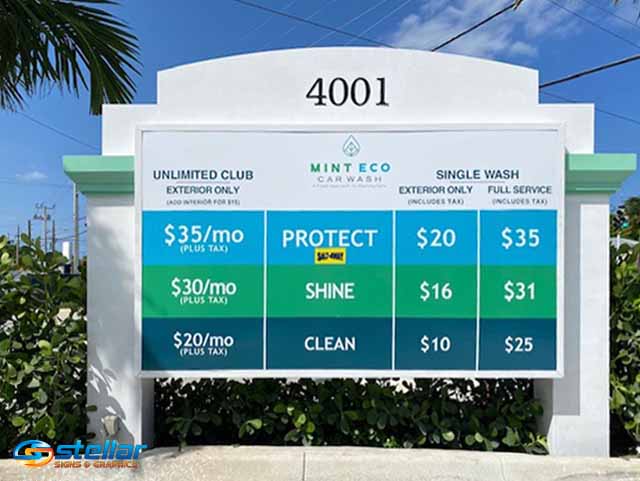 2022 is almost here! On behalf of the entire Stellar Signs & Graphics team, we would like to wish you a very happy new year! Here's hoping that 2022 is your happiest and most prosperous year yet. If our team can help for that to happen in any way, please let us know. We pride ourselves on the fact we helped many a South Florida business to prosper in 2021. Let's take a look at some of our coolest projects of the year!
Menu boards for Mint Eco Car Wash.
Back in August, our team was elated to have created a number of menu boards for Mint Eco Car Wash. They included both a post and panel sign as well as a monument sign. Each sign was designed to showcase information about the types of car washes offered and their prices. All of the signs were mounted outside of the car wash to make it easy for visitors to select the washes of their choice.
The interior of Mint Eco Car Wash was made just as beautiful as the exterior. Inside of each Mint Eco Car Wash location, the Stellar Signs & Graphics team installed sleek lobby signs using wall cut graphics. As well, we designed and installed window graphics for the lube center of their Jupiter location.
A kiosk for Dakota Watch Company inside Palm Beach Outlets.
Back in October, our team designed a new kiosk for the Dakota Watch Company at Palm Beach Outlets. The kiosk also highlights the Moxie Wristwear brand. To complete the kiosk's design, our team added full color prints to the front, sides, top and bottom of the Polycarbonate substrate. They were installed with DF tape.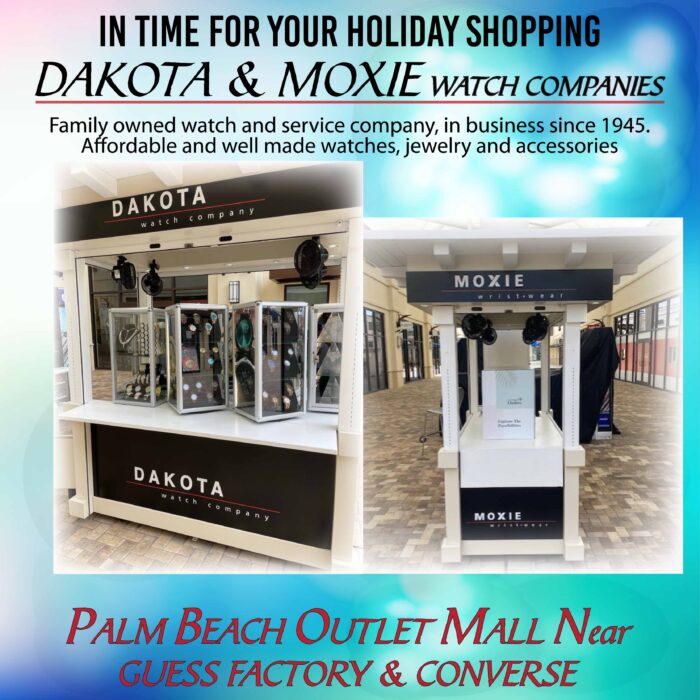 Founded back in 1945, the Dakota Watch Company is a family-owned watch and service business. For over 75 years, they have offered well-made, yet affordable watches in addition to jewelry and other accessories. We encourage you to visit Palm Beach Outlets and visit this kiosk. It is located near Guest Factory and Converse. In addition to watches, the Dakota Watch Company specializes in bands, batteries and repair services.
Dimensional letter signs for Palm Beach Boutique Medicine.
Back in September, the Stellar Signs & Graphics team had the pleasure of completing a number of new dimensional letter signs for both Palm Beach Boutique Concierge Medicine and Palm Beach Infectious Disease Associates. The project consists of 6" and 8.5" flat cut dimensional letters that are made out of 1/4" aluminum. They were all painted black and mounted with 1" spacers. They were then studs mounted to both the building and the multi-tenant monument sign.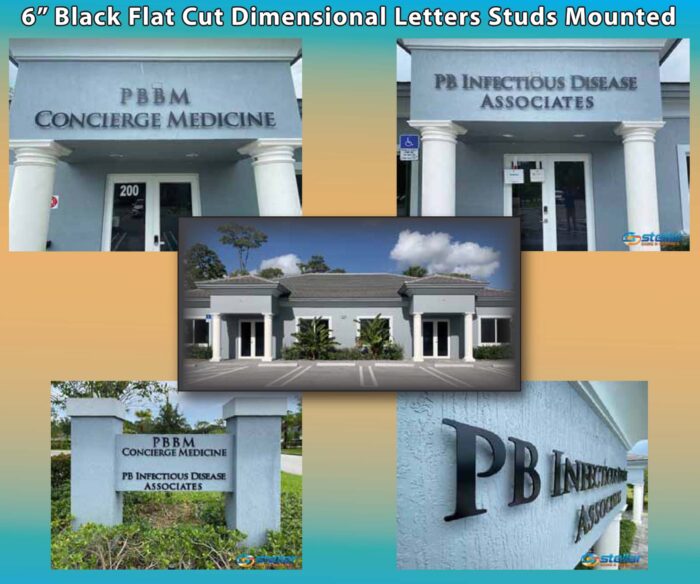 Can we create a new sign for your company in 2022?
The experts at Stellar Signs & Graphics serve the business communities in and around Palm Beach County, West Palm Beach, Royal Palm Beach, Wellington, Lake Worth, Boynton Beach, and Greenacres, Florida. Give us a call at 561-721-6060 today!


Tags: Dimensional Letter Building Signs, happy new year, Lobby Signs, menu board signs, monument signs, post and panel signs, signage, signs, window graphics


Categorised in: Dimensional Letter Building Signs, Lobby Signs, Menu Board Signs, Monument Signs, Post and Panel Signs, Window Graphics

This post was written by Bonnita Calhoun