17
Jul
2018
Published by Bonnita Calhoun Comments Off on Specializing In Signage That Helps You Stand Out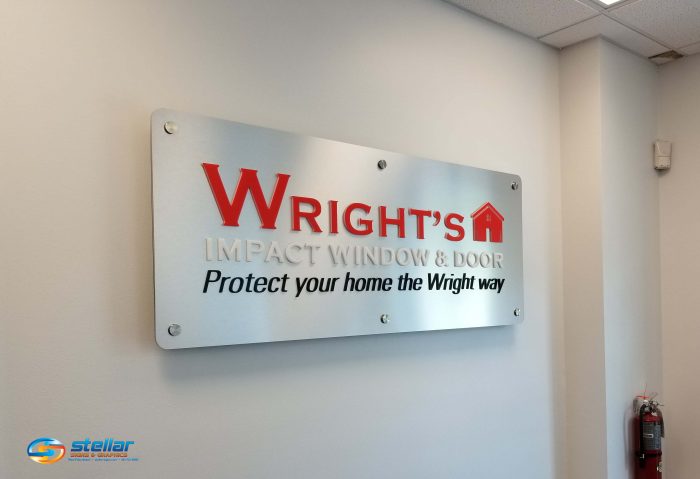 Among the many different benefits that signage can provide your company is its ability to help you stand out. Your brand deserves recognition. It deserves to be highlighted in ways that separate it from both its competitors and all neighboring businesses. The true impact of signage is found in its ability to divert eyes, taking attention away from everything else and having it placed squarely on your business.
At Stellar Signs & Graphics, we're very proud of the many signage projects we've completed for companies who regale us with stories about how much more attention they've received since affixing their new signs in front of or within their places of business. Most recently, we've been honored to have Wright's Impact Window & Door added to our happy list of clients.
We created no less than three different signs for Wright's Impact Window & Door!
We completed a sleek dimensional letter storefront sign, a front door vinyl lettering display and an eye-catching lobby sign for this awesome company. Let's start with the lobby sign. As you can see in the photo above, we created a vibrant illuminated lobby sign, manufactured with brushed aluminum and frosted acrylic letters and shapes.
3M and printed translucent vinyl were used on the face of the sign and LED lights were used to illuminate the letters and logo. The power supply is nicely concealed in a light cabinet and the sign was mounted with six stainless steel standoffs.
Check out the new Wright's Impact Window & Door storefront!
You can see the dimensional letter sign adorning the Wright's Impact Window & Door storefront in the photo below. For this sign, we used Gemini plastic-formed Times New Roman font letters, pigmented with a stylish metallic silver shade. Gemini is a popular wholesaler that almost all sign shops use for formed lettering and cast metal plaques. On the store's front doors, we created a white cut vinyl lettering design.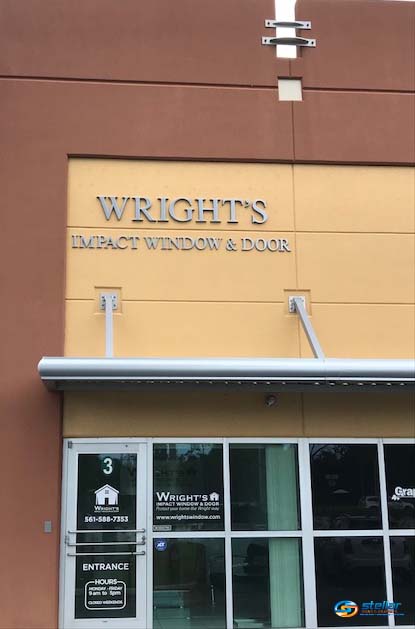 We especially love the way that dimensional letter signs stand out from their backgrounds. This helps the businesses that use these signs to remain competitive. The signs demand attention as they are known for drawing eyes much quicker than flat signs. This is especially true in plazas and other busy areas where drivers and pedestrians are confronted with countless signs in all directions.
Let's start work on your company's next signage project!
The experts at Stellar Signs & Graphics serve the business communities in and around Palm Beach County, West Palm Beach, Royal Palm Beach, Wellington, Lake Worth, Boynton Beach, and Greenacres, Florida. Give us a call at 561-721-6060 today!


Tags: dimensional letter sign, lobby sign, vinyl lettering, window graphics and lettering, Wright's Impact Window & Door


Categorised in: Dimensional Letter Building Signs, Dimensional Lettering, Dimensional Letters, Lobby Signs, Window Graphics, Window Lettering

This post was written by Bonnita Calhoun