6
Nov
2018
Published by Bonnita Calhoun Comments Off on The Beauty Of Dedication Plaques And Donor Wall Signage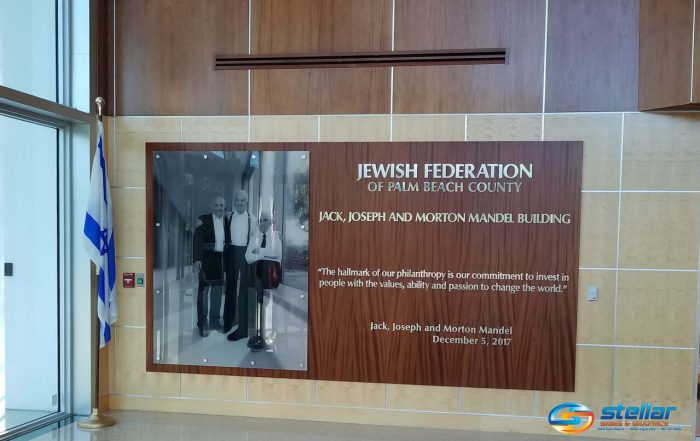 Remembering loved ones who have passed away can be very hard. Naturally, it hurts to think of our friends and family members as people who are no longer here. We all have various coping mechanisms that include everything from reminiscing with friends to meditation. Of course, there are also physical representations of the memories we have that can be displayed for all to see.
Dedication plaques and donor walls are especially respectful ways to pay tribute to lost loved ones. Many places of business, medical facilities and educational institutions install dedication plaques or donor walls to acknowledge either lost loved ones or special people who have donated to their construction.
Dedication plaques can be constructed using a wide array of materials.
They include bronze, brass, aluminum, stainless steel, glass, wood and acrylic. The plaques are commonly found on the grounds of such facilities as hospitals, colleges, universities and places of worship. At Stellar Signs & Graphics, our signage experts work closely with their clients to create the perfect lasting tributes for display on their properties.
In addition to the many font options for lettering, dedication plaques can incorporate images created from various combinations of cast metal, etched and photographic techniques. The plaques can be made to recognize individuals while donor walls are generally made up of a series of panels with multiple names. The names are often grouped in sections based on their donations.
What are your dedication plaque and donor wall options?
Etched metal is a popular option. Either by itself or combined with cast metal, glass, wood or acrylic plaques, your donor name and message can be etched onto a thin aluminum or bronze plate and then mounted on the main background plaque. You can also go with cast metal which is made from either bronze or aluminum. A classic sophisticated look is achieved through the placing of metal letters on dark backgrounds.

Etched glass is another popular option. The glass itself can be etched or stainless steel or bronze nameplates can be affixed to the glass. Frosted acrylic plaques and wood panels are also popular choices.

To get more information about creating dedication plaques and/or donor walls for your facility, please don't hesitate to reach out to the signage experts at Stellar Signs & Graphics. We serve the business communities in and around Palm Beach County, West Palm Beach, Royal Palm Beach, Wellington, Lake Worth, Boynton Beach, and Greenacres, Florida. Give us a call at 561-721-6060 today!


Tags: acrylic, cast metal, dedication plaques, donor walls, etched metal, glass, wood


Categorised in: Donor Walls, Plaques

This post was written by Bonnita Calhoun