29
Jun
2021
Published by Bonnita Calhoun Comments Off on The Importance Of Parking Signs At Your Place Of Business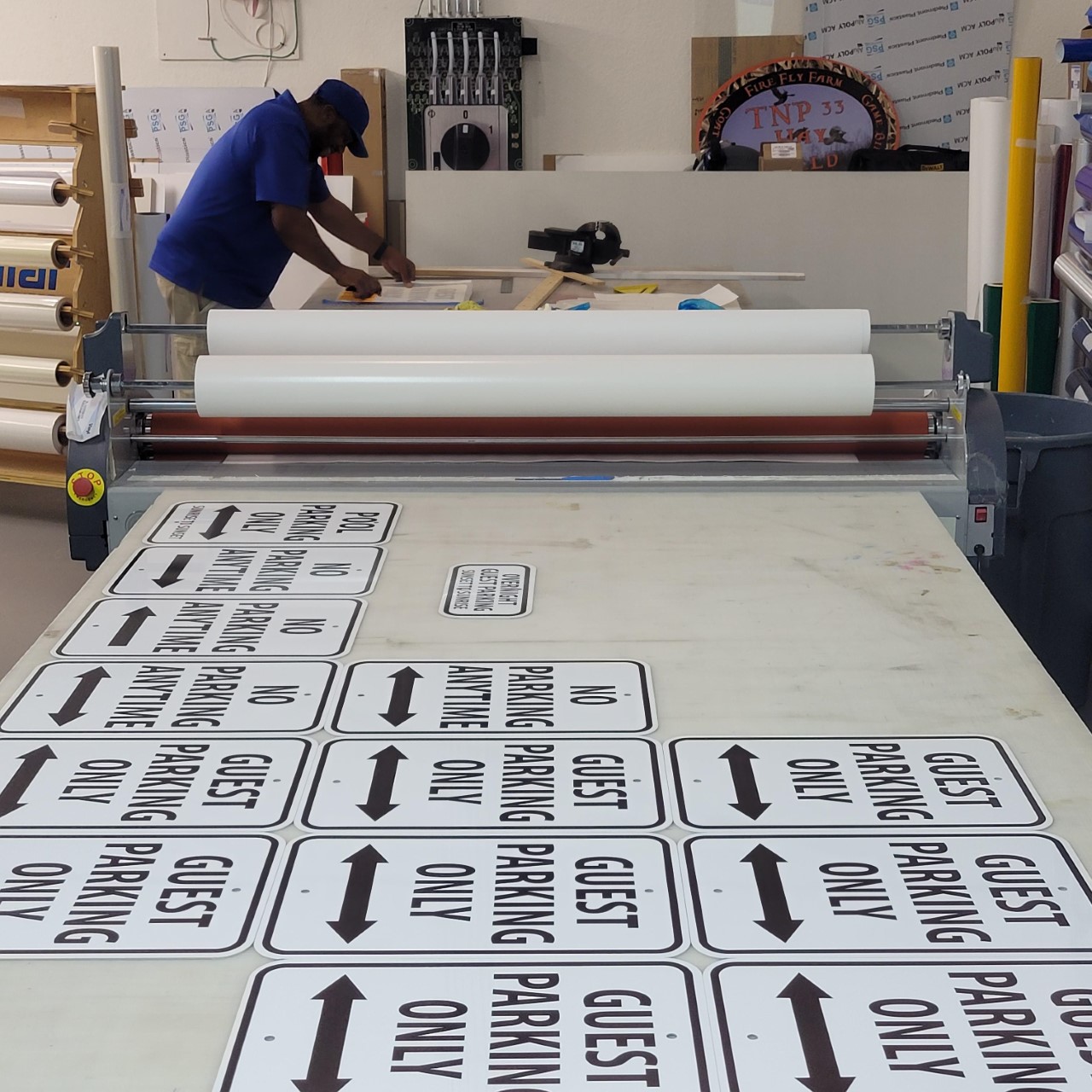 Do you have parking signs at your place of business? Believe it or not, they make a big difference. Is your business is located in a plaza or strip mall? If so, you may need to specify which parking spaces are reserved for your business versus your neighbors. In some areas, you need to warn visitors of spots where they may not park. The importance of having parking signs at your place of business cannot be understated.
The signage experts at Stellar Signs & Graphics recently had the pleasure of creating parking signs for Delray Beach HOA. We manufactured these custom 12″ X 18″ parking signs with 3M black cut vinyl on .080 aluminum sign blanks. Check out the photo above to see both the "No Parking Anytime" and "Guest Parking Only" signs being made!
What is the importance of "No Parking" signs?
The answer to this question should probably go without saying, shouldn't it? Naturally, there are spaces where you don't want anyone to park. A "No Parking" sign can simply declare those two words or contain pertinent information about the hours of the day when parking is permissible.
"There can be a variety of reasons why a facility would post a no parking sign in their lot," writes Michael Schoenfeld on EzineArticles.com, "Many times, these are used in areas where emergency vehicles might need to pass through or where fire hydrants are present. Whatever the reason, drivers who park their vehicle in these areas will often face hefty fines or other penalties."
What is the importance of handicapped parking signs?
The answer to this question should also go without saying. Unquestionably, it's important for individuals with disabilities to get access to prime parking spots. Handicapped signs are among the most common parking signs you will find. They are also among the most necessary. Does your business location come with a sizeable parking area? It's imperative to mark some of the spaces as being reserved for those with handicapped parking permits.
"All businesses are required to have handicapped accessible parking for customers and employees," informs Schoenfeld, "Handicapped signs are very easily understood with their typical wheelchair graphic. Handicap parking, accompanied by handicapped signs, is found in areas closest to the building where the ground is level."
Let's get to work on some parking signs for your business!
The experts at Stellar Signs & Graphics serve the business communities in and around Palm Beach County, West Palm Beach, Royal Palm Beach, Wellington, Lake Worth, Boynton Beach, and Greenacres, Florida. Give us a call at 561-721-6060 today!


Tags: Delray Beach HOA, guest parking only, handicapped parking, no parking, no parking anytime, parking signage, parking signs, signage


Categorised in: Parking Lot Signs

This post was written by Bonnita Calhoun