14
Apr
2020
Published by Bonnita Calhoun Comments Off on The Importance Of Sneeze Guards To Help Prevent The Spread Of COVID-19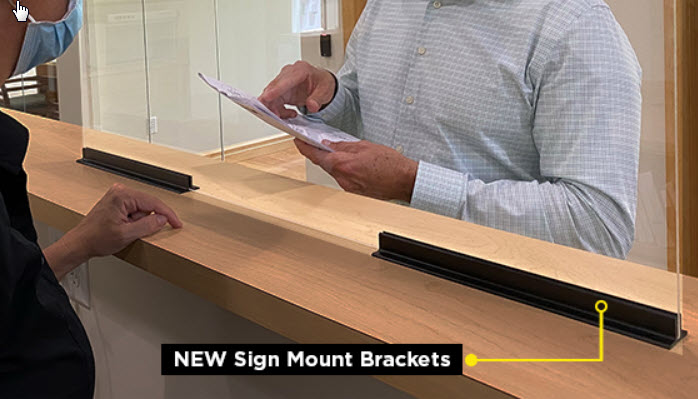 The coronavirus pandemic is impacting businesses in ways we've never seen before. Firstly, many have had to shut their doors in an effort to prevent the spread of COVID-19. As we all know, it's highly recommended that we all stay at home. Self-isolation is a top way to ensure that we don't potentially infect others.
For businesses that are considered essential, however, the doors must remain open. And while this is good for both their businesses and consumers, it's not necessarily safe. That is, of course, unless important safety measures are taken. One of them is floor markings that indicate how far people should stay from each other when standing in checkout lines. Another is sneeze guards that create barriers between customers and workers.
Major grocery store chains are using sneeze guards.
As Dawson White of The Miami Herald reports, such stores as Walmart, Sam's Club, Target, Walgreens, Publix, Albertsons and Kroger are using sneeze guards to help fight the spread of coronavirus. The plexiglass barriers have been installed at the each of the store's registers and in pharmacy lanes. They prevent droplets from being transmitted from one person to another through a cough or a sneeze.
"Staying safe and healthy is more important than ever for our associates, our customers and for us," says a Walmart press release from last month, "Installing these barriers is another way Walmart is helping bring peace of mind that we are doing everything we can to keep our people and our stores safe."
Sneeze guards promote social distancing.
If your business is still open to the public, it's wise for you to not simply rely on your customers to observe social distancing. Installing sneeze guards will physically enforce safe distancing between your customers and your employees. It will also eliminate contact with airborne droplets and other contaminants through coughing and sneezing.
Sneeze guards are excellent for use at any point of purchase location. Grocery stores, convenience stores, banks, hotels coffee shops, gas stations, pharmacies and doctor's offices can all benefit from installing these guards. By setting up sneeze guards, you allow your business to remain open while protecting your employees and customers. Since no metal surfaces are used, your sneeze guards have surfaces that shorten the life span of viruses.
Install sneeze guards at your business location today!
As we all contend with doing business during the coronavirus pandemic, it's vital we practice safety first. At Stellar Signs & Graphics, we offer sneeze guards with direct mount brackets to keep your workers and customers safe. Please don't hesitate to give us a call at 561-721-6060 to book your installation.

The experts at Stellar Signs & Graphics serve the business communities in and around Palm Beach County, West Palm Beach, Royal Palm Beach, Wellington, Lake Worth, Boynton Beach and Greenacres, Florida.


Tags: barriers, checkout line, coronavirus, COVID-19, plexiglass, sneeze guards, social distancing, Walmart


Categorised in: Sneeze Guards

This post was written by Bonnita Calhoun